Everything Else
Angry 'Unite Norman' Supporter Throws Brick at Teenagers
11:18 AM EDT on August 5, 2020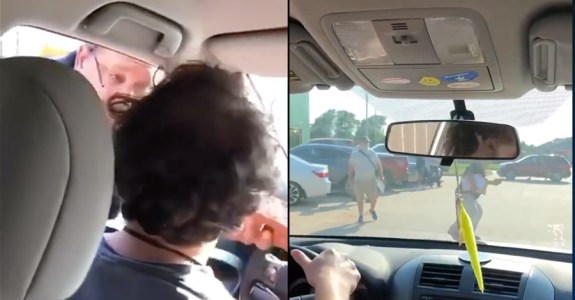 Last night, a video of Unite Norman co-founder Sassan Moghadam – along with the help and support of his comrades – accosting a group of teens with a brick outside a Unite Norman meeting made the rounds on Facebook.
From what I can piece together via always reliable Internet comments, the teens had just picked up carry out from a nearby restaurant, and either intentionally or inadvertently, slowly drove by a Unite Norman meeting while playing "F*ck Trump" from their car, which, naturally, set off the semi-deranged, paranoid folks at the meeting.
Here's video of the encounter:
Man, times sure are changing. When I was a teen, my friends and I did whatever was possible to avoid angry old conservative men. There's nothing they hate more than teenagers and rap music! But nowadays, teens are seeking out the old geezers and even taunting them! Who said today's kids don't know how to have fun?
Anyway, ever since I fell for the "January 2019 Lincoln Memorial confrontation" video, I try my best not to rush to judgment, or rage, when I see viral video clips and snippets presented without any context, as they rarely tell the whole story. For example, why were the teens there? What happened leading up to the video? Did they really run over Moghadam's foot like he was Jerry Adams in an old car commercial??
Fortunately, the older sister of one of the teens in the car was there to objectively and clearly explain what happened:
My teenaged sister and a group of her friends just got accosted and threatened by a group of middle aged "Unite Norman" assholes outside of El Toro Chino and I'm livid. These imbeciles leaned inside their car to scream in their faces and then threw a brick at them as they drove away. Wtf Norman?

Feel free to make these assholes famous by sharing.
Edit: I would like to clarify that anything coming from the Unite Norman group in an attempt to justify their actions is an outright lie (including someone getting run over). These kids were there only to pick up food from a restaurant for a birthday party. They were playing a song from their car that these assholes didn't like, and they took it upon themselves to let the teenagers know by threatening them with a brick. If your primary concern is trying to find out what the teenagers did to "deserve this," you need to do some soul searching.
Okay, I'm not saying the teenagers "deserve this," but – whether it was intentional or not – they did drive by a right-wing circle jerk playing a song called "Fuck Trump." If you're going to poke a dog with a stick, you can't get too mad when it growls... or I guess throws a brick at you.
The propagandists with Unite Norman were quick to share their own Facebook post about the incident, and try to make themselves look like victims. They're claiming that everyone's favorite boogieman – "They" – was out to get them, and that teens ran over the foot of the guy that was accosting them. Like most stuff shared online by Trump supporters, it's littered with sensational claims, hypocritical accusations and other lies for which no evidence is given (or exists):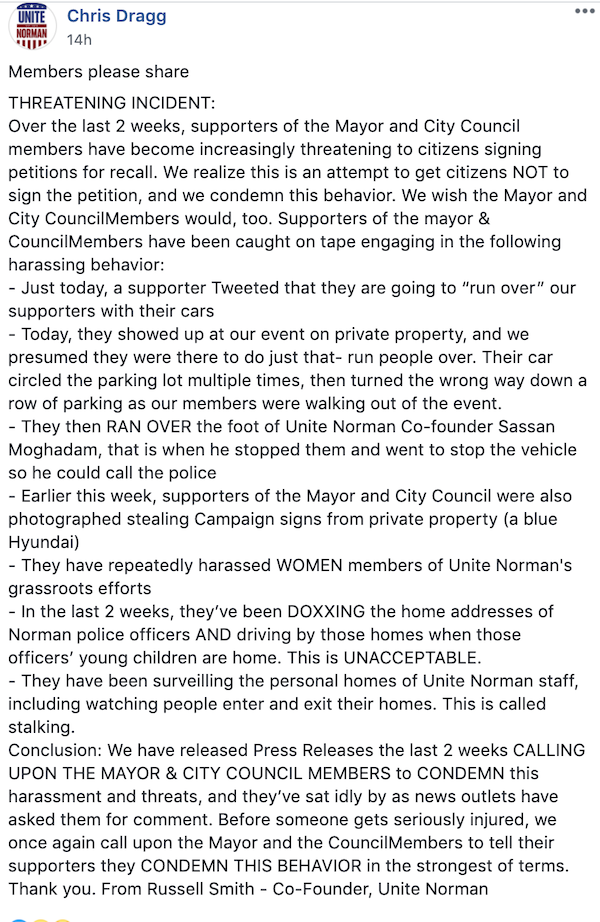 Yeah, that's it. It's the Norman Mayor and City Council that's out threatening, intimidating and doxxing citizens. The Unite Norman folks – an angry collection of authoritarian Trump supporters who have openly harassed, bullied and doxxed the mayor and city council, which may have lead to a rape – are the real innocent victims here. Good to know.
Anyway, I guess we'll continue to follow this story and share any additional information when / if it comes through. Stay with The Lost Ogle. We'll keep you advised.
Update: We've been alerted to this second, clearer video where Moghadam claims he's making a citizen's arrest, and proceeds to call the teenagers "Fucking Assholes."
-
Support independent local media! Become a Lost Ogle member today! 
Stay in touch
Sign up for our free newsletter