events
Monumental Monstrosity: The Oklahoma Land Run Monument
11:21 PM EDT on July 6, 2020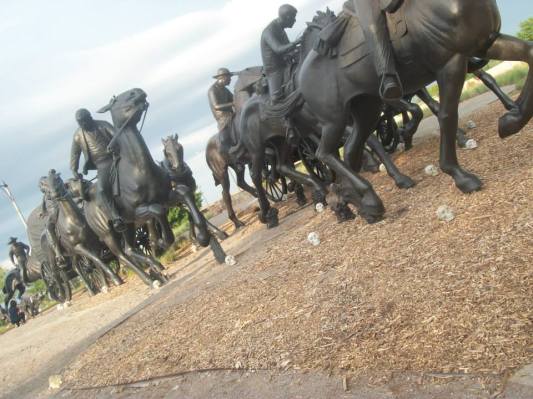 In my many years of writing for various publications across Oklahoma City, I have received almost every kind of death threat one possibly can. While they usually elicit laughter more than anything else, it can always get a bit hairy anytime I tempt fate and write about Indigenous issues; then again, intimidation into silence is the point of most threats, right?
From the miffed groupies of a local rock star to an entire angered town of watermelon-pushers, whenever it got murderously bad, I would usually go to my friend, Indigenous activist Frances Danger, for advice on how to deal with this higher level of hate mail. Mvskoke Creek and Seminole—enrolled Mvskoke—she has remained an inspiration to never give up and never surrender regarding the ongoing fight for the long-denied rights of the Native community.
But now, as an advocate and supporter of the Society to Protect Indigenous Rights and Indigenous Treaties—S.P.I.R.I.T.—she is helping to organize a peaceful sit-in rally to bring attention to the Centennial Land Run Monument in Bricktown and the racist history it represents in Oklahoma; it will be held at 10 a.m. on Saturday, July 11th, 200 Centennial Ave. at the monument.
In the midst of preparing for Saturday's event—and the recent disturbing news that right-wing counter-protestors will be there to cause trouble—Danger took the time to talk to me about the need for these protests, the pain of Native history and the overall positive message of the day.
_
Louis Fowler: What is the goal of S.P.I.R.I.T. and how did you become involved with them?
Frances Danger: S.P.I.R.I.T. works to educate the Oklahoma public school system on the factual and truthful history of the removal and relocation of 39+ tribes to Indian Territory. We advocate for teaching the truth in schools; the cessation of all Land Run re-enactments and 89er Day Celebrations across the state; the removal of all Indian mascots in the Oklahoma public school system; and the safeguarding of our sovereignty and the education of the meaning of sovereignty for our people.
I became involved when S.P.I.R.I.T. reached out to me after I was publicly vocal about the issues that the monument represents, both past and present, that echo today in the Indigenous experience. I'm passionate about addressing the erasure and silencing of Natives. For far too long we've been defined by what the majority of society decided they would allow us to be. They've written that into history books and emblazoned it across their chests on sports jerseys. It's time we were heard.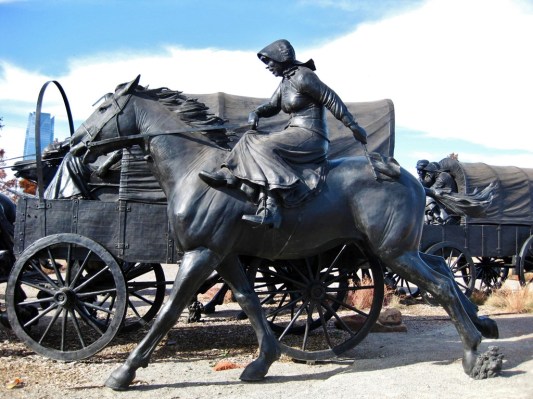 With POC coming together all over America to protest racist statues and monuments, what is the aim (and demands) of S.P.I.R.I.T. regarding the Land Run memorial in Bricktown?
We want the monument removed. That's what we're requesting. Once removed, we propose that all literature, the plaque, and the website for the monument be updated with an accurate reflection of what really happened that day. Should the monument continue to occupy a public space, then space needs to be made beside it for an Indigenous monument of equal size and stature that celebrates our heritage and history.
There needs to be changes made to the education side of this as well. We're asking that the state school systems develop and make available accurate, community-informed curriculum for Oklahoma elementary schools about the Land Runs of Oklahoma.
In Oklahoma City, anytime I have preached against the Land Run, I've been met with arguments, fist-fights and plenty of aforementioned threats. Can you please explain why the Land Run monument is so hurtful to Indigenous peoples?
It's hurtful because it erases us from existence. This monument is not a celebration of the "pioneer spirit" to us. It represents the Westward Expansion of the settlers that, in their fevered zeal to realize, resulted in a calculated effort to eradicate the tribes. Our numbers didn't dwindle all by themselves. Our ancestors died because of a concerted effort by the US government to get rid of us.
And make no mistake, it was intentional. The famous smallpox blankets? Given to us in an effort to "reduce" us. Wars, massacres like Wounded Knee and Sand Creek (where disarmed tribes were slaughtered by US soldiers to the tune of hundreds of deaths, most of which were elders, women, and children), removal from our ancestral lands, the culturally destructive "Kill the Indian, Save the Man" policy of assimilation…it's all genocide. And it's cast in bronze in Downtown OKC for everyone to enjoy and cheer without a single mention of the murderous means it took to get there. If society at large wants history then they have to take all of history, not just the palatable parts.
-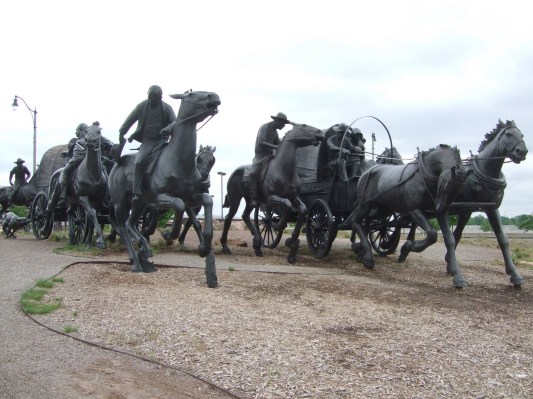 Oklahoma is very good at hiding its misdeeds from the history books, from the Trail of Tears to the Tulsa Massacre. What good do you hope will come from showing people the truth about how the Land Run has genuinely hurt the Indigenous Peoples of Oklahoma? Do you think people even really care?
No. People, by and large, don't care. And that's the problem. That lack of empathy and search for the truth is why we have that monument instead of well-written, researched curriculum in our schools. People would rather celebrate a lie instead of acknowledge the truth. There's something really heartbreaking about that in terms of just how far people have gotten from recognizing other's humanity.
I'd like for Indigenous youth to finally be able to see themselves fully represented in society as human beings, worthy of understanding and mention. Right now, we're America's dirty secret. No one should ever be made to feel unwanted but when the entire country is predicated on the systematic killing and subjugation of your people, it's hard not to. I want to ensure another generation never feels like that again.
-
Armed right-wing counter-protestors have announced they'll be there to "protect" the monument. How does S.P.I.R.I.T. plan on dealing with them and how should protestors act around them?
We are going to do exactly what we've announced we're going to do: conduct a peaceful sit-in. There's no need for anyone to "protect" the monument because there are no plans by anyone involved to topple, destroy, deface, or defile it. We may use some strong words when speaking about it, but I'm confident the monument can handle that all on its own without an armed presence.
-
If people want to get involved with Saturday's sit-in, what can they do to ally themselves with S.P.I.R.I.T. and this important cause?
Join us on Saturday, July 11, at the monument from 10 a.m. to 5 p.m. to peacefully have your voice heard. Like and follow the SPIRIT Facebook page. Do the same for Black Lives Matter OKC, who are our co-sponsors and invaluable allies to Indigenous peoples. We're also accepting donations of water, snacks, ice, and coolers to ensure everyone is safe from the heat.
_
Follow Louis on Twitter at @LouisFowler and Instagram at @louisfowler78.
Stay in touch
Sign up for our free newsletter