Everything Else
Lost Ogle celebrates 13 years of miraculous existence…
10:48 AM EDT on May 13, 2020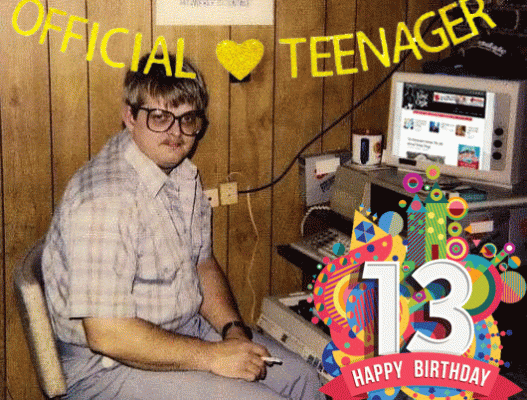 On the night of May 13th, 2007, after my wife-at-the-time and I had our families over for a joint Mother's Day cookout, I was in the spare bedroom of my house listening to music, and putting the finishing touches on a snarky little blog post I had written about the Fox 25 weathermen for a new website I created. I was 29, had a decent-for-a-29-year-old corporate job, and was doing my best to enjoy life.
That original article has been moved behind a member's only paywall, but I've shared it below:
My 3-Cents: Gary England should be scared!

Is it just me, or does the FOX 25 weather crew look more like a bunch of Bob Howard car salesmen rather than a group of Oklahoma City weathermen? Instead of talking about the jet stream, hook echoes and the dry line, I picture them sitting around some $0.80-cent draws at Henry Hudson's blabbering about the hot chick who bought the beat up Accord, what they plan to do with their "future", and of course, the "good old days."

Anyway, that there headline, picture and paragraph is the first ever post here at TheLostOgle.com.  At this website, a group of young, amazing and strikingly attractive Oklahoma City residents are going to offer our "2-cents", "rants" or "morning news show styled opinions" on a variety of topics concerning Oklahoma City and the rest of the world. It's a daunting task.  In fact, it's a task so daunting that only an Ogle brother could do it.

That's why we're TheLostOgle.com.  And that's our two cents.
If you would have told me back then that 13 years later I'd find myself sitting in that same back bedroom listening to essentially the same music and writing basically the same stuff for that very same website (and that website would develop into a well-known local brand, go-to "news" source, and incredibly burdensome job), I probably would have asked you to leave the bedroom and cried. I then would have probably deleted the article and went to bed. But you didn't do that, so here we are – 8,719 blog posts and 63-million pageviews later – wondering where the fuck the last 13-years have gone.
Just like anything in life that survives for 13 years, we've had our ups and downs, highs and lows, and good times and bad times. We've survived lawsuits, trolls, in-fighting and out-fighting. We've made people laugh, we've made people cry, and we've made people aware – for better or for worse – that not every person in Oklahoma is a country music singer, redneck or churchy, sanctimonious, humorless tool.
Although seeing this creation last for 13 years is an accomplishment, and probably something to celebrate, it's hard for me to get too excited. Like most small publishers, our business model was already in a state of flux before 2020 arrived. Now, thanks to a pesky virus that was made by Warren Buffet, Bill Gates and Cher in a secret lab in China, the future of this website is in serious jeopardy.
That's why I ask if you've enjoyed any aspect of this website for the past 13 years – or simply want to send us a birthday present – please consider joining our reader supported Ogle Mole Membership Club. For as little as $5 a month, you can get access to our archives, a free gift, and additional perks and privileges down the road. This support will not only help us strengthen our foundation and maintain our independence, but also give me the opportunity to write another birthday post next year – just hopefully from a different house.
Anyway, I'd like to thank all of our readers, contributors, commenters, brand partners, behind-the-scenes helpers, moles, weatherman and everyone else, including our hate readers, who have helped this site make what it is today.
Stay with The Lost Ogle. We'll keep you advised.
Stay in touch
Sign up for our free newsletter