coronavirus in oklahoma
Kevin Stitt Attempts to Proselytize Way Out Of Coronavirus Pandemic
12:29 PM EDT on March 27, 2020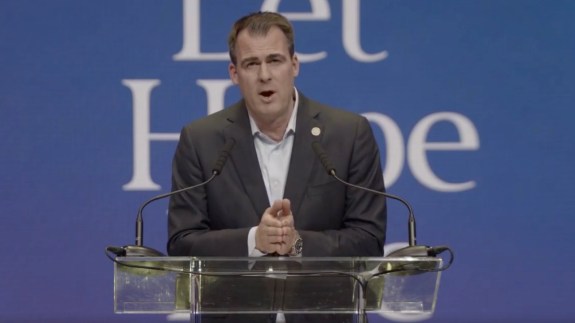 Last night, in an attempt to "bring and unite all Oklahomans" together in this time of crisis, Oklahoma Governor Kevin Stitt hosted a televised prayer rally that excluded every religion, faith and set of beliefs in this state except for one.
Titled "Let Hope Arise: Together in Prayer for Oklahoma," the ritual featured a godly all-star roster of Oklahoma evangelical church leaders, musicians, and other people who spread faith for profit, and was broadcast live over the air in primetime on every single network affiliate in Oklahoma City.
The event was also aired all over social media. Check it out:
Before I make fun of this, I want to be very clear that I don't have a problem with people worshiping their god or deity of choice. Although big, organized, for-profit religions give me the creeps and seem more focused on controlling, judging and taking money from people than spreading the word of god, if you turn to a deity or god for hope, guidance or introspection in these scary tunes, good for you! Hell, I'd encourage it.
That being said, I do have a problem when elected officials – and their allies in the news media – pander to one dominant religion while excluding all others. As a result, I decided to casually troll the thing on Twitter, and call out the blatant hypocrisy in using one religion to bring all Oklahomans together.
Naturally, my tweets set off some irrational, conclusion-jumping responses from the evangelical crowd. My favorite came from a guy who (I'm pretty sure) married into the Hobby Lobby family and now works for the Museum of the Bible – the same bible museum that recently learned all of its treasured Dead Sea Scroll fragments were fakes:
Once again, I'm not offended by people praying for the sick. That being said, I do get a bit irritated when politicians used the premise of "praying for the sick" to proselytize to people on TV for an hour.
Instead of telling the dude that, I went the more pleasing ad hominem route:
Anyway, if it's your cup of tea, you can watch the prayer rally here.
Also, I do hope all these prayers of hope to the all powerful god that apparently created the Coronavirus in the first place works out. With Kevin Stitt in charge of things, prayer seems to be the only chance we got.
Stay in touch
Sign up for our free newsletter