coronavirus in oklahoma
7 Reasons why Tim from the Cowboy Hall of Fame is the leader Oklahoma needs!
5:53 PM EDT on March 24, 2020
With the lack of action taken by our state government to contain the spread of the coronavirus, it seems lately that Oklahoma's leaders have failed us. It is during times like these that we need strong, intentional leadership. So instead of looking at our esteemed politicians to provide that support, I believe we Oklahomans need to look elsewhere for direction.
Last week, the National Cowboy & Western Heritage Museum's official twitter page was taken over by their head of security, Tim. Since then, Tim has worked tirelessly to connect with his followers and share exhibits of the temporarily closed museum. His social responsibility and informativeness speaks volumes about him. In fact, here's 7 reasons why Tim from the National Cowboy Western & Heritage Museum is the leader Oklahomans need!
1. He's informative
Oklahomans are tired of hearing soundbites and wishy-washy, political BS streaming from the mouths of their officials. We need a leader who is direct and intentional about keeping Oklahomans informed! Thankfully, with his seemingly endless stream of facts about everything from clocks to western films, Tim is the most informative leader our state has!
-
2. He's personable
His folksy personality and eagerness to connect with the general public make Tim appear approachable and trustworthy. You know what, Tim? We'd all like to have a beer with you, too.
-
3. He's got good boundaries
Oklahoma's government leaders are not always known for being the most appropriate when it comes to maintaining boundaries and not being goddang sex offenders. But not Tim! Tim is known for acting only in appropriate manners. As seen above, when given tips by his marketing guy on how to "engage" with social media followers, Tim declined and happily reminded us that he's already married to Tina.
-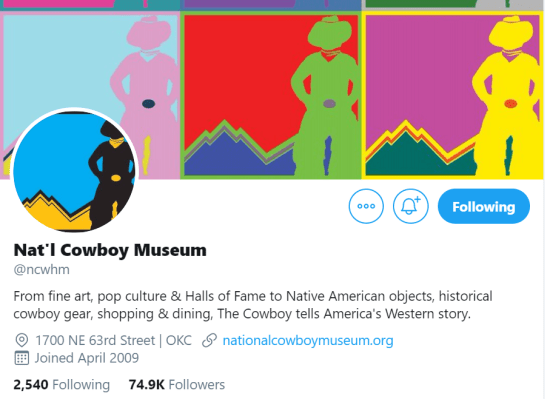 4. He has many followers who love him
When I first followed Tim on twitter last week, he was at around 10,000 followers. As of today, that number has well exceeded 70,000. To put that into perspective, Governor Kevin Stitt only has about 19,000 following his twitter…
-
5. He's well-connected
Sometimes in order to gain support or resources in times of need, it is important for leaders to have good rapport and connections with other powerful people. Unsurprisingly, Tim appears to be buddies with Kevin Costner and Sam Elliott. If they want Tim on their side, then by-God we should too.
-
6. He admits his mistakes
While some of our esteemed government officials seem to be better at covering up their mistakes or passing responsibility off to someone else, Tim knows that to be a great leader you have to be honest when you mess up. Tim might not have had the whole "hashtag" thing down when he first took over the National Cowboy & Western Heritage Museum's twitter account. But once he realized he made a mistake, he not only admitted it, but also worked hard to make sure he did better in the future.
-
7. He gives off a sense of authority and responsibility 
It's one thing to be approachable, but it's another to appear to be in control in times of turmoil or stress. While some leaders use intimidation tactics to stay in control, Tim knows he doesn't need to be mean for people to take him seriously. He just needs his cowboy hat. And you know what? By keeping the museum safe as head of security, maintaining social distancing in all of his selfies, and working hard to improve Oklahomans' morale during this chaotic time, Tim is the definition of responsibility. Thanks, Tim.
-
Tim for Governor 2022. Follow Tim on twitter @ncwhm and follow Hayley @squirrellygeek.
In my spare time, I officiate secular weddings, read about dead people, and search for the American Dream.
Stay in touch
Sign up for our free newsletter