events
A Depression Delicacy: The 31st Annual El Reno Burger Day Festival
10:14 AM EDT on May 6, 2019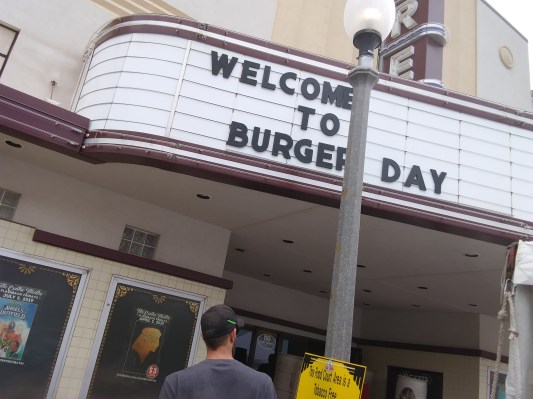 The edible piece of history that is the spiritually Oklahoma-owned Onion Burger dates back to the Great Depression, with many conflicting accounts as to who did what and where it was done still in contention; but one thing that everyone can agree on is, for the most part, it was an folic acid-heavy savior that filled hungry stomachs in a time of greatest need.
It was such a ground beef-breaking sandwich that for the past thirty-one years, the small town of El Reno has celebrated not only the Onion Burger, but the bad-breath culture that has grown around it, starting with the Annual Burger Day Festival. While, yes, it's a day of family fun that cumulates in a great offering of the world's largest onion burger to the salivating crowd, there is so much more to be explored, as I nominally did this past Saturday...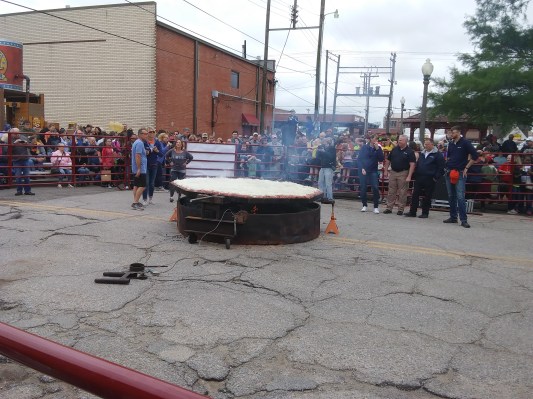 Of course, as a starting point, we checked in with said oversized burger, desperate to get a piece of this monstrosity. As the talking head with a microphone introduced El Reno's most notable celebs—all local politicians, in case you were wondering—the area fire department utilized their well-trained skills and lowered the huge patty of meat onto the custom grill, onion shards and special seasoning bringing tears to the eyes of all watching and waiting for their cut.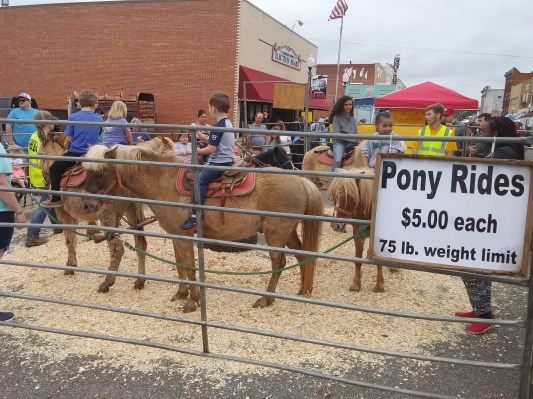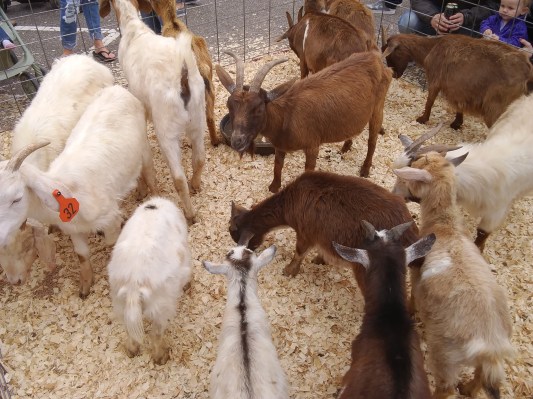 As there is no great skill in predicting just how long a thing like this was going to take to cook, my pal Jodie and I decided to walk around the festival, exploring the many areas of celebration that the city of El Reno cordoned off for my pleasure; running first into the tight but delightful petting zoo, here children 75 pounds and under—sorry, husky kids—could not only ride the miniature ponies for a price cheaper than an actual onion burger, but they could also pet the fully Satanic goats, the slightly-imprisoned turkeys and these two very sleepy creatures I believe to be either lamas or alpacas.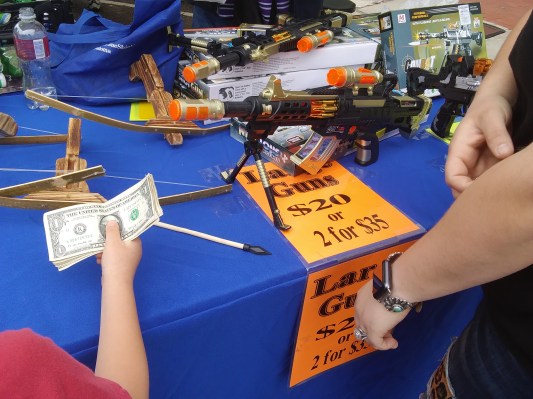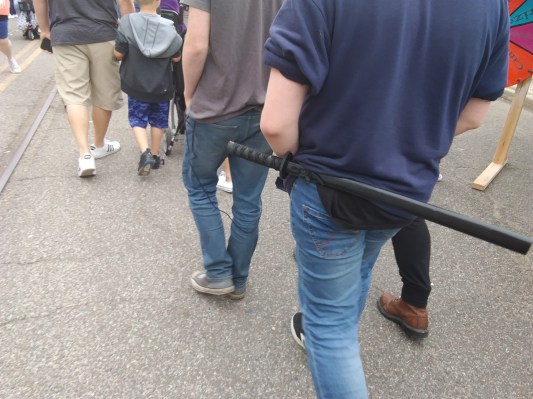 Meanwhile, as children exchanged piles of money hand over foot for faux-weapons that were usually not available out of the area's top-notch flea markets, crews of underage ninja brigades walked the streets, just in case a rogue fist-fight stationed around a Texas Twister drink, complete in a boot-shaped cup, broke out, as they are sometimes wont to do at these events.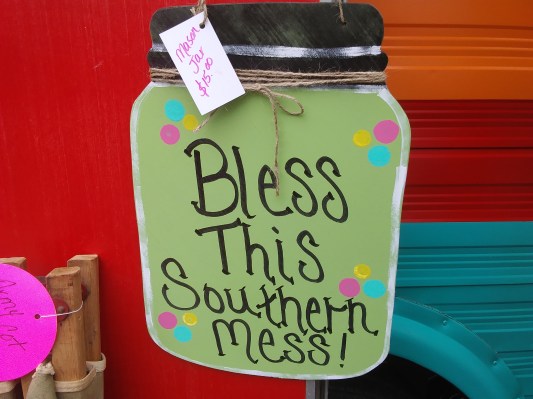 The arts and crafts were, per usual, very big-sellers, especially anything that allowed proud country folk to be fully proud of their prideful heritage—and especially if that heritage was captured by Scentsy. Products aside, which one of us wouldn't stop to play games like Memaw's Potty or even pay a buck to see some baby rattlers, which is exactly what you see: baby rattlers.
You got me good on that one, El Reno Burger Day Festival.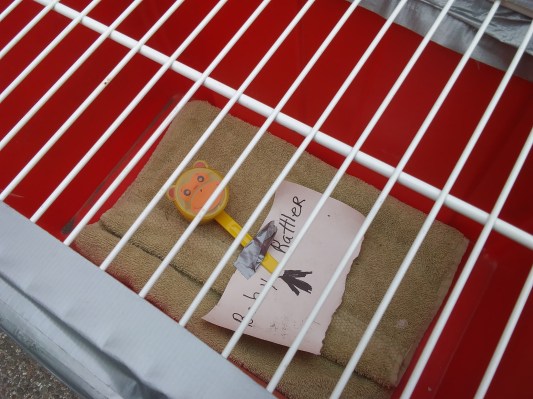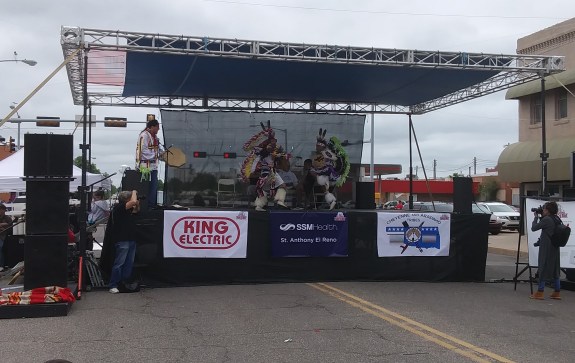 As we walked from one end of the street, where an in-tune white-funk band—Banana Seat, I think it was—were dutifully covering TLC's "No Scrubs" for the somewhat enthusiastic audience, all the way to the other end of the road were a true collection of Oklahoma's cultural performers, showing off their traditional God-given talents, featuring the back-to-back display of native Mexican dances by Ballet Folklorico Norahua and the well-trained Indigenous steps of Tradition Not Addiction.
While my friend was marveling at the beauty of these young people committed to their craft at such a young age, I lamented how, when I was offered a chance to learn these steps when I was in middle school, I declined mostly because I was afraid who would have tortured me the next day. Regardless, I walked over to the two young Cheyenne-Arapaho dancers for a picture. Dropping a few dollars on their blanket, interaction with these young heroes of the faith is always a priceless experience.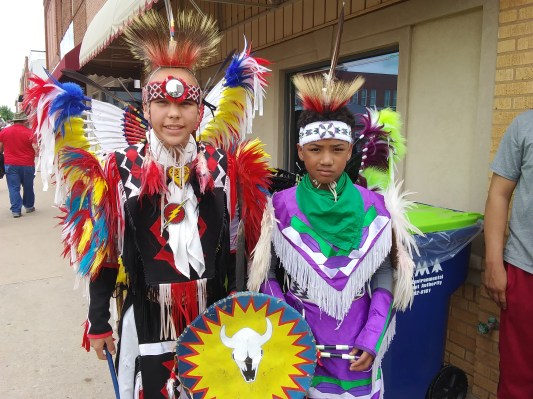 We headed back down to East Russell and Choctaw for the unveiling of the gargantuan Onion Burger, an sinus-stinging point of pride for the town; much like Depression Era-orphans, the hungry populace stretched their dirty hands out as far as they could go past the makeshift fence, grabbing air and just hoping to get a bite of the free onion burger, handed to them on the whims of the local football team, just to slightly quell the hunger of their stomachs already overloaded with bacon-wrapped chicken and sips of mama's iced-coffee.
Luckily, it was huge enough so everybody had their fill, including me. It was kind of dry, though.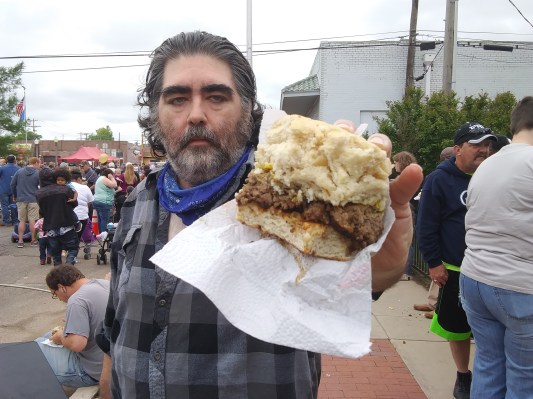 _
 Follow Louis on Twitter at @LouisFowler and Instagram at @louisfowler78.
Stay in touch
Sign up for our free newsletter