For 27 years, one-man-band Mike Hosty has been a bedrock of the Oklahoma live music scene, with a performance schedule that would break all but the most devout musicians.
Recently, Hosty was featured in the first episode in season 2 of Play It Loud – a web documentary music series produced by Outsiders Productions that profiles Oklahoma musicians. He will be performing on February 23 with fellow singers-songwriters Allie Lauren Project, Travis Linville and KALO at the Play it Loud Live 2 concert at Grand Casino. (Editor's Note: Play It Loud and Grand Casino are TLO Advertisers).
I sat behind my mahogany desk at TLO Global Headquarters this week — pipe anchored firmly in mouth — for an electronic tête-à-tête, Q & A style, with Okie Guitar Guru Mike Hosty. He told me about the synchronistic nature of his entree into the music business, what drives his passion for music and his thoughts on the local scene. He also told us a classic road story about a kazoo-playing hillbilly from Arkansas...
You're in line at the Braums drive-thru: What song is blasting from your speakers, as you wait to receive the wrong order?
First of all, I can't imagine a scenario where I would be in the Braum's Drive Thru. But, for the sake of argument, if I were in the Drive Thru lane at Braum's, the song that would be coming out of the speakers in my white, windowless cargo van would be Do it Roger, by Roger Troutman. I bought his album, The Saga Continues, in 1985 at the May Ave. Sound Warehouse. Ever since, it has been one of my all-time favorites. And, besides being a guitar player, he also did the funky talk box vocals.
-
What was your first job, and at what point did you realize music could be a real avenue for you?
My first job was sacking groceries at the Skaggs Alpha Beta.
Growing up in OKC, we always went to the Arts Festival, which is where I first saw local bands. There was one local band called BLT, or Bottom Line Transaction. My dad bought the album, and we played quite a bit. My guitar teacher, Joe Bob Nelson, was a jazz player around town and taught me finger-style guitar. But I was just doing it for fun — and to rehabilitate my left arm, which was broken when a jungle gym fell and snapped my arm at the shoulder. I wasn't using my injured arm, and guitar was a therapy of sorts. Music was just for fun.

Then, in high school, my buddy David Rice threw a keg party and let my band play. That was my first time playing music on stage, and I was hooked. But, still, it was just for fun.

Actually making a living playing music didn't occur to me, until I went to OU and started playing the clubs and parties. There were two ways to go: Indie rock or roots rock. Liberty D's had reggae, blues and rockabilly, and that's the scene I gravitated toward. After graduating, I couldn't find a job with my degree, so I just hung out and played music. And a couple years later I'm still doing it — actually 27 years later. I have to keep doing it, as I have no other marketable skills.
-
How has the local music scene changed over the last 10 years, and where do you see it headed?
The past 10 years have changed the local scene quite a bit.
The first factor being the Norman Music Festival. It gave bands a motivation to play it and a sense of pride to have something like that in Oklahoma.

Next, the Academy of Contemporary Music. I have taught at ACM for about eight years, and the musicians coming out of that school and forming bands — getting involved — is fantastic. There are over ten years of graduated students, so think how many new bands, artists, producers and DJs that is!
KOSU and the Spy radio coming along. There had not been a college radio or indie rock radio station in OKC that played non-commercial format songs. Opening the door for local bands to be played on the radio was a huge boost for the scene! I wished the scene would have had a station like that back in the 90s. Playing and supporting local music on the radio is still important, and I am glad The Spy and KOSU are shining a light on music being made in the metro.

New venues, such as Tower Theater, Criterion and Jones Assembly has opened up OKC to touring bands, bigger shows and great venues to see bands. The downside is local bands now compete with road shows. Add to that cover charges disappearing at small venues and streaming music replacing CD sales...all have a negative effect on fostering local talent by denying revenue streams. Ah, I long for the days of selling CDs.

OKC should follow Tulsa's lead and have small clubs around the larger venues, so when the road show is over, folks can filter into the smaller venues to hear local bands play. After a show at the Cain's or BOK, for example, you can wander a short distance on foot to a local club and catch a couple shows from local and smaller regional bands. The key is being able to walk to each venue and not have to drive. Walkability, as they say. Or even along the new streetcar routes.

Casinos have also brought a bunch of shows to the metro, as well as providing opportunities for working cover bands to make a living. The shift has been from clubs to casinos.

-
What is the wildest thing that's ever happened at one of your shows?

The most recent weird thing that happened was in Fort Smith. A guy came up to the stage and sat down; took a drink of his beer; and then hurled his prosthetic leg up in front of me, while he shook it with what looked like a lawn dart that was fit into the leg. As he shookit, he was trying to tell me something, but since he had a long bushy Ozark Mountain Man beard and a limited number of teeth, I couldn't quite tell what he was trying to say.
He sat there most of the night randomly picking up his leg and swinging it around his head. Occasionally, he would rear up like a bobcat and hiss at me. Nobody really thought anything of it, and that's when I realized: Oh, this guy is a regular! So, on a break, I gave him a kazoo, which made him the happiest Mountain Man wearing an Ozark Mountain Daredevils tank top in the room — mainly because he was the only Mountain Man wearing an Ozark Mountain Daredevils tank top in the room.
The rest of the night, he blew on the kazoo to every song, shook that leg, and had a hell of a time.
-
If you could invite one musician — alive or dead — to join you on stage Feb. 23 at the Play it Loud concert, who would it be?
If I could invite another musician — alive or dead — I think I would invite one that is alive. Having a zombie on sage would be trouble from the start.
I would invite Willie Nelson. He is the reason I chose to learn on a 3/4 size classical guitar, which I bought from Larsen Music in 1979 — instead of an electric guitar. I tried to put a hole in it like Willie did, and my dad put a stop to it, with some good old fashioned corporal punishment.
-
On the topic, and to make our sponsor happy, what's you favorite behind-the-scenes moment from your featured episode in the second season of Play it Loud?
Favorite behind-the-scenes moment from Play it Loud happened while filming the interview, when I tried to hold a Dracula accent the whole time. I broke character, though. My intent was to make a biography that began with life as an Eastern European circus performer who came to the U.S to become a cowboy.
-
Does Oklahoma's guitar guru have a favorite chord?
I sure do! The E7#9, the 'Jimi Hendrix' chord.
-
What keeps you excited to get out and play music every day?
My motivation is my wife, Kellie, and my son, Liam. Also, I just love to play and love to see folks smile, dance and laugh while I play. The advantage to have "never had made it" is you can still try. You can still climb the mountain. I like to think of myself as camped out on side of the mountain.
Also, just waiting to see what kind of weirdness happens on the road at a gig.
-
If you had to rescue one album from your home during a Harold Hamm-sponsored earthquake, which would it be?
The one album I would save is my Complete George Jackson on Kent Records. I identify with him, as he wrote Old Time Rock and Roll, that Bob Segar covered, as well as hundreds of Southern soul classics. Yet, not many people knew who he was. Everybody knows the song but not the songwriter.
=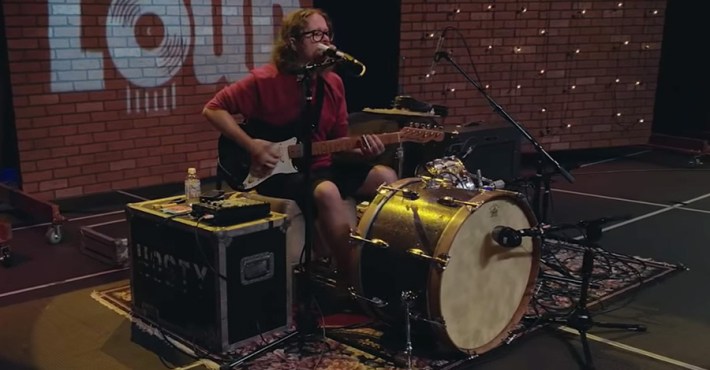 Stay in touch
Sign up for our free newsletter