ICYMI
The Oklahoman continues to document its own sad, inevitable demise…
3:59 PM EST on December 20, 2018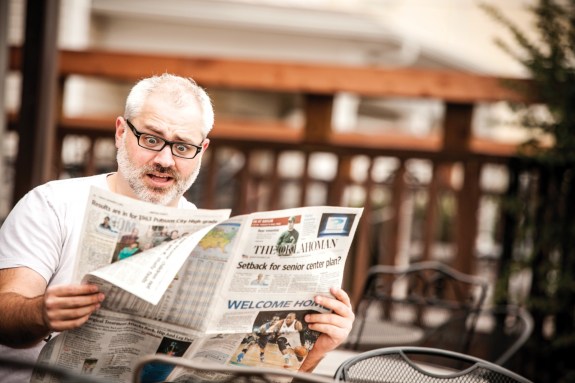 After what we assume was an exhaustive search that couldn't find one person to take a career-ending job, Gatehouse Media announced that Kelly Dyer Fry – The Oklahoman's current Editor In Chief – has been promoted to "Publisher." In her new role, she will oversee the newspaper's long, continued fall into irrelevance, and try her best to produce a profit for its out-of-state corporate ownership.
To celebrate the big news, The Oklahoman held a local "State of The Media" luncheon. Despite the fact that The Lost Ogle has reached over 600,000 Oklahomans in 2018 alone, has a large social media presence, and routinely outperforms The Oklahoman in many key metrics despite only having one full-time employee and a handful of contributors, we were not invited.
They did, however, invite the Editor-In-Chief of another local media outlet that's currently seeking solutions:
I agree with Tres. Our state does need #journalism critically, so it will be interesting to see what happens to The Oklahoman as it continues its struggles to adapt with ever-changing business models and demographics. That being said, what I find more interesting is what media outlet will emerge to replace it.
For the most part, The State of the Media luncheon was an opportunity for The Oklahoman to spend an hour going down on itself, overstate its fledgling influence, whitewash its troubled history, and totally pretend that its staunch conservative agenda that still bleeds into its news coverage never existed.
Check out this write up:
Readers of The Oklahoman talked about their daily newspaper's vital role in shaping Oklahoma and passionate hopes for the newspaper's future Tuesday during a luncheon that featured frank discussions about the financial challenges facing the newspaper.

The Oklahoman has an opportunity to become a national leader in promoting civil discourse, suggested former state House Speaker Kris Steele, who has been a community leader in promoting civil justice reform.
I have an idea. Instead of bringing out Kris Steele to comically inflate the paper's national relevance during a luncheon that should have been catered by Luby's, maybe Kelly should sic one of her watchdog reporters to investigate Steele's relationship with Oklahomans for Criminal Justice and The Education and Employment Ministry. I've heard chatter from Moles that he received a hefty pay raise when the groups merged. It may be something worth looking into before the next luncheon, because you know, #journalism.
Here's more:
In a candid speech to loyal readers, Fry acknowledged knowing that many readers weren't happy that the size of the newspaper has shrunk recently, but said that change was needed to return the newspaper to profitability — a goal which has been accomplished.

"I've heard that a few of you grumbled recently that it's just too small," Fry said.
According to Ogle Moles in attendance, at this point of the speech Nolan Clay stood up and fled the room screaming "I was in the pool!!! I was in the pool!"
"I have witnessed this community move mountains. When we unite, when we stand shoulder to shoulder, we get it done — tornadoes, the bombing, we know how to work together," Fry said.

"What we make of our newspaper is up to us. I'll say it today and I'll say it repeatedly. Our strength and quality is commensurate with the level of support we get from our community."
Yep. She really tried to compare public support for a dated journalism delivery medium to that of generational tragedies like the Oklahoma City bombing and deadly tornadoes. This paper may be in more trouble than we thought! Wake me up when the Red Cross sets up shop outside of The Oklahoman's offices and Toby Keith organizes a benefit concert for the newspaper relief fund.
The Oklahoman even dusted off Bob Blackburn from the Oklahoma History Center to pump up the crowd:
Bob Blackburn, executive director of the Oklahoma Historical Society, said that for more than 100 years The Oklahoman has played a vital role in recording and shaping the state's history.

Blackburn credited The Oklahoman with leading the charge for numerous positive changes, including support for construction of what is now Tinker Air Force Base and MAPS downtown redevelopment projects.

He also credited the newspaper with helping expose the Oklahoma Supreme Court bribery scandal in the 1950s and 1960s, which led to changes in how justices are selected, and with exposing the county commissioners scandal in the 1980s, which led to purchasing reforms.

"If we are to remain a vibrant community, I truly believe with all my heart that we have got to have a strong, independent vigorous newspaper that has the resources to investigate, to report, to share that message," Blackburn said. "We have to have everyone there to do their job so the rest of us in our community can do our job, which is to build a better community for our children and grandchildren."
That's cool. Being an esteemed historian and all, I wonder if Bob also described how The Oklahoman routinely worked with The Chamber of Commerce and the GOP to advance a self-serving conservative agenda, protect their friends and then ruthlessly attack their enemies. You can read some of the history of that in some book called Boom Town.
Also, did he mention how the paper was owned by a bigoted, racist man who didn't like to see black people on the cover of his newspaper, or any other troubling facts about The Oklahoman that the new ownership group would rather people forget? Probably not.
Anyway, you can watch the video of the event over at NewsOK.com. I'd also suggest you check out the photos from the people who were at the luncheon. I think it was sponsored by Depends. You may want to hurry, too. With the way things are going at The Oklahoman, it may not be online too much longer.
Stay in touch
Sign up for our free newsletter