sports
OU – Texas Q&A with The Athletic's Jason Kersey
9:08 AM EDT on October 5, 2018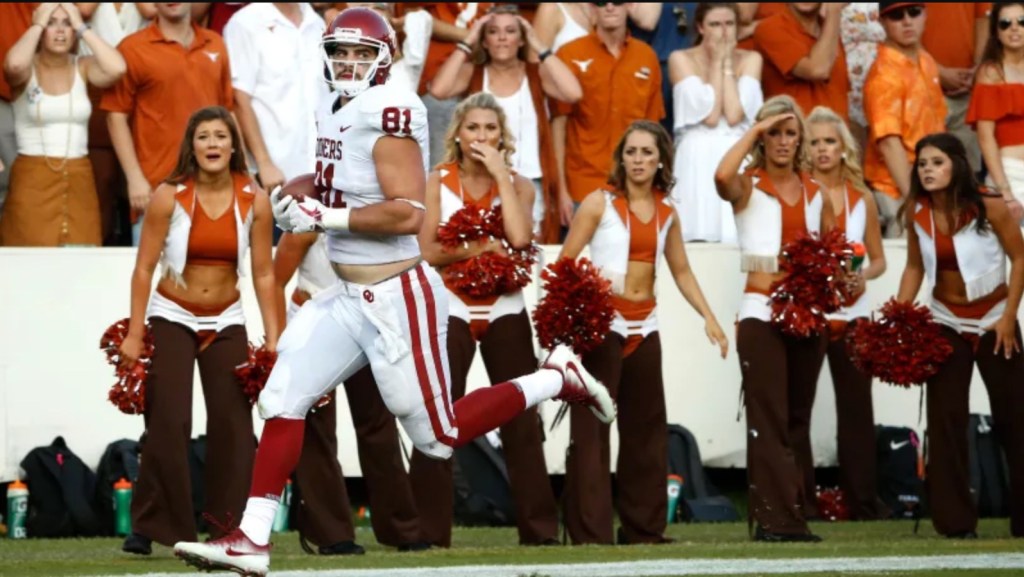 Back in August, we previewed the 2018 OU football season with The Athletic's Jason Kersey. With the annual Red River Shootout taking place tomorrow, I thought it would be fun to follow up, discuss what's happened so far, preview the Texas game, and see what we can expect the rest of the way. Check it out after the jump:
Before we begin, I think you owe me an apology for getting me all excited about the OU Defense in our season preview. I may never forgive you. In return, I'd like to formally apologize to Kyler Murray and the OU offense for ever doubting them. What was I thinking? 
I didn't hype things up too much, did I? I said the defense is the most talented its been in years, which is still true. I think they are still figuring some things out and I think there have been some positive signs, but there is no doubt that side of the ball has been, generally speaking, disappointing thus far. I'm having a really hard time understanding why tackling remains such an issue, especially since we've heard ad nauseam what a point of emphasis it was going to be. The secondary has to be better and I think one way to make it better is to just get Tre Brown in the starting lineup.
As for the offense, yeah, it's been unbelievable. Kyler Murray is such an incredible athlete -- which we already knew -- but I think his arm has been where I've been the most impressed. He's got a cannon. But it certainly doesn't hurt having guys like Marquise Brown and CeeDee Lamb, who I do genuinely believe will end up being the best one-two combo of wide receivers in OU history.
Unless you literally mean the last two years, I don't think they're close to being the most talented defense. I'd definitely take the Strike - Tapper - Sanchez led group over this year's crew, and even those guys had some spectacular meltdowns. Murray may develop into something, but after five games, I just don't see any playmakers or NFL stars. They lack physicality, get pushed around, etc. It's a shame that the coach who recruits these duds has never been held accountable.
I'm 100% with you on Hollywood and CeeDee Lamb. Is this the best overall receiving core in the Stoops-Riley era? The 2004 group of Mark Clayton, Travis Wilson, Mark Bradley and Brandon Jones was very special. Without looking it up, I think they were all selected in the first three rounds of the draft. I wonder what they would have done in this system.
The Striker-Tapper-Sanchez defenses had some great moments, no doubt, but in terms of overall talent, I still would take this year's. I still think there's potential there. I know there have been some bad signs, but I think there have been some good signs, too. Tackling is obviously an issue, but Zack Sanchez got flat-out burned for long touchdowns a lot more than this current crop has. There was the one long pass in the UCLA game to the tight end, and then Iowa State had two long TD passes to Hakeem Butler -- both of which were basically the result of missed tackles. I would argue that this group is generally more assignment-sound than in the past (and as a reporter who has heard it a billion times, I hate myself for using the phrase assignment-sound).
I'm with you on wondering what that Mark Clayton-led group could have done in this offense. Hell, I've actually wondered recently what pre-ACLs Jason White could have done in an offense like this. People forget how mobile he was before he lost his knees.
Funny you mention Jason White...
Earlier this week, Fox Sports Oklahoma re-aired the 2001 OU – Texas game. I watched it because I'm a nostalgic loser who longs for the past. It was strange seeing an athletic Jason White with knees dodging defenders, running option plays and pitching the ball to Quentin Griffin, who is perhaps the best unheralded back in OU history. It was even stranger to see a Mike Stoops defense making plays! 
So, what's going to happen in the Cotton Bowl. Are you going to hitchhike down with Regular Jim Traber?
The 2001 OU-Texas game is, to me, still the gold standard of OU-Texas games. And I don't say that because I'm an OU homer (I'm not), but because it was just a truly unbelievable game between two really, really great teams. I'll never forget that game.
Here's the thing I find interesting about this year: When these teams are both ranked and Texas has some expectations entering this game, it feels like OU rolls. Texas has held it close -- or won -- the last several years while it has been mired in this slump. Maybe I'm crazy, but all of the signs to me point toward a decisive OU victory. I genuinely think OU wins this game by at least two touchdowns.
I don't have the Greg Davis Consensus 900 trends in front of me, but I don't like OU being an 8-point favorite. This game always seems to always favor a decisive underdog. 
The cliché key to the game has to be if the Texas offense can control the line of scrimmage. If they want to win, they should pull an Army and just run a fullback dive every other play. Are they equipped to do that? 
Well, let's see. Army ranks fourth in the FBS in rushing offense and Texas ranks 91st. Texas is averaging 3.4 yards per rush over the last three games. So that would seem to suggest to me that Texas is not capable of pulling an Army on OU's defense.
I think what OU needs to be more worried about are the big receivers. Lil'Jordan Humphrey and Collin Johnson are both Hakeem Butler-like wideouts. I'm not necessarily worried about those guys beating OU deep, but about guys like Tre Norwood and Parnell Motley tackling them after they catch the ball.
As long as Sam Ehlinger is the one throwing them the ball, I'm fine with it. I haven't watched every Texas game twice like you have, but in my limited exposure, I haven't been impressed. Then again, Mike Stoops specializes in making shitty quarterbacks look spectacular, so who knows what will happen. I think the only certainty is OU will score a lot of points. My final prediction is OU wins 45 - 28. What do you got?
I'm going OU 42, Texas 20. My gut feeling says the Sooners win handily and that the defense will play relatively well. How much does that mean against a Texas offense that really isn't all that great? I don't know. But I don't see any way Kyler Murray and that offense don't score at least 40 points.
Great! We both feel the same way about the game. I guess we should expect OU to lose then. 
Let's look past the Texas game in focus on the rest of the season. Does anyone beat OU? What do you see as storylines for the rest of the season? 
I think Texas Tech in Lubbock on Nov. 3 could be dangerous because of how well the Red Raiders have played at times this season. You never know with Oklahoma State, although evidence suggests the Cowboys have some big problems and I don't see them winning in Norman. The West Virginia game on the day after Thanksgiving, to me, seems like the biggest threat for OU. Morgantown is a weird place, man -- it's also my favorite Big 12 road trip, by far, but it's a weird place -- and on these non-Saturday games, it always seems to me like the road team is at an even bigger disadvantage than normal. And if West Virginia is still in the Playoff race by that point, that crowd will be insane.
The craziest thing to me about that OU-WVU game is that it could easily end up being meaningless if they play again the next week in Arlington. So in theory, OU could lose in Morgantown, beat the same team a week later and be in a similar spot Playoff-wise.
But what about the storyline. What will you be writing about later this year?
As for storylines, the defense will obviously continue to be a big one. I'm going to be really curious to see how Oklahoma handles the running game moving forward, because I'm just not convinced Trey Sermon is a guy who can do what Rodney Anderson did. Anderson was so good in so many different ways. He could run between the tackles and had breakaway speed. Sermon is a strong, tough back, but I think they need to find someone else to compliment him. Maybe that ends up being Kennedy Brooks, although I'd also keep an eye on true freshman T.J. Pledger moving forward.
I like Brooks. He's a good change of pace back, and a solid compliment to Sermon.
My storyline is obvious and simple – as long as Murray stays healthy, OU rolls. The biggest questions is if the offense can break or match the 2008 team's streak of six consecutive games scoring over 60 points. Then again, I'm a homer.
Final question. In your next Q&A with Teddy Lehman on The Athletic, will you ask what ever happened to the ball from the SuperMan play? Is it in a museum? Did Roy get to keep it?
I will absolutely ask Teddy that question. It's a good one and honestly something I've never thought about before.
Stay in touch
Sign up for our free newsletter