Food
TLO Restaurant Review: Big Daddy's Smokehouse Bar-B-Que
9:12 AM EDT on September 25, 2018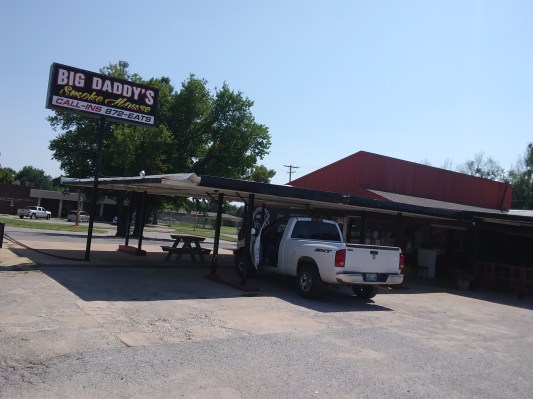 Even though I am a sworn admirer of the works of Mr. Tennessee Williams, I have, for many years now, a bit of a hard time calling any grown man "Big Daddy." But, as sure as the kudzu vine strangles the life out of our sweet Dixie, I gave in and gave up, accepting most of the generally fine smoked meats that Big Daddy's Smokehouse Bar-B-Que, 220 S. Main St. in Noble, has to offer this usually velveteen suited dandy.
The scintillating smoke wafted through the layered neighborhood as thick cuts of beef, pork and chicken dripped their sweet juices down on that ashy wood, sizzling and spraying embers all to and fro and about in the good-sized smoker. It was a sweltering scent that reminded me of growing up amongst the meat-bearing beasts, hearing their forlorn cries as they were led to slaughterhouse and then, their silent remnants to the smokehouse.
Housed in a well-built almost lean-to, Big Daddy's has been keeping the bellies of Noble's hungriest barbeque lovers full and overflowing, often filling plates to bountiful proportions, for almost fifteen years now. Plus, with its drive-in parking, outside picnic tables and inside fixings bar, Big Daddy's Smokehouse felt more like an old backwoods roadhouse.
"A honk konk konk ka gancha each you puna eachya bop a luba each yall bumo a kechonk," to quote Jim  Morrison.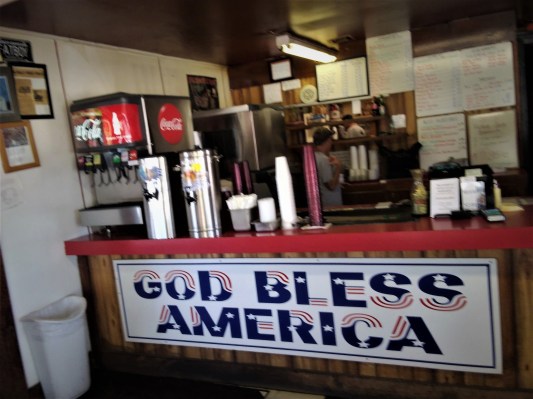 The menu is a simple photocopied affair that can easily be transformed into a mildly sordid one, given the right company. From sandwiches and loaded fries to cole slaw and nachos, the real star of this profusely-sweating universe is the array of smoked meats: chopped brisket, pork loin and genuine bologna, to name a few, were calling out to me, yearning to take them home and lie down with them.
My ribald appetizer—or what I childishly thought was an appetizer—the Loaded Baked Potato ($6.95) was the size, I swear on Ulysses S. Grant's grave that I ain't lying, of a sturdy Nerf football. I went first and ten as best I could with this gigantine delight, covered in brisket, butter, sour cream, shredded cheese and plenty of chives. If I had eaten the whole delectable doll I surely wouldn't have room for the main course, so it was packed up for a meal to be determined later.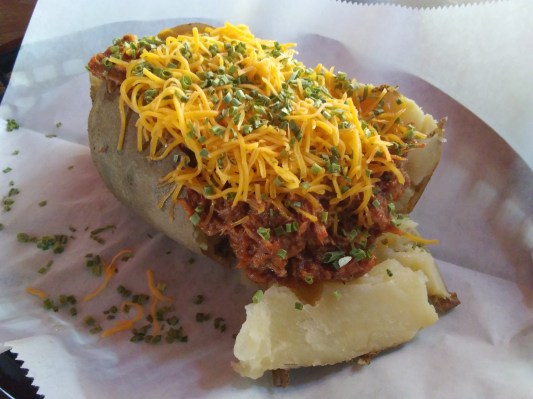 A well-meaning understanding of what Big Daddy's has to offer comes quite spectacularly in the Three Meat Combo ($15.50) meal—at least two meats more than I needed in my life but, yes, I still have that mentality at times. In addition to the sweet baked beans and cool potato salad that accompanied my plate, I chose, as my meats, proudly: a firm pair of ribs, a bit of sliced brisket and those hot links, cut into spicy medallions, all to ease my way into that meat-loaded dreamland a little bit later.
The ribs were mighty savory, the firm smoky musculature mixing well with the chewy flabby parts to create a welcomed taste that I bathed, quite liberally, with their homemade mild sauce, located at the back of the table. That pour goes double for the sliced brisket which, sadly, was a might too dry for my mandibles; I was going to slather it in sauce anyway, which added some well-needed moisture to the surroundings. That sauce really makes it all worth it.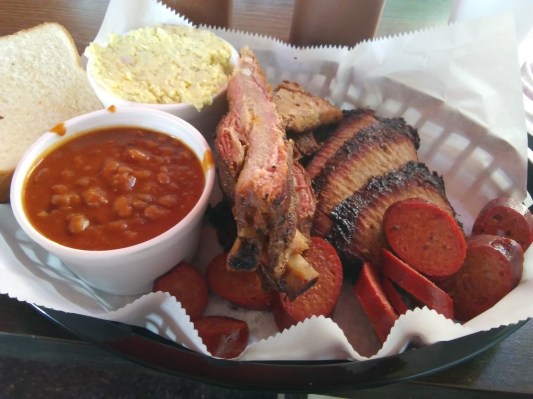 As I was quietly gnawing on my small bounty from the fixings bar—which included dill pickles and sliced onions—to my grand surprise, the hot links, gently sliced into slivers for better eating, gave me a sheer rush of pork-based heat with every bite I took; a slightly peppered thrill that ran down my esophagus and well up into my spine. It wasn't an overpowering fire, mind you, but a smooth burn; next time, I think I might just get the hot link sandwich and say to Hell with everything else.
Yes, I might have a slight aversion to grown-men that wish to be referred to as Big Daddy, and have for lo these many salty years. But this staid Noble landmark, proud to be a well-chosen cadre of barbeque smokin' Americans…well, that Big Daddy can smoke this gentleman's meat any day of the week. Cómpralo ya!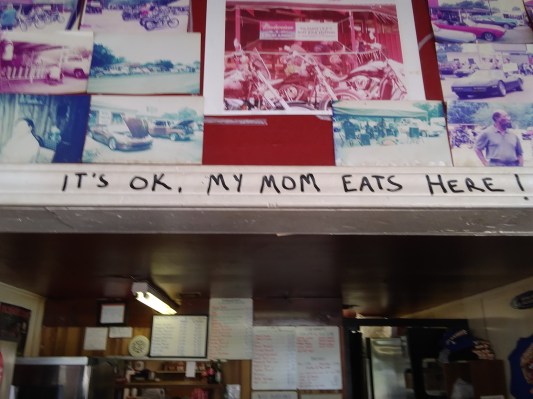 _
 Follow Louis on Twitter at @LouisFowler and Instagram at @louisfowler78. 
Stay in touch
Sign up for our free newsletter