Food
War of the Rural Okie Pizza Chains: Hunt Brothers vs. Simple Simon's
9:36 AM EDT on September 13, 2018
Living in the deserted wastelands of rural Oklahoma, most of the time, if you want a warm slice of moderately fresh pizza, you're more than likely not gonna find a Domino's or Pizza Hut, let alone homegrown piemakers like the ones we love here in the city so much. So what're you supposed to do? Not eat pizza or something?
Here's where country chains such as Hunt Brothers and Simple Simon's have completely taken over the market, offering everything from cheesy slices to whole meaty pies for every hungry backwoods Tom, Dick and Clem. Easily located in the small convenience stores and gas stations that manage to sit on the outskirts of every small town from Adair to Wynona, the two joints have grown into a veritable money-making machine for the franchisees, and good on them.
But, living in small-town Oklahoma for a few weeks, such as I have and did, with these outlets being the only viable option for 'za, I started to wonder, out-loud and to no one at all: which of these two half-baked businesses carries the munching monopoly on down-home pizza, actually delivering the goods in presentation, value and most importantly, taste? Grab your oven-mitts because it's an all-out war of the rural Okie pizza chains: Hunt Brothers vs. Simple Simon's.
_
Hunt Brothers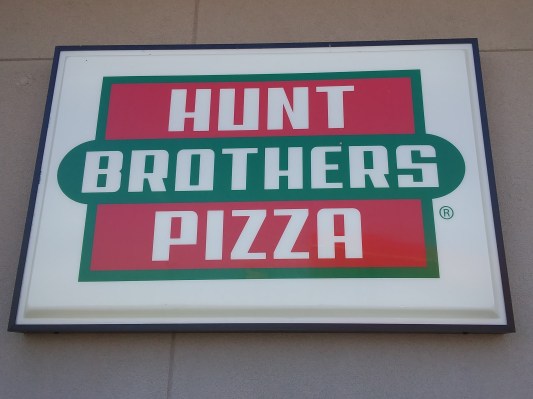 Probably the most pervasive podunk pizza place haunting the backroads of Oklahoma, Hunt Brothers goes all the way back to 1962 when Don, Lonnie, Jim and Charlie Hunt formed a local route in Evansville, Indiana—then called Pepe's Pizza, oddly enough—delivering pizza crusts and all the necessary toppings to bowling alleys and drive-in theaters; however, the Hunt Brothers as we all know them now formed sometime around 1991, adding convenience stores, gas stations and country markets to their list.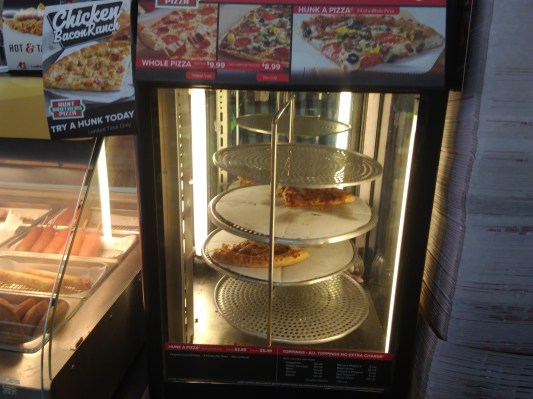 They currently have 7300 locations across America, most of which definitely seem to be in Oklahoma if you've traveled the state, but for this taste test, I stopped at one somewhere just outside of Choctaw at a Thunder Travel Plaza.
While I have seen certain stores that have a little mini-kitchen set-up to prepare the pizzas off to the side, much to the amazement and chagrin of slackjawed patrons, this fully-loaded travel stop had them rotating slowly in a glass case on the counter—sausage only—seemingly for about an hour, the guy behind the register reckoned.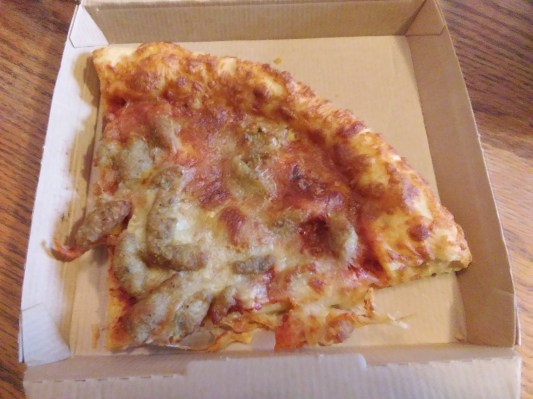 At about $4.00 a slice, it's a chunky, stubby little thing. The massive toppings, though mostly rubberized, were generically fine but the crust was basically a thick, monotonous slab of solidified bread. I gnawed on it the best I could and with no other variety of slices to sample, I eventually just gave up on it. Truth be told, it reminded me of mediocre leftover pizza microwaved on the way to work in the morning, which, if you love, here's your pie.
_
Simple Simon's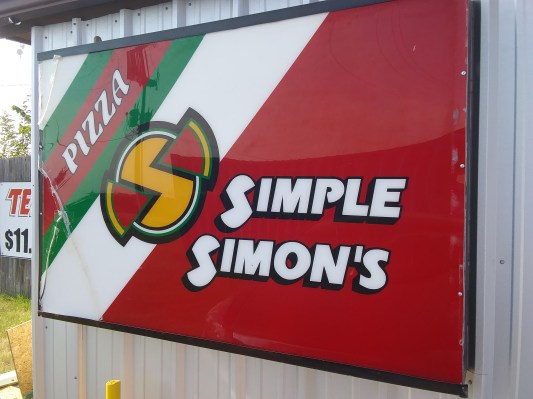 Based out of Tulsa, Oklahoma, since 1983 when they first opened their doors (or someone else's doors), Simple Simon's have smartly carved themselves out a niche in the pizza-biz, genuinely going pie-for-pie with the big boys. Since that first shop at 21st and 129th St., they have made it their mission to serve the classically underserved rural markets like video rental joints, small grocery stores and, of course, convenience stores.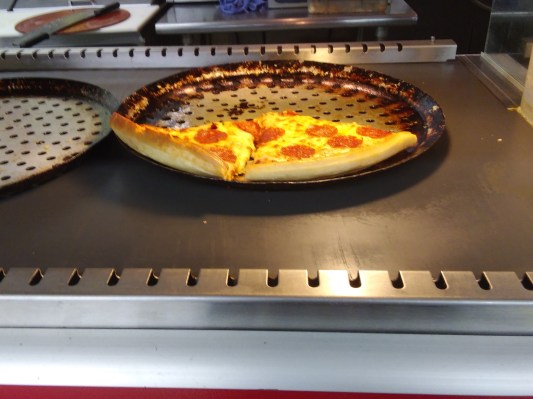 Currently the 14th largest pizza chain with well over 200 locations, the Simple Simon's that I found my slice at was a Sinclair filling station deep in Slaughterville. This place did have a pizza kitchen in back—I wasn't sure if it came with the franchise deal or if was just welcomed happenstance, but there were a couple of melty-enough pepperoni slices hanging out and collecting grease under the heat-lamp. The guy behind the counter said it had only been sitting out for about 45-minutes.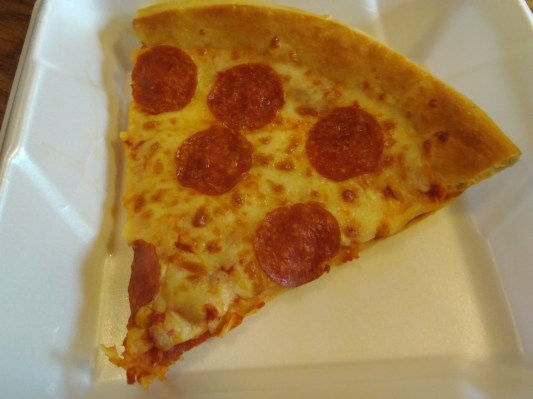 Setting me back a measly $2.00, the Simple Simon's slice was moist and gooey, with a pretty decent topping to crust ratio, which was a blessing. The pepperonis were plump little holders of oil that made it easy to blot with a napkin, per doctor's orders. I don't know if it's the type of pizza or the type of pizza-maker behind it, but this was all-around a pretty great slice of convenience store pizza.
_
The Verdict
Even though Hunt Brothers has been around longer, subsequent stops at different outlets have yielded similar results. It seems to me that Simple Simon's consistently does a great job in terms of presentation, value and taste. And while the upstart might be a little harder to find, if you see them, they are definitely worth the stop for some of that sweet road 'za when you're out touring this great state.
Unless, of course, the gas station has also got those mighty tasty BBQ burritos, in which case, screw it and just buy that blissfully reimagined South of the Border brisket treat. Buy two! Cómpralo ya!
_
 Follow Louis on Twitter at @LouisFowler and Instagram at @louisfowler78. 
Stay in touch
Sign up for our free newsletter