ICYMI
10 Oklahoma Political Candidates You Should Know About
9:25 AM EDT on June 25, 2018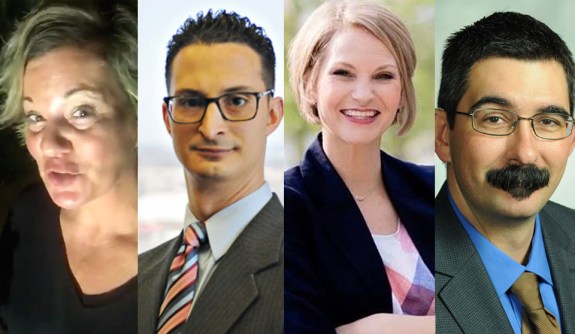 With so many candidates on the ballot tomorrow, it's been difficult to figure out A) who deserves your vote and B) who deserves to be made fun of. As as result, we put together this comprehensive list of 10 Oklahoma political candidates you should know about.
Enjoy...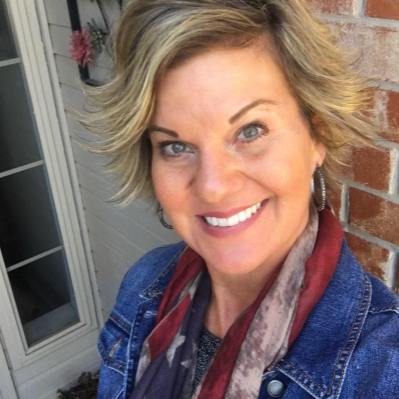 1. Leslie NesSmith   |   Republican Candidate for Senate District 22
There are several reasons to vote for Leslie NesSmith. She's a small business owner, she has straight, white teeth, and she likes to desecrate the US flag by wearing it as a scarf. She's also a proud gun nut.
Check out this hopefully-drunken late night Facebook video where she rambles about "common sense" gun laws and talks about being an "Ammosexual," which I guess means she likes to give guns blow jobs.
I'm all for open carry gun laws, but if Leslie is going to pack heat at church or Lake Hefner, she needs to A) lay off the booze, and B) make sure her finger is 100% healed.
–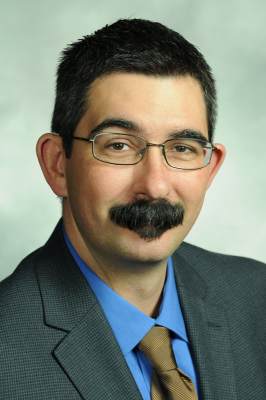 2. Jason Harris   |   Republican Candidate for House District 27
The sarsaparilla salesman pictured above is Jason Foghorn Harris III. His hobbies include bare knuckle boxing, reading the Art of Manliness, and waving to children from the back of the caboose. He also sings in three barber shop quartets and likes to restore old sod houses and covered wagons: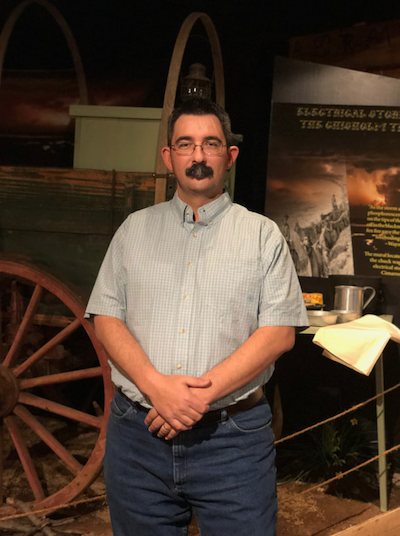 It's not very clear on his website, but I think Jason's employment history consists of working in or around museums and rating silent movies on Rotten Tomatoes. I guess that's why his biggest campaign endorsement is from his social studies teacher: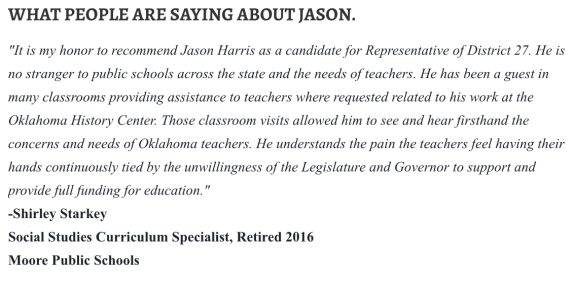 Basically, a vote for Jason means sarsaparilla will be in every classroom.
–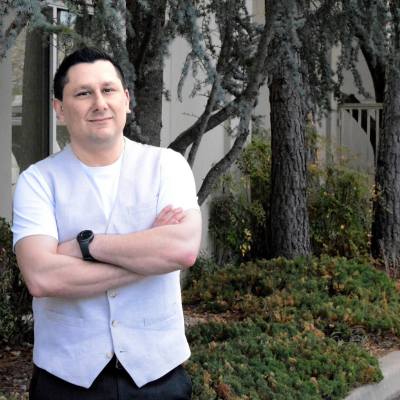 3. Anthony Vandyousefi   |   Democrat for House District 95
If you need a ride to the polls on Tuesday, open your Uber app and request a ride. Anthony will pick you up and get you to the neighborhood church in no time. He may even offer you mints and a bottle of water!
Okay, I'm kidding. Although the vest may be a giveaway, I have no clue if Anthony is an Uber driver or not. He does, however, seem like a nice guy with humble beginnings. We could use more people like that at the capitol...
–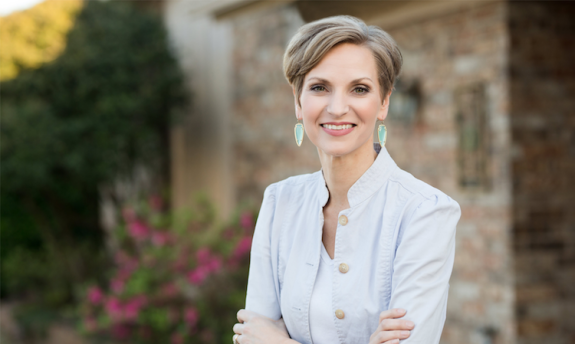 4. Carri Hicks   |   Democrat for Senate District 40
In full disclosure, I have a Carri Hicks sign in my front yard.
Carri is one of the many Oklahoma teachers seeking a job in the Oklahoma legislature. I guess she's looking for a job where she doesn't have to bring her own supplies to work and gets even more time off in the summer
Like most Democrats, Carri is for most Democratic things, but there are a couple of fun facts about her that you may not know...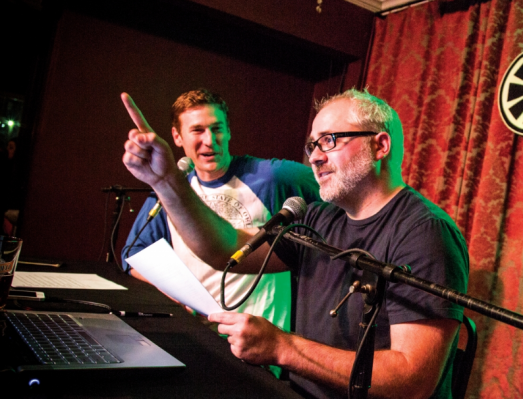 A) She likes gingers
The ginger man gazing jealously at the much more attractive silverback is Carri's husband Spencer. He's a stand up comic, stress ball cannon operator and guy who's written over 200 articles for this website. The fact that Carri would go down a couple of levels and marry a pale ginger Sudoku champion says a lot about her patience, and selfless, sacrificial character.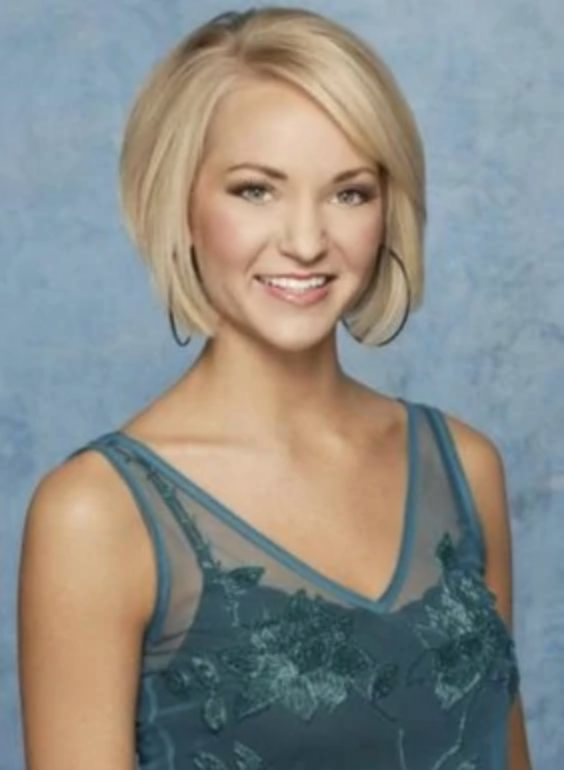 B) She was a contestant on Season 12 of The Bachelor
Although I'll be nice and shake their hand if they approach me in public, I'm not a big fan of realty show hosts or contestants running for public office. I think it sets a bad precedent, and you just never know which ones are in the pockets of Russian oligarchs.
In Carri's case, I'll make an exception. First of all, she was on the 2008 season with the British guy. According to Regular Jim Traber, it was a "pathetic season" and "If you put a truth serum in Chris Harrison, it shouldn't count."
Sadly, Carri only made it past one rose ceremony. Here's a snippet from an interview she gave to Realty TV World after getting eliminated:
Carri Perrier is still unsure why she was rejected by The Bachelor: London Calling star Matt Grant -- but added it doesn't really matter if he's sincere in looking for love via the ABC reality dating series.

"[Why I didn't receive a rose] is really hard to tell," she told reporters during a Thursday conference call.  "I hope that his intentions are true for coming on this show to find true love.  We're never really certain why we're attracted or not attracted to certain people.  I'm glad that if I wasn't what he's looking for that he's pursuing stronger relationships with the other girls."

The 25-year-old church marketing representative from Oklahoma City, OK was one of three bachelorettes who failed to receive a rose from the 27-year-old international banker during Monday night's The Bachelor: London Calling broadcast...
If you can't make it to the home date portion of the Bachelor, how in the world can you win a state senate election in Oklahoma??? Fortunately, Carri has some hidden talents and skills that regular Oklahomans can identify with:
Perrier will most likely be remembered during her short stint as a bachelorette for when she bit a soda can in half during the twelfth season's premiere broadcast.
Yep, she can bite a soda can in half. I've also heard she can tie a piece of barbed wire into a knot with her tongue.
–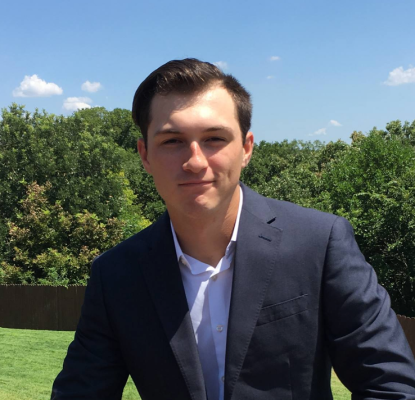 5. Cobi Ceron   |   Republican for House District 82
Cobi Ceron is the 20-year old Edmond kid and son of a Sonic executive. I guess that's why he looks like he smells like tater tots.
Instead of enjoying life to the fullest like most spoiled college-aged young adults who get most things handed to them on a silver platter, Cobi is one of 1,200 or so Republicans vying for the house seat in this conservative Edmond district.
According to his campaign postcards, the privileged white kid from Edmond who has no valid life experiences or accomplishments that qualify him for public office thinks he should be a state rep because he can recite Trump talking points: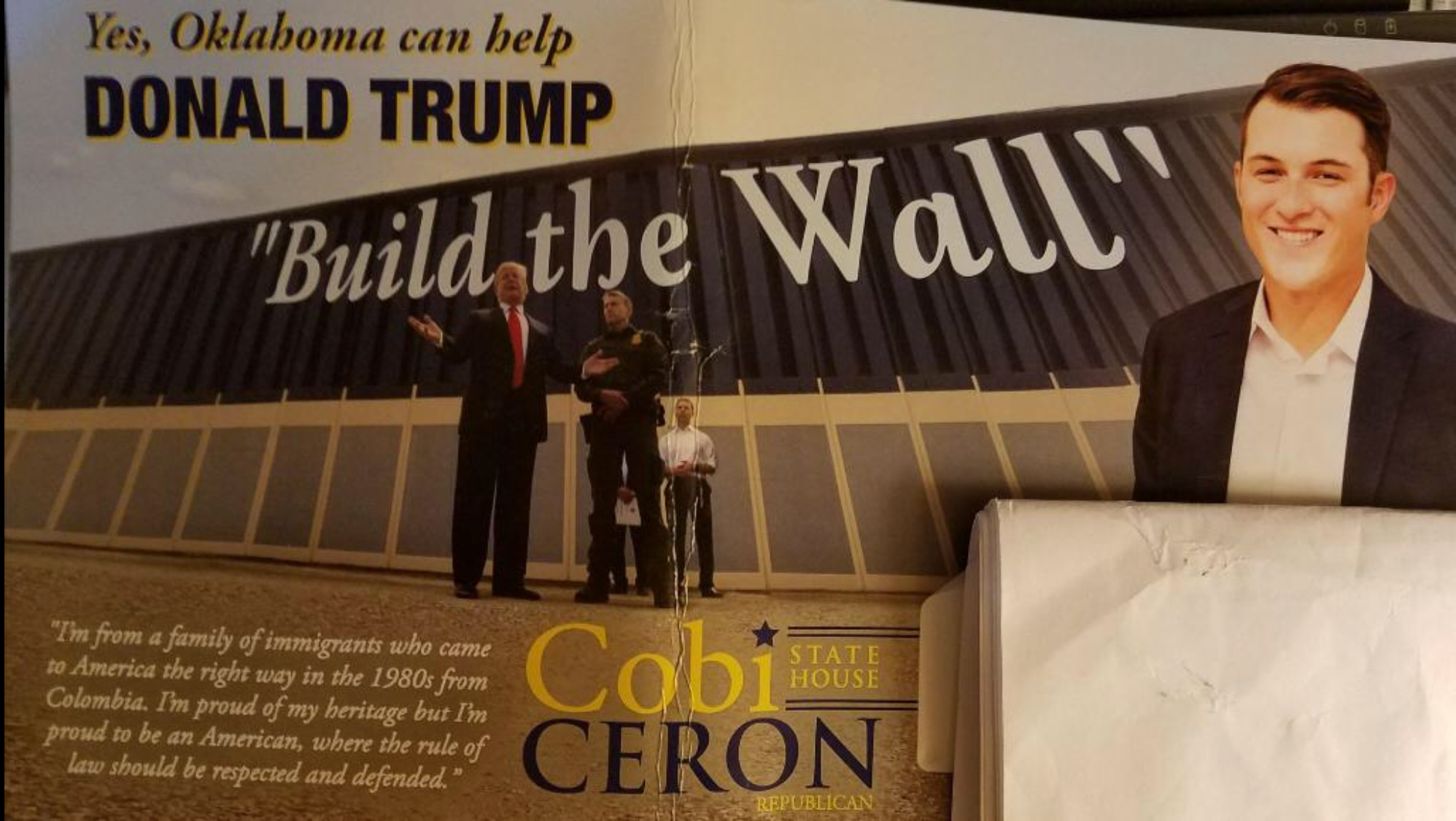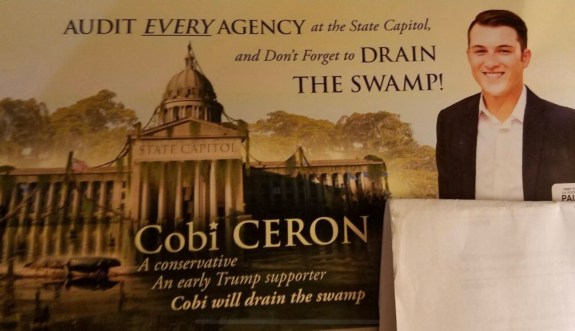 Whoever wins this district is probably going to be some right-wing Trump supporter, but can we all agree that it shouldn't be some pre-pubescent 20-year-old kid from Edmond? He at least needs to file bankruptcy, attend a few more white nationalist rallies, and grab a pussy or two before he's truly ready to lead our state into a dystopian hell.
–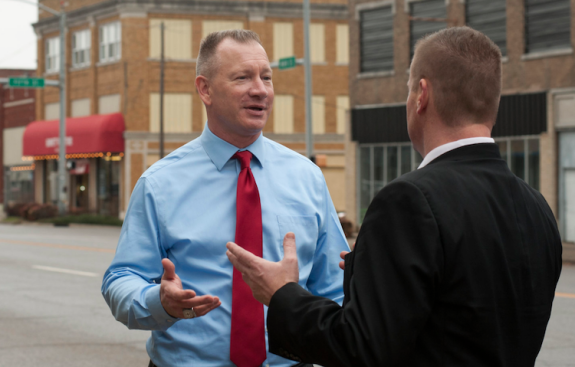 6. Rod Wiemer   |   District Judge, Okmulgee County
The number one quality we should look for in a judge is good judgement. That's why I'm a bit concerned by this photo on Rod Wiemer's website.
I'm sure Wiemer means well – and I bet the baseball team really appreciates the life lesson he's teaching them about Big League Chew – but maybe, just maybe, you shouldn't go all Captain Morgan and give the kids a front row view of your nuts in the dugout. This is the 21st century. Have a little decency and wear a judicial robe over your grown man little league uniform.
-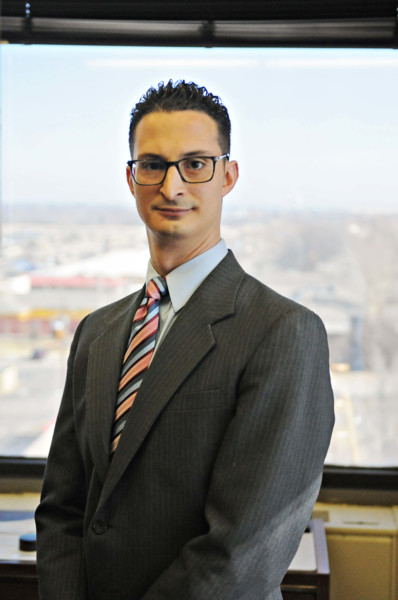 7. Jason Sansone   |   Republican for House District 94
Even though I don't live anywhere near his district, I learned about Jason via a Facebook ad. I guess that means he targets voters about as well as he takes photos. Seriously, loosen up and turn off the jaundice filter! He looks like he collects bottle-caps, feeds pigeons and yells at Ernie for counting firetrucks instead of sheep at bedtime.
Jason is a bankruptcy attorney. His website is detailed, thorough, and explains his stance on a wide-variety of issues. He also has some extremely specific and detailed rules for using his photos. He comes off a bit like a bankruptcy attorney who specializes on copyright laws.
General Rules:
Any media found on this website, including logos and photographs, may be used in their current form for pre-authorized purposes without prior permission of Jason Sansone 2018.  The two acceptable, pre-authorized uses are (1) Use by any third-party (including individuals, political action committees, independent expenditures, and party associations) for advertising intended to promote and support the Jason Sansone 2018 campaign, and (2) Any purpose covered under 17 U.S.C. § 107, commonly known as the "fair use doctrine", which includes news reporting and teaching.  Acceptable uses of Jason Sansone intellectual properties explicitly excludes the use by any opposing party, opposing candidate, or any third-party's use on behalf of or for the benefit of an opposing party or opposing candidate.  Photographs may be cropped or resized as necessary but should maintain the general aesthetics and purpose of the artwork.
Hmmmn. Photographs may be cropped or resized as necessary but should maintain the general aesthetics and purpose of the artwork? I guess that means we shouldn't do this:
Seriously, Aaron Tuttle really should hire Jason to be his general counsel.
-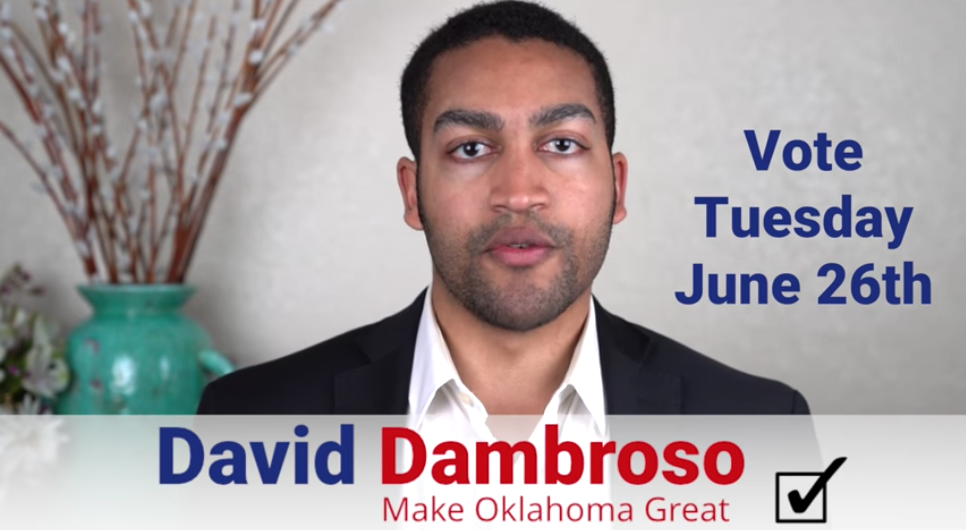 8. David Dambroso  |   Republican Candidate for Senate District 36
Give this Trumpflake some credit. He's honest and knows Oklahoma was never great.
Like most Trump supporters, David's views are hardcore right-wing.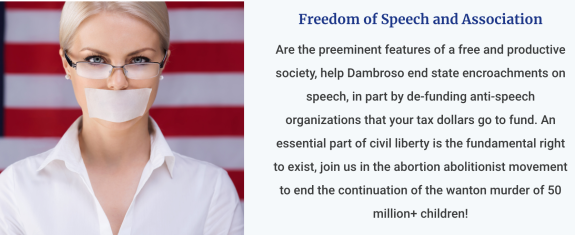 If "Freedom of Speech and Association" is part of your platform, should the accompanying graphic show a woman with tape over her mouth? That would be like saying you're for freedom of the press and using an image of journalists being assassinated in Russia.
-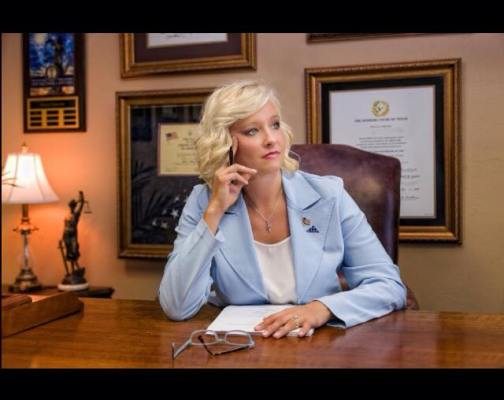 9. Amy Palumbo  |  District Judge District 7, Office 3
Based on some of the decisions she's made in the past, I don't think perennial political candidate Amy Palumbo is a good choice for District Judge. For example, check out this defamation lawsuit she and her law partner / husband Marco Palumbo – A.K.A. "The California Switchblade" – filed in 2010 against the owners of a website called The Lost Ogle: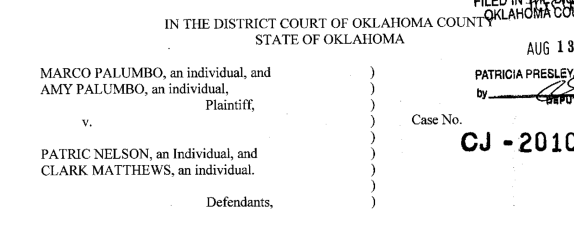 Yeah, that's real. 10 years ago, we published a funny, satirical and not-very-serious article ranking 10 sleazy spots around the Oklahoma City metro. Thanks to his mafia'esque commercials that branded him as the "California Switchblade," we included Marco Palumbo's law firm on the list:
Marco and Amy hired a goofy Oral Roberts educated attorney to handle the case. The guy made Aaron Tuttle's attorney look like Matlock. The whole thing was a comedy of errors. Not only did he sue two aliases that technically did not exist, but he served papers to some dude named Carlos Sapon who lived off Lyrewood Lane. The lawsuit was eventually dismissed for failure to prosecute.
Anyway, do we really want to elect a judge who files frivolous lawsuits against blogs that make fun of her greasy husband? That's debatable. Do we really want a judge that's married to a humorless California Switchblade? That's not debatable. Vote for someone else tomorrow.
-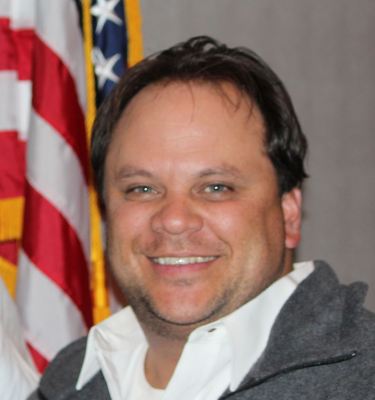 10. David Spaulding  |  Republican for Senate District 27
David Spaulding is a Steve Bannon-style Republican. He's a nationalist, anti-establishment and wears as many layers of clothing as possible.
The one advantage David has over his Republican opponents is that he's the only one accused of being homophobic in a public forum:
City Councilman Dave Spaulding called a constituent's remarks that he is anti-gay and lacks compassion for the homeless "pure garbage."

Spaulding said he has compassion for both segments of the population, although he does not support a homosexual lifestyle or believe in government money going to charity.

"He alleges I have a lack of compassion for gay people and the homeless population. ... I have compassion for homosexuals. I just won't support their agenda or lifestyle," Spaulding said.
I'm sure statements like that will win over a bunch of GOP voters, but I don't trust David. Check out this photo from his campaign Facebook page. Because I'm respectful, I covered the faces of his kids with Jason Sansone's face:
Notice the visor? That OU logo hasn't been used by the university since 1995. That means David either A) rarely, if ever, wears OU clothing and threw on an old visor to pander to OU fans, or B) he's one of those weirdos that wears around a 25 year-old-visor. That's disgusting. I retire every hat after five years of heavy use.
-
Those are just 10 candidates you may see on tomorrow's ballot. If you have one we need to know about, leave a comment.
Stay in touch
Sign up for our free newsletter