ICYMI
Oklahoma lawmaker has time to worry about high school football…
5:21 PM EDT on May 1, 2018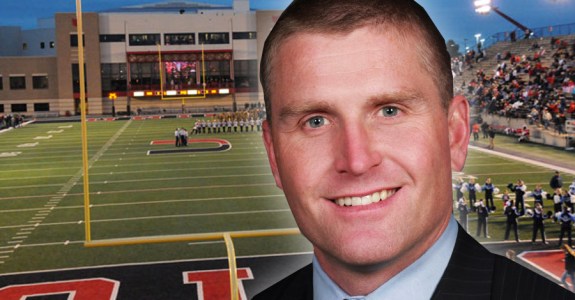 Unless you're a student, student's parent, part of a school's faculty or Mark Rodgers, there's nothing more pathetic than a grown man caring way too much about high school football. Knowing that, I guess we shouldn't be surprised that with all the problems our state is facing, some Oklahoma lawmakers – like State Rep. Chris Kannady – are focusing their attention on "fixing" high school football.
Earlier this week, a bill was heard in a Senate Committee that would place Jenks, Union and the other large high schools that have more than 2,250 students into their own super classification. It's called the "Let Some Other Team Win A Championship Act."
Here are the details via NewsOK.com:
A new Senate Bill introduced Monday that could shift the landscape of large-school athletics throughout the state appears to be dead.

Under the bill, the Oklahoma Secondary School Activities Association would have been required to adopt a policy placing any large high school district with a daily average of more than 2,250 students and just one school into its own classification.

Broken Arrow, Tulsa Union, Jenks, Owasso, Mustang and Yukon would be placed in their own classification if passed.

Following a lengthy discussion in a Joint Committees meeting, the advancement of Senate Bill 1599 was ended by a 10-8 vote against in the House committee, though it did pass the Senate committee. It could be brought back in the House committee, but with session scheduled to end Friday the likelihood of it being voted into law declines each day.
Whether it's in the United States Congress or a Luther City Council Meeting, the go-to canned response whenever a politician tries to meddle in legislation involving sports is "Aren't there more important things to worry about!"
Sometimes, that can be an unfair criticism. For example, lawmakers should probably look into the unfair systemic billion-dollar exploitation of (predominantly black) student-athletes in American colleges and universities. But in this case, it's a valid point. Oklahoma schools can barely afford to fund common extracurricular activities like band, art or even science fairs. Maybe they should address those issues before worrying about who plays who in a football game?
One Oklahoma lawmaker, State Rep. Chris Kannady, tried to defend the bill:
Rep. Chris Kannady, R-Oklahoma City, defended the bill in the committee meeting. He said the bill was meant as a suggestion for the OSSAA, though many felt it was a mandate.

He also focused on football, though the bill's wording would affect all OSSAA activities.

"That would be up to the (OSSAA) to make those determinations, what is in the best interest of the school districts and what is the best interest of the kids in those school districts," Kannady said in the meeting. "At the end of the day, that's what really matters. What are we doing to better shape and mold our kids?
Well, one thing we can do to better shape and mold our kids is commit more money to education funding. That would be a good starting point. If we do that, maybe Oklahoma classrooms could once again become places "to better shape and mold our kids," as opposed to the underfunded dystopian hellholes they've rapidly become.
"We've got into a situation where for the past 21 years, and we're talking athletics, a handful of teams have won the state championship every year. Whereas in a lower class, when you win one or two you move up. We don't have that flexibility now. It's giving kids an opportunity to be able to compete on the level they're supposed to compete in."
Yeah, he wants to give kids "an opportunity to be able to compete on the level they're supposed to compete in." Tell that to the 40% of Oklahoma high school students who have to take remedial classes in college.
Stay in touch
Sign up for our free newsletter