ICYMI
WTF. Oklahoma Congressman is really being put in charge of NASA
10:11 AM EDT on April 19, 2018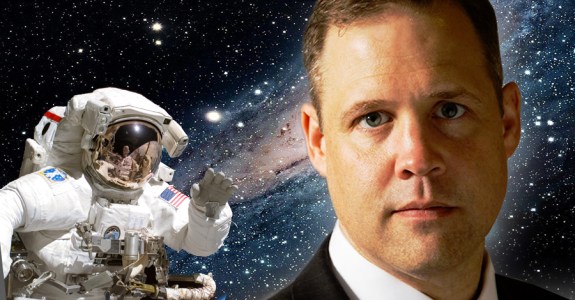 Jim Bridenstine is ready for liftoff.
After months and months and months of waiting for Little Marco Rubio to pout and play politics, Oklahoma Congressman Jim Bridenstine – the guy who holds town hall meetings like this – is about to be put in charge of NASA.
Via a Justin Wingerter article in The Oklahoman:
U.S. Rep. Jim Bridenstine, the Tulsa Republican whose nomination to lead NASA has hung in the balance for seven months, narrowly overcame a major procedural hurdle in the Senate on Wednesday, setting the stage for a final confirmation vote later this week.

The Senate voted 50-48 along party lines. A final vote is expected Thursday afternoon...

Bridenstine was first nominated for the position last September and nominated again in January, but Senate Republicans have struggled to find the votes needed to confirm him. He has faced unanimous opposition from Senate Democrats, as well as from Republican Sen. Marco Rubio, of Florida.

On Wednesday, it was Rubio who cast a crucial vote in Bridenstine's favor.

"While I wish the president would have nominated a space professional to run NASA, the unexpected April 30 retirement of the acting administrator would leave NASA, an agency whose mission is vital to Florida, with a gaping leadership void unless we confirm a new administrator," Rubio said in a statement.
I think when Trump selects members of his administration, the first thing he looks for is loyalty. The second thing he looks for is someone who is unqualified for the job, in hopes that they will generate chaos, disorder and media attention. If so, he's going to love Jim Bridenstine to the moon and back! Bridenstine's big qualification for the job is that he was a former director of the obscure local non-profit Tulsa Air and Space Museum and Planetarium. This Daily Beast article explains how well that worked out.
Justin Wingerter did find this one silver lining in Bridenstine's appointment. He's going to save Oklahoma some money!
The Senate's long delay in confirming Bridenstine saves Oklahoma taxpayers as much as $600,000 that would have been spent on a special election to replace him. If he is confirmed this week, his district will be without a representative for seven months.

State law dictates that special elections are unnecessary when the vacancy occurs in an even-numbered year, such as 2018, and when the term is set to expire the following year, as Bridenstine's is. As a result, the congressman's former seat will sit empty until this fall.
Wow! We're saving $600,000. That will fund almost 100 teacher pay raises! That sounds like a fair trade-off.
Anyway, with Scott Pruitt still leading the EPA (for now), Bridenstine's appointment will mean Oklahoma has two conservative politicians who hate government and question scientific fact overseeing large science-based federal agencies. Well, at least for now. Since Trump likes appointing unqualified Oklahomans to lead science-focused agencies, maybe he should put Mary Fallin in charge of the Centers For Disease Control. With the direction this country is headed, I think we could all use a pandemic.
Stay in touch
Sign up for our free newsletter