Education
Remembering the Teacher Walkout of 1990
9:46 AM EDT on March 29, 2018
Moving from a small redneck town in Texas to the relatively bigger and far more diverse town of Oklahoma City, it was not so much a rude awakening as it was one of those confused rousings where you accidentally go to sleep in the late afternoon and when you wake up, you think it's early next morning but it's really just 9:17 p.m. and your whole internal clock is psychologically screwed up for the next couple days.
It was late March 1990 and there I was, a small-town boy ready to become a big-city man, thrown into the freezing deep-end of the Classen Fifth Year Center, the school district's bizarre experiment in lumping all of the city's fifth graders into one building. Within an eight-hour period on my first day, I met a Vietnamese person for the first time, heard N.W.A.'s "Fuck the Police" for the first time, witnessed a gang-related plastic-knifing in the lunchroom for the first time and was called a "faggot" for having a Spider-Man backpack for the first-time.
And while I considered all that just part of a painful new adventure being forced upon me, what really sucked, however, was that I happened to be coming into the curriculum at the end of the third semester, far too late to really participate in anything, be it plucking strings in orchestra or joining up with any sports. All my friendships were tenuous, at best and, as I would soon learn, so was my education, as within mere weeks of barely learning the blood in, blood outs of a stereotypical inner city public school, I was already being sent home on a politically-based four-day vacation as my angry teachers took to the streets.
"Could teachers even do that?" I wondered aloud to no one in particular.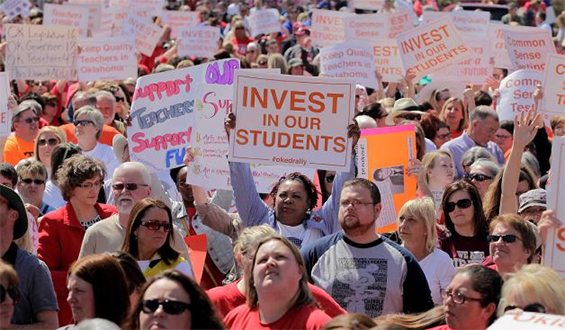 As both the mildly scary and visibly turgid looming threat of the upcoming teacher's walkout is upon us, I remember we've all been here before, some eighteen years ago when a the long-forgotten House Bill 1017, I believe it was—an education funding bill meant to mandate smaller class sizes, kick-start the state's pre-kindergarten program and provide first year educators with a slight raise, among numerous other promises—was kicked around the floor of the Oklahoma legislature, no one wanting to be responsible for laying a ½ penny sales tax on the people.
At least that's how I remember it, for the most part. It has been 18 years. Feel free to correct me.
What I still remember clearly though was the absolute confusion the day the strike started. In a time before emails and internets, many people had no clear idea about what was going on about anything, including my family, still settling into our rented house down in the Mayfair area. Then Governor Bellmon was saying one thing on television, while my teachers were saying another in The Oklahoman, most notably, to skip school and come out to the Capitol and march alongside them. If the march even happens, that is. Who knew?
That being said, looking back, they had a pretty good reason: in 1990, Oklahoma teachers ranked 48th in pay among the states, making an average of $22,000 a year, with the minimum salary for a beginning teacher with a bachelor's degree $15,060. Teachers were still buying all their own supplies, including transparencies and those mimeograph copies with the purple ink that would smudge and get all over your new Bart Simpson tee. Adjust for inflation on your own time.
But back to that first day of the strike, in particular, that morning, when the bus never came. Angry and red, my father drove me to Classen Fifth Year, dumped me off and I was subsequently sent to the auditorium where other similarly ditched kids, mostly non-English speaking, were treated to screenings of Bill and Ted's Excellent Adventure and Stand and Deliver, two very different films about education that actually managed to fulfill my history and math requirements for the first time since I started attending there.
When our parents were called to come pick us up early and without lunch, we were given notes telling them, for the love of God, to keep us at home because the strike was on and the school was all out of movies to show. I volunteered my copies of Weird Science and Born in East L.A., both recorded off HBO and both ready to teach science and social studies, but it was shot down with a snarky laugh and a glare from the long-forgotten administrator.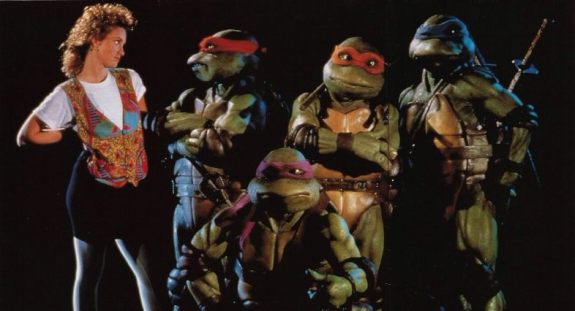 Once home, the strike seemingly went on and on forever—many of praying it really would never end. In that time period, I managed to visit Penn Square Mall for the first time to catch a screening of Teenage Mutant Ninja Turtles, and try the brand-new Batman Returns breakfast cereal. Who says heaven isn't a place on Earth?
Four days later, however, the legislature caved and signed an emergency clause that passed the $230 million dollar bill and, just like that my big city vacation was over. Kind of. School was let out for the summer a few weeks later anyway. But still.
Looking back, however, sure, the teachers supposedly got what they wanted, but if I'm being honest, I saw nothing change, per se. Well on into that sixth grade at Harding Middle School, our books were still old and raggedy, the classrooms more cramped than ever and, to rub salt in the wound, school started in the middle of an absolutely blistering heat wave and air conditioners were nil; teachers had to supply their own box-fans and kids were told to bring water-bottles to school after multiple kids suffered heat-stroke, filling them from the warm water fountain to no working effect.
But hey, at least the teachers got their raises, right? Right? See you in another eighteen years, kids.
_
It's my dream to one day make $15K a year. Follow Louis on Twitter at @LouisFowler.
Stay in touch
Sign up for our free newsletter