ICYMI
Harold Hamm is plotting his revenge…
5:36 PM EDT on March 27, 2018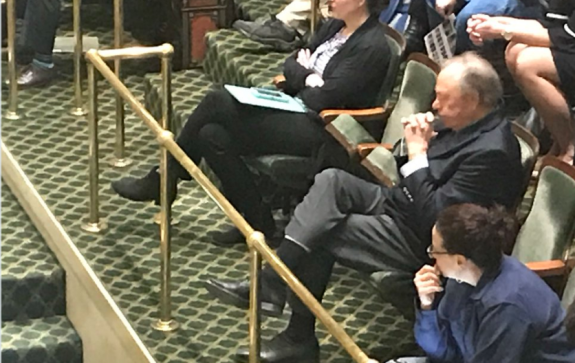 Maybe I've watched too many episodes of Game of Thrones, but someone may want to check the Oklahoma Capitol basement for wildfire (or fracking fluid), otherwise the whole building may go up in flames.
Yesterday evening, on the eve of the inaugural Oklahoma Energy Day at the Capitol, the Oklahoma House of Representatives did something that many thought was impossible – vote to raise taxes on oil overlords to fund teacher pay raises.
The bill, which still needs to get 75% of the votes in the Senate and then be signed into law by oil puppet Mary Fallin (and still doesn't do enough to address our state's other revenue problems) would raise $477 million to fund a $6,000 across-the-board teacher pay raise, and include smaller pay increases for other school support staff and state employees.
Here are some more details via NewsOK.com:
The special session version of House Bill 1010 passed by a vote of 79 to 19. If it becomes law, it would be the first legislative state tax increase in 28 years. The last time lawmakers approved a tax increase was House Bill 1017, which raised money for education funding.

House Bill 1010 that passed Monday contained familiar elements that have been discussed at the Capitol. It would add a $1 tax on cigarettes, which is lower than the previous attempts to raise it by $1.50. It also would have a 10-percent tax on smokeless tobacco, but GOP leadership agreed to remove the provision at the behest of Democrats.
Wait a second. Democrats didn't want to increase taxes on smokeless tobacco? That's funny. They're so desperate for rural women voters that they're now pandering to the influential Beech Nut demographic. Can we at least get a tax on spit cups inside city limits?
Here's more:
This version of House Bill 1010 would add a 3-cent-per-gallon tax on gasoline purchases, and 6 cents on diesel; earlier proposals had a 6-cent tax on both types of motor fuel. Guests staying overnight at a hotel or motel would have to pay an additional $5-per-night tax.

Most notably, however, the House GOP are proposing a 5-percent tax rate on both existing and new oil and gas wells. Conservative members of the House Republican caucus have rejected that high of a taxation rate, and several energy industry advocates released statements Monday opposing a 5-percent rate.
Yeah, the Oil Overlords and their minions were not pleased. The OIPA and OKOGA both released standard press releases criticizing the vote. The loudest statement, however, was also the quietest.
While the House was voting to raise the gross production tax, Continental Resources CEO Harold Hamm –one of the most powerful, greedy and wealthy Oil Overlords in the history of civilization – took a seat high atop the chamber viewing gallery, and like a shepherd watching his flock, sat in silence as the sheep he put in office abandoned him like a dried-up oil well.
Here are some photos of Hamm from the capitol press corps:
In all seriousness, I like how Hamm handled this one. You're going to take my campaign money and then vote to raise my taxes?! Fine. I'll set high above, take it all in, and silently ponder which lawmaker's life and career I'll ruin first. They'll fear my revenge!
Naturally, one of Oklahoma's leading Occupy-Bernie-Or-Bust-99%-Lives-Matters activists, Mark Faulk, had to ruin the moment with this stunt. In case you're in the mood to watch failure.
Note to self – never hire Mark Faulk to be the videographer at your wedding... or interview someone.
Although the GPT tax increase made it through the House under Harold's watchful eye, and politicos in both parties seem to think it's going to clear the Senate and be signed by Mary Fallin, I still have my doubts. Oklahoma politicians seem to specialize in letting voters down. And when one of the richest, most powerful Oil Overlords shows up at the capitol to make his presence is felt, even the most unruly lawmakers will settle down and behave. That's just how the Oil Overlords like it.
Stay in touch
Sign up for our free newsletter