Everything Else
Teachers have officially sold out for Step Up Oklahoma…
6:11 AM EST on February 12, 2018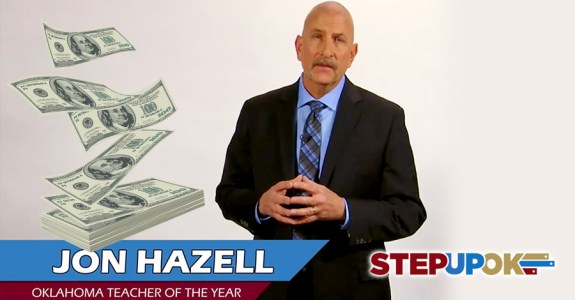 Later today, the Oklahoma legislature plans to vote on several of the measures that our oil overlords and Oklahoma ruling class put together in their Step Up Oklahoma plan.
One item on the agenda is the big $5,000 teacher pay raise that's being dangled like an apple in front of teachers, Democrats and their educational institutions.
As a result, Step Up Oklahoma organized a teachers "rally" that will take place at the State Capitol today. I guess if you're going to play make-believe and pretend Step Up Oklahoma is a grassroots coalition designed to fix our state's problems, you might as well go all out and pretend the people it's supposed to help the most also enthusiastically support it.
Via Step Up Oklahoma's official newsletter – The Oklahoman:
Teachers plan to rally Monday morning at the state Capitol to support a Step Up Oklahoma plan for fixing state government that would include a $5,000 pay raise for teachers.

About 1,000 teachers, administrators and parents of schoolchildren are expected to participate in the rally, said Doug Folks, spokesman for the Oklahoma Education Association.

The rally is being organized on short notice because a House vote on teacher pay raises and other Step Up proposals could take place Monday afternoon, Folks said.
That's interesting. I wonder why they're in such a big hurry to do all this? Like most state employees who don't directly report to Speaker McCall, teachers have already gone 5,000 years or whatever since they last received a raise. I doubt a couple more days of research and debate into the plan would hurt or delay anything. At the very least, it will help get more than 1,000 teachers to come to the rally...
Some teachers will take personal leave days to attend, while some schools will send small delegations to represent them, he said.

Difficulty in finding substitute teachers and the short notice is expected to limit attendance, he said.

The rally will take place from 10:30 a.m. to 3 p.m. Monday in the second floor rotunda of the state Capitol.
Ah yes, it's the "short notice" and "difficulty in finding substitute teachers" that will limit attendance. It has nothing to do with Step Up Oklahoma being a shitty plan put together by oil overlords looking to protect their own wallets and interests, or the fact that a majority of the support for Step Up Oklahoma comes from the local establishment and partisan media, and is all basically well-crafted PR bullshit funded by people looking to maintain their control and power over our state.
Speaking of PR bullshit, even the Oklahoma Teacher of the Year supports the plan:

Jon Hazell isn't the only teacher who doesn't mind selling out the rest of the state so he can get a 10% raise or so. The OEA supports it, too:
The Oklahoma Education Association announced Wednesday that it has joined a coalition of Oklahoma civic and business leaders who are backing a package of proposals to resolve the state's budget impasse and provide $5,000 pay increases for teachers and principals.

"We are excited to be part of the solution," said Alicia Priest, president of the OEA and a career Spanish teacher from Yukon. "The Step Up Oklahoma plan is an excellent first step toward paying our educators fairly and restoring education funding in our state. Lawmakers must act on this plan now. Oklahoma can't afford to lose a generation of teachers.
You know what, that's actually a smart move by Alicia. I'm sure the oil overlords and ruling class will reward her well for throwing the union's support behind Step Up Oklahoma. I bet she gets a cushy six-figure job creating new education materials for Oklahoma classrooms very soon.
Anyway, let's be honest here. Although Step Up Oklahoma looks and feels like a scam, you can't really blame teachers and their institutions for supporting it. Who cares if the "plan" doesn't fully address most of our state's funding problems, or that most of the new revenue it collects is regressive and disproportionately raises taxes on the poor and middle class, or that it's basically a marketing gimmick put together by the same rich and powerful people who drove Oklahoma into the ditch in the first place. If I was a desperate teacher who had to live off the McDonald's dollar menu to get by, I'd be selfish and out for whatever I could get, too. Survival of the fittest, right?
Stay in touch
Sign up for our free newsletter