Everything Else
Don't fall down for Step Up Oklahoma…
1:36 PM EST on January 30, 2018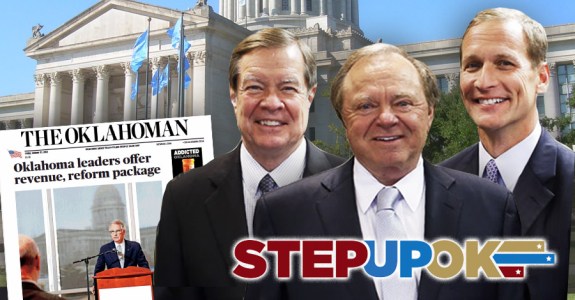 Over the past month, The Oklahoman – on behalf of oil overlords, the Oklahoma political establishment and other members of our state's ruling class – has been aggressively pushing and promoting a comprehensive "plan" to save Oklahoma from incompetent lawmakers.
It's called "Step Up Oklahoma." I would encourage you to not fall down for it.
Nicely packaged in shiny wrapping paper by a PR firm (The Oklahoman), the plan is billed as a "nonpartisan," "comprehensive solution" to "increase state revenues, fund $5,000 teacher pay raises and reform state and county government." But in reality, it's just another attempt by the people who run this state to expand a conservative, pro-corporate agenda and maintain their power and control over Oklahoma government.
You can see all that by momentarily looking past the policies and focus group-crafted talking points, and examining the people involved. It's the same who's-who list of Oklahoman Society Page regulars who have supported, elected and enabled people like Mary Fallin and today's crop of dysfunctional Oklahoma lawmakers, and helped turn Oklahoma into the oil industry-dependent Trumponian financial shit hole it is today.
Just check out this snippet from The Oklahoman on how the coalition evolved.
The nonpartisan, grassroots coalition of Oklahoma civic and business leaders burst on the Oklahoma political scene on Thursday. That's when coalition members called a news conference to announce they had come up with a detailed plan to solve the state's budget impasse, provide a $5,000 pay raise for teachers and restructure state and county government to improve accountability.

What the Oklahoma Legislature ultimately does with the plan remains to be seen, but all the proposals deal with divisive issues that have defied legislative solutions for years.

The names of coalition members, alone, were enough to attract the public's attention. People such as Harold Hamm, chief executive officer of Continental Resources; Larry Nichols, founder and chairman emeritus of Devon Energy Corp.; Clay Bennett, a member of the ownership group for the Oklahoma City Thunder; and David Rainbolt, executive chairman of BancFirst Corp.
That's awesome! It's great to see a group of like-minded "nonpartisan" white male billionaire Republicans finally coming together to use their money and clout to help shape and influence public policy! They've been standing on the sidelines way too long. It's comforting to know they want what's best for all of us.
Naturally, Mary Fallin is supportive of the plan. That, on its own, should tell you everything you need to know about it. This is what Larry Nichols and Uncle Hammy told her to say to The Oklahoman:
"I appreciate the efforts of these business and community leaders working together to build statewide, nonpartisan support to help the Legislature address teacher pay raises and fix our budget crisis," Gov. Mary Fallin said. "I'm optimistic, with the effort and determination shown by 'Step Up Oklahoma,' that lawmakers can craft a solution to the state's current budget problem before the start of the regular session in February."
Yeah, Mary Fallin thinks the plan is "nonpartisan." That would be like calling the Catholic church "nondenominational." Maybe we should have Linda Cavanaugh call Mary to explain what "nonpartisan" means. I think Linda is the only one Mary listens to now.
Of course, you can't really blame Mary Fallin for sticking up for the plan. She's been a loyal servant to the ruling class for decades, which is why they rewarded her with the governorship. In fact, Larry Nichols (below to the right) has been her puppet master dating back to the time she had normal eyebrows: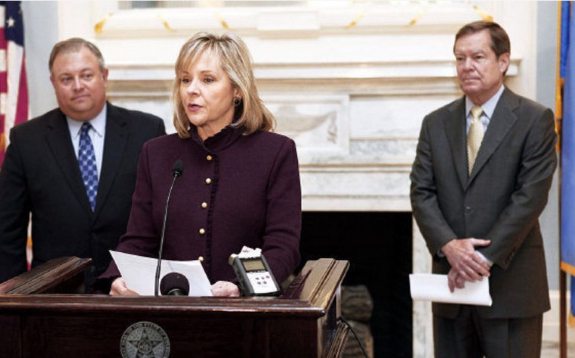 The guy to the left in the photo is Glenn Coffee. He's a former State Senate Majority Leader and one of the most influential and powerful figures in 21st-century Oklahoma politics. Naturally, he's also part of the Step Up Oklahoma coalition. Here he is with Oklahoman C.E.O. Gary Pierson laughing about plans to get the poor and middle class to foot the bill for teacher pay raises: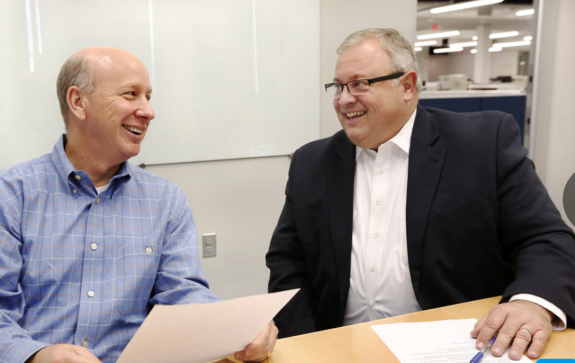 That's sweet. I bet Gary and Glenn are a fun pair to be around at area golf courses and secret society meetings. Also, Glenn may want to get his puffy hand checked by a doctor. It looks a little swollen.
Conservative GOP blowhards aren't the only political leaders tossing support at Step Up Oklahoma. Thanks to the dangle of a teacher pay raise – and because most Oklahoma Democratic leaders are still shills for oil companies – several former Oklahoma governors support the plan:
Members of one of Oklahoma's most exclusive clubs, the state's five living former governors, have unanimously endorsed Step Up Oklahoma's package of proposals to resolve the state budget impasse and provide teacher pay raises.

Proclaiming their support were former Democratic governors David Boren, George Nigh, David Walters and Brad Henry, as well as former Republican Gov. Frank Keating.

"As Oklahomans, we must understand the dire need for filling our budget gap and keeping our dedicated teachers in our state," former Gov. Boren said. "The Step Up Oklahoma plan, though a compromise, would stabilize the state's budget and give our teachers an overdue $5,000 salary increase. Those are real steps forward. The future of our state depends on our willingness to work together and take action."
Wow. What a shock! David Boren, the former Continental Resources board member who tried to cover up the cause of Oklahoma's earthquakes to protect corporate interests, and the same man who led efforts to raise taxes on poor people to fund teacher raises, supports an initiative created by the conservative Oklahoma establishment to save our state. It's good to see the the Democrat costume David Boren wears still fits.
The most surprising former governor to support the plan is David Walters. I bet he did this because he thinks Step Up Oklahoma will fail and give Oklahoma Democrats even more leverage in years to come. Then again, maybe he's just a fan of full-circle irony?

It's always nice to see a man whose political career was ruined by The Oklahoman support a plan created in partnership with The Oklahoman. This would be like Ed Shadid lending his support for Maps 5, or Aaron Tuttle becoming The Lost Ogle's first weatherman. Maybe David can examine the quandary via an introspective poem on Non Doc.
Although our former governors, oligarchs and establishment media love Step Up Oklahoma, the people who actually have to run for public office this year are keeping their distance.
The Oklahoma legislature will only commit to "making plans to consider the plan." That's not exactly a glowing endorsement. If you asked someone out on a date, and their response is "I'll make plans to consider it," you better just cut your losses and move on.
Despite Step Up Oklahoma being packaged and backed by their wealthy benefactors, Todd Lamb and Uncle Cornett, the two frontrunners in a very crowded Republican gubernatorial field, are for some reason hesitant to support a tax increase six months before a hotly contested Republican primary. Here's what Mick had to say:
"I don't want to mislead people into thinking that my first instinct when there's a budget issue is to raise taxes. That's not my history and it's not what we've done in Oklahoma City. I see where they are and I think it's a wise thing to do to put a lot of things out there and discuss it."
This is what Todd Lamb said:
"I've read a little bit about Step Up Oklahoma," Lamb, a Republican, said. "I know there are a lot of good men and women in that organization – that loosely affiliated group – that care a lot about Oklahoma. I'm against tax increases. Did you hear that? I'm against tax increases. I like some of the reforms in Step Up Oklahoma. I particularly like the Office of Budget Accountability and Transparency."
Fortunately for Mick and Todd, they're both certified members of the conservative Oklahoma establishment. As a result, Step Up Oklahoma forgives them for wanting to secure a Republican gubernatorial nomination and distance themselves from inevitable tax increases:
Step Up Oklahoma leaders sticking by Lamb, Cornett despite differences

Top leaders of the Step Up Oklahoma coalition say they are sticking by their choices for governor even though the candidates haven't embraced the group's revenue and reform plan to raise teacher pay and plug the state's budget hole.
That's sweet. It's nice to see our ruling class stick together when they publicly disagree on how to screw over Oklahomans. I'm sure they'll get all their differences hammered out in behind-the-scenes, closed-door meetings inside the Devon Tower. That's where true Oklahoma public policy discussion belongs!
Step Up Oklahoma being organized by oil overlords and the Oklahoma ruling class is just one reason to be skeptical of the plan. There are other reasons, too. For example, did you know that more than half of all Oklahomans are women, and that 35% of Oklahomans are racial or ethnic minorities? Step Up Oklahoma doesn't, because it's hard to find a woman or minority who was involved in the initiative.
There are also lots of issues with the policies. Sure, everyone thinks teachers need a raise and it's a great carrot to dangle in front of desperate educators, Democrats and other liberal institutions to get them to play along, but should it really be funded by disproportionate tax increases on the poor and middle class? That seems to defeat the point.
The GPT would increase from 2% to 4% under Step Up Oklahoma, but that's still far below regional levels, and the 7% rate suggested by oil and banking mogul George Kaiser. Scott Inman did a lot of dumb things as House Minority leader, but publicly saying he'd accept a 5% GPT during 2017 budget negotiations was his worst crime. Doing that effectively lowered the GPT negotiations from 7% to 5%. He flinched first and got burned. Now that 4% GPT proposal makes the oil industry look like they're making a sacrifice.
Anyway, there are other details to the plan that deserve discussion. Some are good, some are bad, but I'm probably going to save them for another day. This post is already past 1,500 words, and let's be honest, it's hard to take the nuts and bolts of a plan seriously when you can't trust the people building it.
Stay in touch
Sign up for our free newsletter