Everything Else
TLO Restaurant Review: Pops
10:27 AM EST on November 20, 2017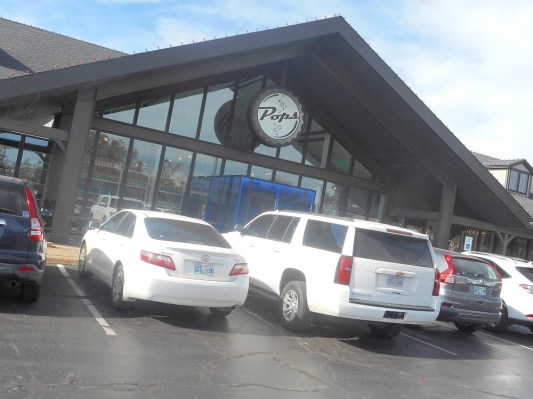 Numerous people have told me time and again that I "need" to review the burgers at Pops down in Arcadia, and while I appreciate the recommendation, that still means I have to go to Arcadia. Now that a second store has opened up in Nichols Hills, I can finally give the famed diner a chance because, for real, how different can they be from each other?
While many people love to get out on that open road and feel the wind in their hair, the adventure of cruising Route 66 is reason enough to log in those miles; as for me, however, being a Latino in Nichols Hills that isn't working with a landscaping crew is all the adventure I need, especially when I couldn't find the place at 6447 Avondale Dr. and made so many wrong turns and flipped bitches in an effort to just make it across a shopping center parking lot, I'm surprised I wasn't pulled over on suspicious behavior.
With a cold glass interior that reminds me of the repressed retro-futuristic monstrosities of numerous sci-fi flicks made brutally horrorshow, one halfway expects Alex DeLarge and his droogs to saunter in to Pops and order a Round House Root Beer with extra knives in prep for a night of the ol' ultradiabetes. And I can mostly relate, o my brothers, because before my lunch order had even arrived I slugged down two frosty mugs of ice-cold Dr. Pops: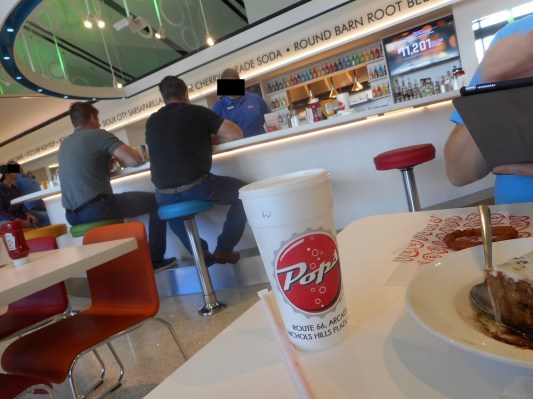 Speaking of ordering, it wasn't hard for me to go immediately for the Nichols Hills burger with a side of cheese fries—I mean, c'mon, how could I not? Conversely, my dining compatriot went O.G. and decided to take on the Arcadia burger with onion rings. The best—or something comparable to—of both worlds, I suppose. You can't say I never tried.
The joint was surprisingly empty for a lunch rush on a Friday; with the exception for a few of those oil 'n gas bros that tuck their Polo shirts into jeans and loudly discuss meeting up for tee-time on their Bluetooths (Blueteeth?), the restaurant, already as sterile as can be, was eerily quiet, the sounds of the greatest hits of the 70s echoing throughout, practically daring you to stand up on the table and sing along to Sweet's "Little Willy."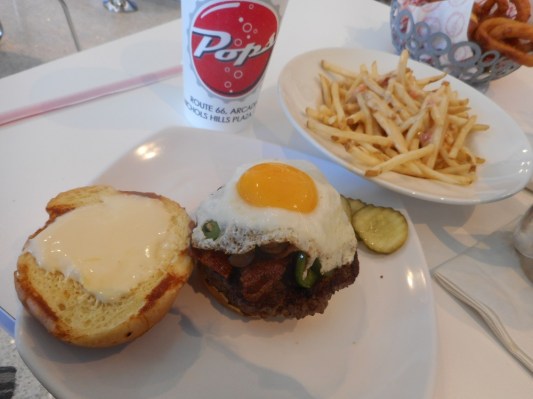 But before I could be commissioned by the God of Rock and Roll to do just that, that Nichol Hills burger ($7.79) laid claim to the Formica first. Served on a plump, sturdy potato bun, much like Nichols Hills itself, upon first glance it looks beautiful, almost envious, a creation beyond reproach, especially with that creamy brie cheese just sliding off the bun and glistening sunny-side up egg enticing me to take a taste of the good life.
Sadly, looks can be deceiving. The Angus beef patty was bone-dry and overcooked, while the applewood bacon just greased up the thing needlessly. To make matters worse, once the egg-sac popped and yolk went everywhere it was just a bloody disgusting mess, mostly saved thanks to the sautéed mushrooms and jalapeños combined with the aforementioned brie cheese, salvaging a mostly disappointing meal.
The cheese fries ($2.99), with its white cheddar queso and thin-cut potatoes weren't much of an improvement, leaving a janky canned cheese taste in the back of my mouth that I needed two more teeth-rotting refills of Dr. Pops to wash away. Bottoms up, doc.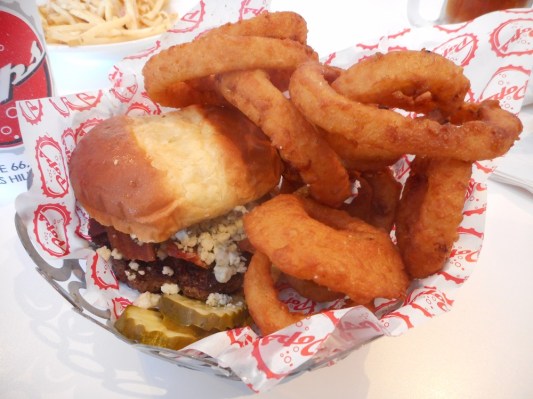 While all that was going on, my lucky pal's Arcadia burger ($6.99) was, on the other hand, definitely top of the Pops! The house BBQ sauce moistening the well-cooked Angus beef with the welcomed mix of bacon and bleu cheese crumbles sopping up the mess to create a damn tasty burger with a rich, smoky, greasy spoon sensation that made me instantly covetous and spiteful, like a true Nichols Hills resident.
It probably didn't help that his crispy onion rings ($2.99) were the bomb dot com either. Crispy and crunchy and butter-soft with a freshly battered zing that goes perfect with said house BBQ sauce.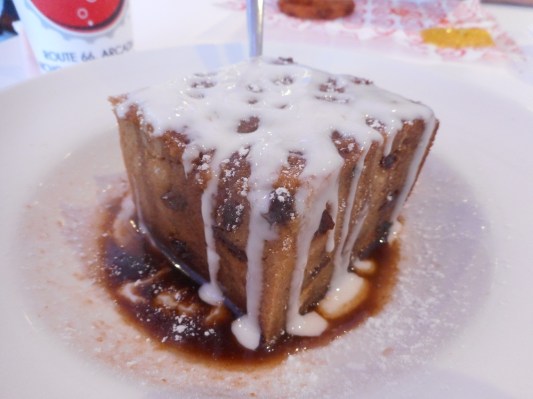 All of my personal culinary disappointment and dissatisfaction were ably put to bed graciously once I got my highly recommended slice of Pops' popular Root Beer Bread Pudding ($5.99), to be sure. An absolute covenant of Round Barn Root Beer, raisins and white chocolate sauce immaculately bred together in a danky sweet, clinically moist, horrifically dense, Caligula-favored dessert that is deliciously decadent and sinfully sweet. Hell, I wouldn't be surprised if it's a recipe that's been passed down from Sodom and Gomorrah itself.
Better gimme another slice before I become a pillar a salt, I guess. Maybe stick it between two potato buns and drizzle some of that BBQ sauce on it. What can it hurt, right, hoss? ¡Cómpralo ya!
_
I miss the honky tonks, Dairy Queens and 7-11s. You got it, you got it. Follow Louis on Twitter at @LouisFowler.
Stay in touch
Sign up for our free newsletter