Everything Else
Screw Berry Tramel. Baker Mayfield is awesome!
1:42 PM EST on November 20, 2017
Baker F*cking Mayfield, the best QB to ever lace up the crimson and cream, reinforced his status as the most cocky, arrogant, entertaining and totally badass firebrand in college sports when he grabbed his crotch and taunted the Kansas bench during an otherwise boring, uninspired football game in Lawrence on Saturday.
Isn't that awesome? I've been an OU football fan since I was five years old. With all apologies to Tommie Harris, Roy Williams, Jason White, Demond Parker, Mike Gaddis, Lydell Carr, Kelly Gregg, Brian Bosworth and Buster Ryhmes, Baker Mayfield is officially my favorite player ever. His combination of athletic skill + moxie is other worldly. Yeah, he's basically a football clone of Johnny Manziel, but that's fine. For all his faults, you can't say it wasn't fun to watch Johnny Football. He was like a poor man's Baker Mayfield.
Naturally, Mayfield's display of emotional, over-the-top self-expression angered and outraged sanctimonious prudes who find comfort in conformity, and hypocritically enjoy watching deadly games where strong, athletic men physically attempt to destroy one another.
That includes the Oklahoman's Berry "Boomer" Tramel. In today's paper, the Newspaper Columnist Who Pitches Purity Rings On The Side suggested that Baker Mayfield should be suspended for the next game due to his crotch grab. Sadly, he was being serious:
Baker Mayfield is a competitor. He says it a lot. Lincoln Riley says it, too. And we don't need them to say it. We see it for ourselves.

But Mayfield is not the only competitor on the Sooner squad. Rodney Anderson is a competitor. Ogbonnia Okoronkwo is a competitor. Orlando Brown is a competitor. Mayfield is not the only competitor on Big 12 gridirons. Mason Rudolph is a competitor. Joel Lanning is a competitor. Malik Jefferson is a competitor.

And they don't go around grabbing their crotch for all to see when they emerge victorious from being challenged.
Yeah, that's not entirely true. Baker Mayfield didn't grab his crotch "for all to see." He grabbed it for Kansas players to see from their sideline during a chippy game that started with them refusing to shake Baker's hand. It's not Baker's fault that ESPN cameras picked up the crotch grab, and that ESPN producers and announcers then decided to exploit it to make a boring game interesting.
Also, football "competitors" will literally grab, punch and pinch each other in the crotch – and other places – during a scrum to grab a loose football. They should be able to use their own crotch as a trash talking mechanism, too.
Oklahoma's quarterback embarrassed himself Saturday night in Lawrence, Kansas. Embarrassed himself, embarrassed his team, embarrassed his school, embarrassed his adopted state. Standing on the field, yelling obscenities and making obscene gestures, is not acceptable and Mayfield himself said so with his postgame apology.
Keep the generalizations to yourself, Boomer. I'm a native Oklahoman and it didn't embarrass me at all. In fact, it made me like Baker even more. I'd much rather have my quarterback running around the field, getting in opponents faces, and pointing at his crotch as opposed to quietly crying in the corner dreaming up friendship bracelet patterns like Landry Jones. They both could throw the ball and put up amazing stats, but which one would you rather have on the team? I'll take the emotional crotch grabber any day.
But Mayfield apologies are wearing thin. Which is why it's time for Lincoln Riley to show he's serious about running a class program.

Mayfield must be suspended for the West Virginia game Saturday.
Uhm, the only person who should be suspended for West Virginia is Berry Tramel. I think he's not allowed within 1,000 feet of the school's mascot: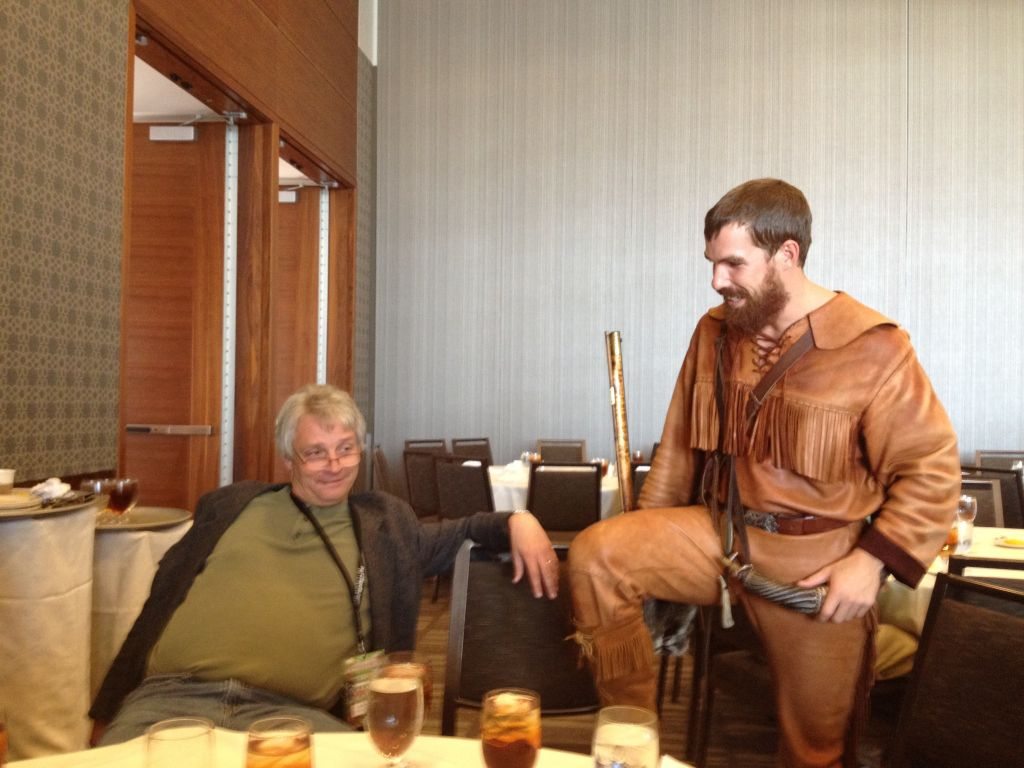 Fun Fact: When Baker had his comical yet serious run-in with Arkansas police last spring, Berry called for Mayfield to simply lose his captaincy. He then wrote a column lauding Mayfield's apology. Fast forward six months later, and Baker goes all PG-13 unsportsmanlike conduct on Kansas and then issues another apology. This time Berry wants him suspended for a game. Draw your own conclusion from that.
Here's more:
This isn't planting a flag on Ohio Stadium's midfield. That was harmless high jinks. This is repugnant behavior, and it doesn't matter if it's Jameis Winston in the Florida State student union or Baker Mayfield on the green grass of KU's Memorial Stadium. When you're ashamed to have your wife and kids walking through a commons or watching an OU football game, there's a major problem.
Let me get this straight. Football is a vicious, violent game where amateur athletes routinely suffer head trauma and a variety of bone crushing, gruesome injuries for "the world to see." But you're more concerned with your wife watching some adrenaline fueled badass telling the other team to "Suck it." That seems awfully hypocritical. Maybe it's time for Berry to take the high road and just stop watching football all together. It would probably do him some good. Plus, if he ever got the urge to slip away for a half, he could wear a purity ring as a reminder to the vow he made for himself. It really is that easy.
-
Editor's Note: As I was finishing this up, it was announced that Baker Mayfield will not start the home opener against West Virginia. Here's what I think about that: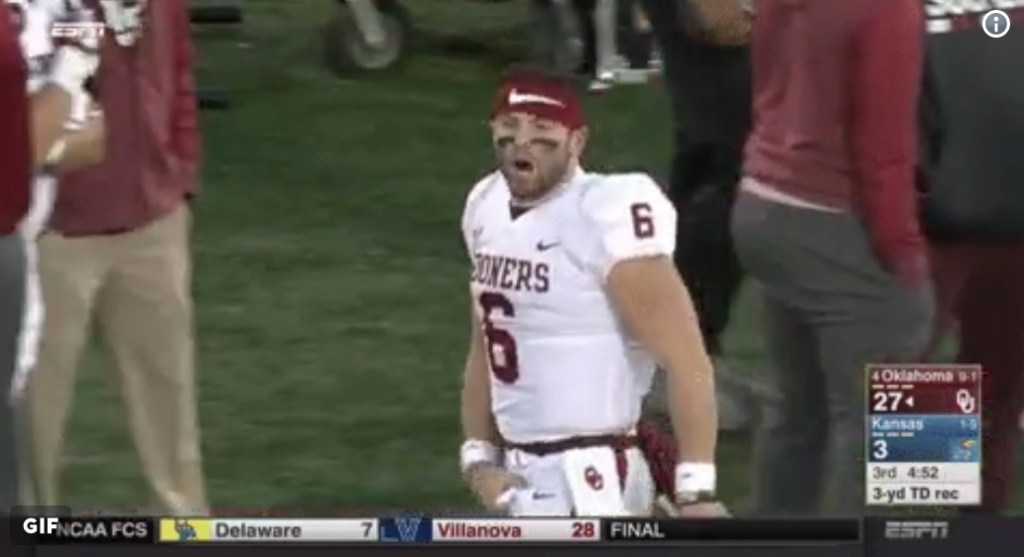 Stay in touch
Sign up for our free newsletter