Everything Else
Oklahoma Oil Overlords use GOP political minions to introduce awful budget fix…
12:23 PM EDT on October 24, 2017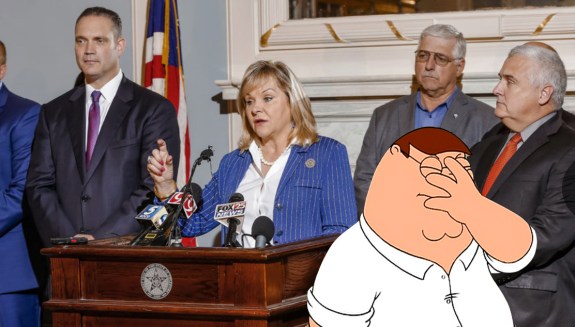 The special session to help solve Oklahoma's budget crisis is going about as well as expected.
Yesterday afternoon, Mary Fallin and GOP leaders from the House and Senate – a.k.a. the people who caused our state's dire financial situation in the first place – announced details of a new budget plan that protects the pockets of the wealthy and elite, and kicks the never-ending budget crisis can down the road.
Here are some details via Non Doc:
Gov. Mary Fallin and Republican lawmakers announced "an agreement between House and Senate Republicans" at a press conference this morning but declined to take questions from media, saying she was headed to The Oklahoman's editorial board to discuss the plan.

Fallin, House Speaker Charles McCall and Senate President Pro Tempore Mike Schulz ignored questions from press, including The Oklahoman's own Capitol reporter who noted that his editorial board surely "would not mind" if they took time to answer questions about the proposal.
Geeze. If you were looking for another reason why our state sucks, there you have it. They literally didn't answer media questions because they had to go suck the tiny dicks of The Oklahoma Editorial Board. Talk about preaching to the choir, I'm pretty sure the oil overlords who tell our lawmakers what to do also tell the Oklahoman Editorial Board what to write. It's a complete waste of time! It would be like State Rep John Bennett leaving a militia meeting early to go pitch Ted Nugent on open carry gun rights.
Here are the basic details of the plan:
Fallin announced a plan that, if passed, would fill funding gaps for health agencies, provide a $3,000 teacher pay raise, provide a $1,000 pay raise for state employees and restore the refundability of the earned income tax credit. A press release from the governor's office noted that those raises would be effective Aug. 1, 2018.

Fallin said the agreement would do those things via money raised by:

a $1.50 cigarette tax
a $0.06 raise to the state's gas and diesel taxes
and "revised taxes on our alcoholic beverages"

But any tax increases will require 76 votes in the House, meaning at least four Democrats will need to vote in favor. McCall (R-Atoka) and Schulz (R-Altus) both expressed confidence in the announced package, and they said it included things Democrats should support.
They only need four Democratic votes? That's some great news for any legislative Democrats looking to not run for re-election if they're promised a cushy state or energy industry job.
Naturally, Democrats panned the proposal. I don't blame them. The taxes the GOP wants raised are regressive and disproportionately affect lower-income Oklahomans. The plan also doesn't increase our state's insultingly low gross production tax.
Here's what Emily Virgin had to say: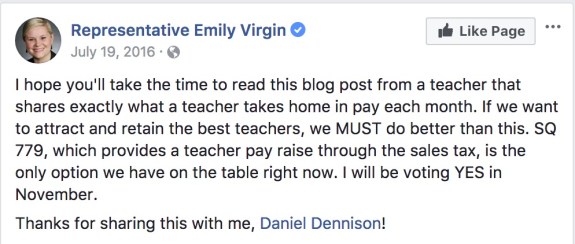 Oh wait. That's what Emily had to say back when David Boren and education unions came up with SQ 779 – a regressive 1-cent statewide sales tax that would have given teachers a raise. She was okay with that regressive proposal. Does that mean she also supports the GOP budget plan?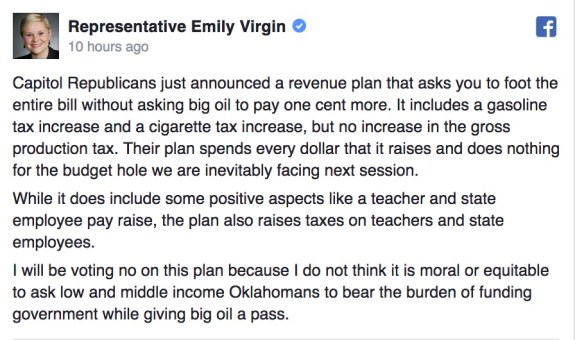 That's funny. She was all gaga for SQ 779, which also didn't touch GPT, but she's against the Republican budget plan? I get it. She and the other Democrats are playing politics, but it sure does look hypocritical for the SQ 779 supporters to be so adamantly against this plan.
Most Republican seems to be begrudgingly on-board, but some other ones, like Roger Ford, are being very direct and honest with their constituents about it: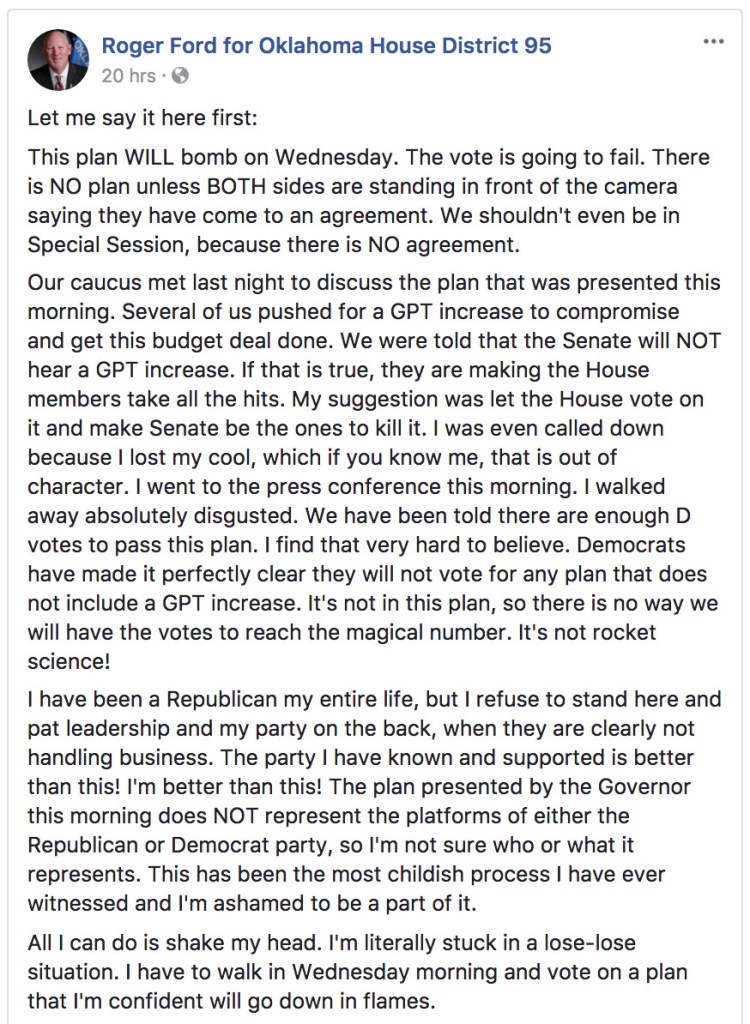 Wow! That took some balls. I don't know where Roger stands on other issues, but he should run for Governor. We need someone with honesty and integrity to help get our state out of this current mess.  Hopefully he shares more information about the legislative process before he's forced to resign due to some sort of scandal.
Anyway, I guess we'll continue to follow this story and keep you updated. I'm sure The Oklahoman Editorial Board will come out with an editorial that supports the GOP plan and criticizes Democrats in a day or two. I can't wait to hate-read it.
Stay in touch
Sign up for our free newsletter