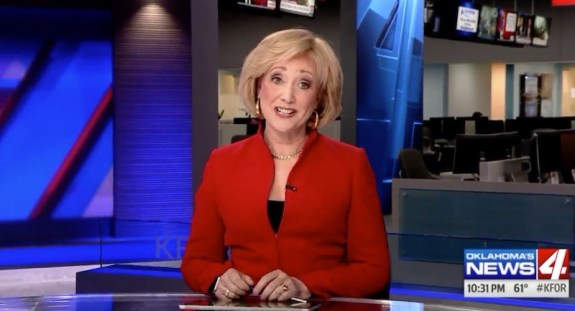 It looks like Air Comfort Solutions has found a new spokesperson!
Last night, Linda Cavanaugh – the Grand Matriarch of the Oklahoma City Broadcast News Scene – announced she will be retiring from KFOR Channel 4 in mid-December. She broke the news during a much-hyped newscast celebrating her 40th anniversary.
Here's the big announcement:
Wow. This is a big deal. Linda Cavanaugh is like the Veronica Corningstone of the Oklahoma City news media. She's a trailblazer from a different era when women earned less than men, and sexism and misogyny ran rampant in the workplace.
The news isn't all that surprising. Linda's been posting a heavy load of sentimental stuff on social media over the past few weeks. She's also been spotted around the KFOR offices wearing a black grieving veil and let all the yellow marigolds around her She-Shed die.
Plus, it's probably just time for her to step down and enjoy a new chapter in life. 40 years is a long time to survive anywhere, much less the cut-throat news biz. That's almost unbelievable. She's literally been there longer than I can remember.
Linda announced she is passing the 10pm and 6pm news torch to Joleen Chaney. Yes, the young starlet who first stole our hearts way back in 2009 has made it to the big time. There's no word on if she'll also host Trash or Treasure. Linda praised and endorsed Joleen in the broadcast, and it felt genuine and natural. It wasn't forced like Gary England's transition to David Payne.
Joleen Chaney, as I'm sure you know, has been a fixture on this site over the years. She's made several Ogle Madness Final Fours, narrated the Sweet Brown clip, won the admiration of Sir John Michael, provided earthquake safety tips, set on a truck bed of watermelons, befriended Emily Sutton, and even survived a fan writing a creepy song written about her:
Warning: The chorus to Little Bit of JoJo is oddly addictive and will get stuck in your head.
I think Joleen will do great in her new role. She's articulate, smart, and appealing to the eye. I also think she'll be around awhile. According to the Ogle Mole Network, Joleen was considering leaving the market when her last contract expired with News 9 in 2016. KFOR scooped her up, and now she has the job many local TV news heads covet. As Emily Sutton would say, dreams do come true!
Anyway, I would write more about Linda and give her a more proper tribute, but she's not gone yet. They're going to milk the hell of it at KFOR. I might as well do the same here at TLO. Congrats to both Linda and JoJo.
Stay in touch
Sign up for our free newsletter