Everything Else
TLO Restaurant Review: Louie's Grill & Bar
8:39 AM EDT on September 26, 2017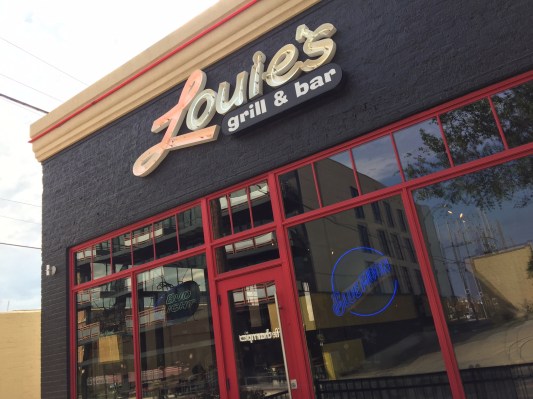 When I attended the Paul McCartney concert at the Chesapeake few weeks ago, standing in the lobby were sad-eyed and stick-thin representatives from the People for the Ethical Treatment of Animals, passing out free DVDs of a documentary entitled If Slaughterhouses Had Glass Walls, hosted by the former Beatle himself.
Pro-tip: don't decide to finally watch it 20 minutes before you go to Louie's unless you want your visit to OKC's ultimo cazz bar and grill chain to be fraught with moral ambiguity on an already limited menu filled with questionable lifestyle choices that will still leave anyone feeling empty, calorically and spiritually.
But more on that in a moment.
Even though it shares my namesake, somewhat, Louie's and their numerous city and statewide locations had always been something that I was clinically aware of—who can't be with their omnipresent roadside billboards exploiting the mostly Aryan female members of their waitstaff—but had always manage to avoid spending any time there among the land of oil bros in OU polos and Titleist visors throwing epithets towards the Golden Tee machine.
Still, the place is, for the most part, a local mainstay that continually earns exhaustively high marks in both daily newspaper and alt-weekly reader's choice awards, so that has to be something right? And with one open just down the street in Midtown at 1215 N. Walker Ave, why wait any longer? Time to go ahead and knock this out like it was a cow in line at the…well, you get the idea.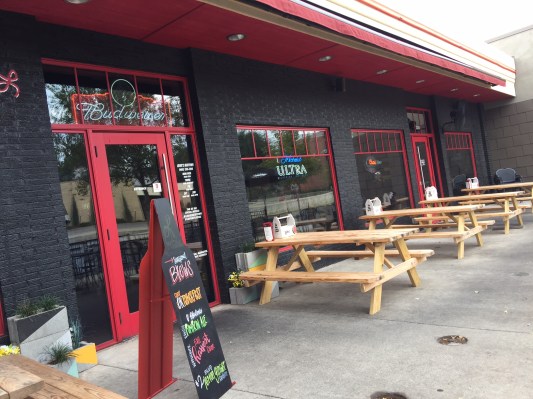 Surprisingly, the Saturday afternoon my friend and I decided to take in all of the butt-slapping providence Louie's had to offer, the place was surprisingly dead, with the patio almost as barren as Joséphine de Beauharnais. As we were handed our slim menus, the images of hanging cows, still alive and screaming in pain rang throughout my senses as I noticed the selections were about 75% pure Angus beef burgers, and maybe a few other sandwiches here or there.
As my friend proudly ordered the El Diablo sandwich, I knew that as soon as I saw they had a burger called "The Big Lou" on the menu that I had to try it, but with the guilt of inhumane slaughter practices weighing heavy on me for at least another 45 minutes or so, I subbed my aforementioned Angus beef patty for a spicy black bean patty, alleviating some of the guilt as our waitress brought a compromised appetizer selection of Brew Fries to the table.
Macca would just have to deal with it for now.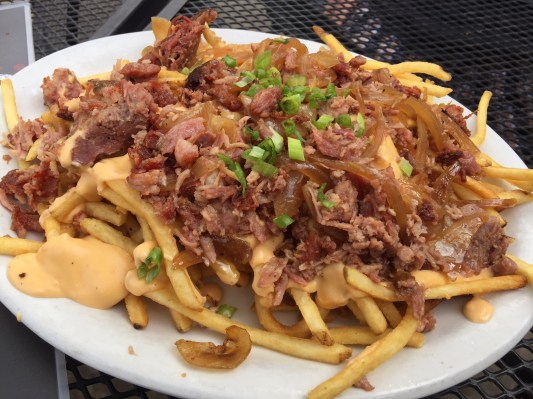 A platter full of golden shoestring fries, absolutely drenched in ballpark-style nacho cheese, caramelized onions and green chives, gingerly topped with a salty pulled pork-like companion piece that had more of a constancy of high-quality bacon bits than anything else, the Brew Fries ($9.99) were a disappointing starter while in the context of the current time and place, but if I had been handed this same dish by a volunteer mom working the concession stand at her kid's t-ball game, it would have been awesome, so kudos, I suppose.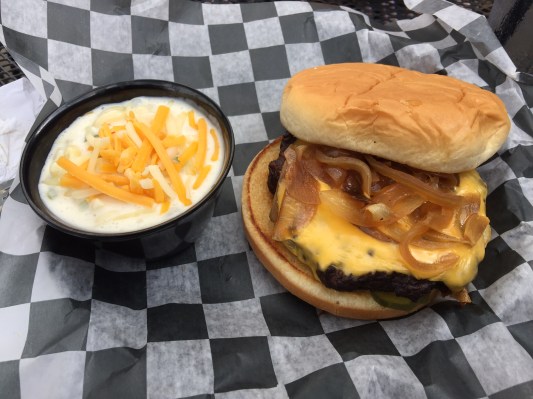 As the waitress brought our main dishes after what seemed like a somewhat interminable time, the first thing we noticed was just how small and insignificant Louie's food seems, as they are served on comically oversized platters, dwarfing everything placed on them. That being said, the Big Lou ($8.99) doesn't need the help; despite its name, it has to be the smallest burger on the menu, an extremely basic affair featuring onions, pickles, American cheese and mustard, beautifully saved by the last-minute replacement of the spicy black bean burger, giving it at least some sort of personality that it would have otherwise been sorely lacking.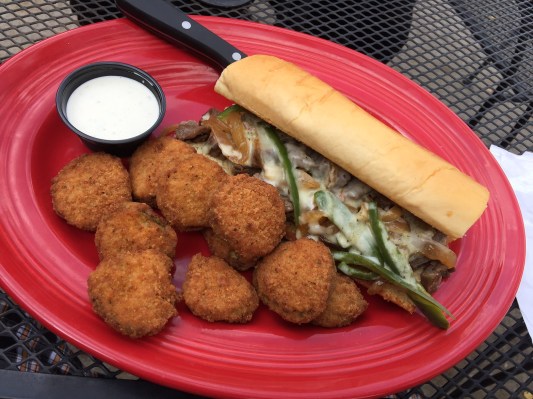 The El Diablo sandwich ($10.99), however, fared somewhat better, with its chewy skirt steak mingling and mingling well with jalapeno, grilled onions and so much gooey pepperjack cheese that it started to seem to me that, if you're gonna grab a bite while you're partying at Louie's, your best bet is probably a (non-burger) sandwich of some sort, I'm guessing, especially when paired with some hot 'n oily fried pickles, not my choice but a decent pairing nevertheless.
While, in all seriousness, I am still conflicted about my stance on meat—at least until next week, honey—and where to go from here (apparently my "inspirational" PETA starter guide to vegetarian living is on the way), one thing that I am most definitely sure of is that I no longer need to ever experience the aggressive mediocrity that is Louie's Grill & Bar, now or ever again. It's just not for me. ¡Cómpralo ya! 
-
A Big Lou should weigh at least two and a half pounds, right? Follow Louis on Twitter at @LouisFowler.
Stay in touch
Sign up for our free newsletter