Everything Else
TLO Restaurant Review: The Hungry Frog Diner
8:34 AM EDT on June 13, 2017
It's a little bit unsettling to be the only person in a diner when it opens, especially one like the Hungry Frog, where the rising sun glimmers off the hundreds of glass and ceramic frog tchotchkes staring at you, the fluorescent lights above still mustering their power to full strength, shadows cast as bug eyes follow your every move.
Squinting to read the laminated menu in the burgeoning morning light, the smell of burning coffee and greasy griddles warming up fill the air as a very special type of hunger takes over your body; it's the hollow primordial sense that, sleep still in your eyes and drool still in your beard, all of a sudden this is the most important meal you've ever had and you must fill up because, honestly, when will breakfast come around again? When will food come around again?
Much like dentistry and natural gas as an utility, breakfast is one of those luxuries that many of us in today's America have had to cut out completely, either for economical or somnambulistic reasonings. Still, when I get the chance to take part in this ancient tradition, I like to do it up in grand atomic family style, in a greasy spoon setting filled with cheap eats and cheaper meats.
Forget all of these sparse hipster joints with names like Toast or Syrup or the Happy Brekker or whatever; the best breakfasts are still those that are surrounded by grizzled ham and eggers, old women puffing on Capris and nodding off junkies trying to make a cup of coffee last all morning, the kind of place where everything comes with a side of grease and potatoes, served by a middle-aged waitress who calls you "Hon."
The Hungry Frog, 1101 N Pennsylvania Ave., is one of the last of the old-school breakfast diners in Oklahoma City, where both the menu and the décor haven't been updated—and with pride—since the 70s. And thank God Almighty for that, because when I eat breakfast, I want it like mom used to make it so without hesitation, I ordered the Pork Chops and Eggs ($9.99) with hash browns, biscuits and gravy and a side hot buttered grits ($2.25) because honestly, when will this moment roll around again?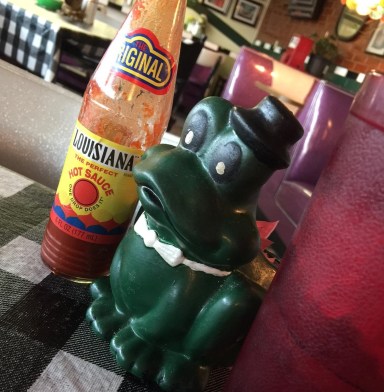 My dining companion, however, for all of his big breakfast talk and bluster, opted for the defiantly neutered Mushroom and Cheese omelet ($7.75), wanting to keep it light and tight for when he donated platelets later that day.
"This is for a review!" I chided. "If you want an omelet, go for the Midnight Gigger at least, with its multiple meats and cheeses! It's time to live, man! They'll talk to ya and talk to ya and talk to ya about individual freedom, but they see a free individual, it's gonna scare 'em! Don't let the dream of the Sixties die, brother!"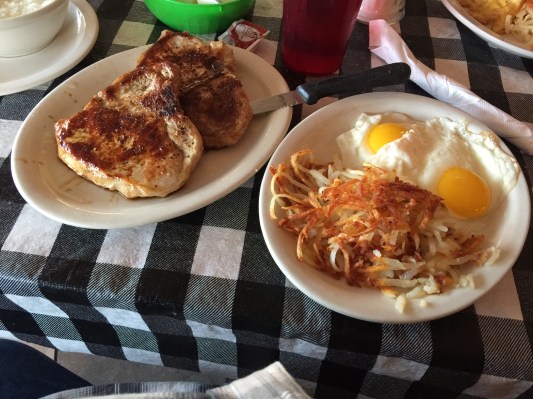 To each his own, I reckoned, as my multiple plates of early morning bounty started to hit the sticky table, first the sunny-side up eggs and golden hash browns, then the glistening pork chops, followed by a fresh, fluffy biscuit and creamy gravy aided by the small bowl of made-to-order grits.
Parlaying no shame in this game, I cut into the tender-ish pork chop, oily juices carafting forth like tempestuous rivers of death with every bite, the apropos seasonings searing into the seasoned grill to create a timeless, unique flavor that only the Hungry Frog can and will ever have, the ghosts of cheap cuts past still lingering like a residual haunting on every steak and chop that comes out of that kitchen.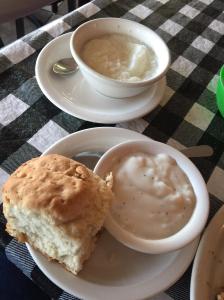 The crunchy fried straws of potato, slathered in ketchup and Tabasco were a noteworthy compliment to the meal, and the eggs were preserved with all the skill of a grill master who had been doing this for a long time, yolks captured in still life, unbroken until I peppered them and plunged a fork through the corona, sopping up what I could with a peppered gravy-drenched biscuit that was dryer than I expected it to be, an ailment that was quickly taken care of with, of course, more gravy. Rotating between that and the hot buttered grits, they may not have been homemade, I surmised, but in this day and age any grits is better than no grits, so I walked away more than pleased.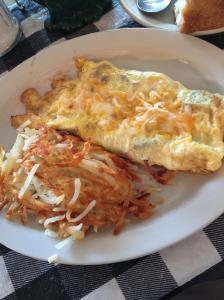 As my friend finished up the last few slivers of his omelet—which he loved but, for the sake of the soul of the Hungry Frog and what it represents culinarily, if not spiritually, I will not recommend—I noticed on their menu they served Frog Legs for lunch. Excited by the prospect at what frog legs from a hole-in-the-wall diner at Classen Ten-Penn would hold in store for me gastronomically, that seemed like more than enough reason for a sequel—a special Hungry Frog, lunch edition—in the future, don't you think? ¡Cómpralo ya!
_
I can sing like a frog. I'm a lonely frog. I ain't got a home. Follow Louis on Twitter at @LouisFowler.
Stay in touch
Sign up for our free newsletter