Everything Else
TLO Restaurant Review: Braum's Ice Cream & Hamburgers
10:43 AM EDT on May 23, 2017
The news of Braum's 23-skidooing their highly-popular one-third pound burgers, as well as the supposed switcheroo of their milkshake recipe, seems to have opened the floodgates of popular opinion regarding the famed ice cream, dairy store and hamburgerteria, and why not? Braum's is an absolute Oklahoma institution that many of us feel like we have some sort of sad, imagined stake in.
Eager to see, feel and, most importantly, taste, just how these ramifications have affected the corner-stone of the vaunted Braum's combo menu, I decided that I would try a store other than my usual haunt at N.W. 39th and N. Penn; let's be honest: that particular eatery has received enough gut-checks and sucker-punches from us here at TLO for their service and cleanliness—or lack thereof—that I felt obliged to revisit an old friend, opting for a little nostalgia and selecting the ancient offering that was about a block from my old high school, the one we as a senior class had most affectionately dubbed "the Murder-Braum's," famously located at 1204 N.W. 17th....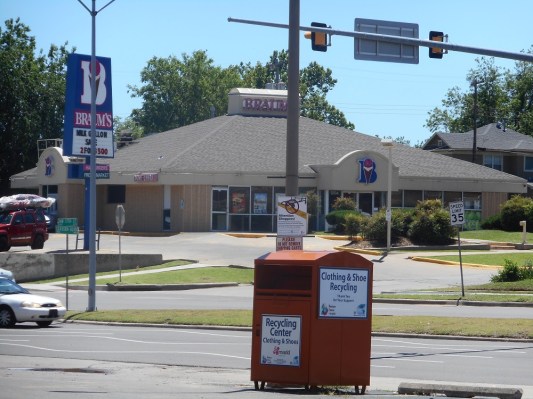 Some twenty odd years ago, before the Plaza District was even a jaundiced twinkle in a crackhead's eye, this particular Braum's was the place—the parking lot, at least—to have an eye-opening sexual awakening, get fish-hooked with a dull pocket knife or stub your toe on a used hypodermic; the size of your cheeseburger was typically the least of our worries as we hung out in their well-hidden booths next to the sleeping homeless dudes and lunching hookers, smoking cigarettes and nursing a shared Coke until, at the very least, the end of gym class or we spotted the campus cop, whichever came first.
Walking into the ol' gal again, I have to admit I was genuinely taken aback by how well-kept and put-together this particular store has become, like the nerdy chick who she takes off her glasses and is miraculously hot, only here, instead of glasses, it's a passed out junkie wetting himself. The place was stunningly clean—even though there was a bit of a line, no one was publicly flustered and there was always at least one employee wiping down tables, putting away trays and making sure the soda fountain and condiments were sparkling. It was genuinely refreshing and ultimately fulfilling because I'm willing to bet is was our constant nagging that inspired some sort of Braum's inter-office memo.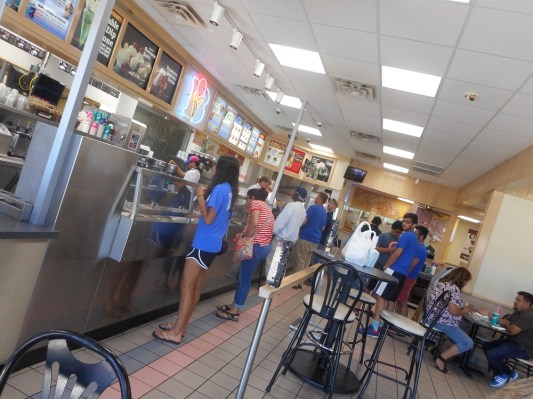 I strolled up to the counter, fully confident I wouldn't get ice cream or ketchup on my shirt and hands for once in my life. Looking at the menu, however, with plenty of new offerings like a BBQ bacon burger and that California guacamole thing, I had to maintain focus and straight-up be happy with what I was specifically commissioned, without question, to review: the number one combo meal, consisting of a quarter-pound cheeseburger, medium fries and an ever-trustworthy small vanilla shake ($5.99), no upsizing or add-ons, thank you.
Let's get right into the meat, if you will, of the matter: sure, the one-third hamburgers are gone, replaced with a quarter-pound variation at the same price, but I'm honestly not going to complain too much about it. I'm the type of jerk that'll happily pay $6.50 for a large Diet Coke at the movie theater. What's a few cents more for a smaller burger in the grand scheme of things really? If it truly bothers you that much just buy a bag of burgers, a large fries and sit in your car crying about how your life's priorities are judiciously flawed at best.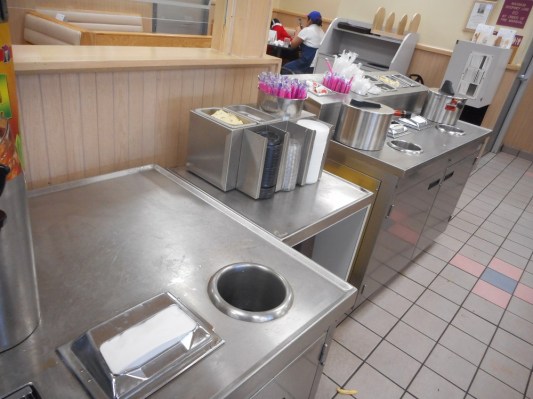 Regardless of cost or size, the Braum's quarter-pound cheeseburger itself really is the same qualified success all their burgers have always been, tops in their fresh meat game and warm buns skillage, with the only difference—and this might just be my own perception—is that there seemed to be a lot more fresh fixins on the sandwich, like beaucoup boughs of lettuce and onions and tomatoes and such, practically spilling out the burger. Which is fine with me…I kind of adore burger fillings and Braum's definitely has some of the top of the pops, son.
Their beautiful crinkle cuts were a tad soggy and obviously fried in older grease—that's kind of a plus for me too, though. I am not a fan of fresh-out-the-fryer French fries. I like them to have been sitting out under a heat-lamp for a little while and at the beginning of a greasy congealing process—so, personally, I thought they were the bomb. I could understand if you, however, wanted to send them back and ask for a fresh from the fryer serving like a jerk.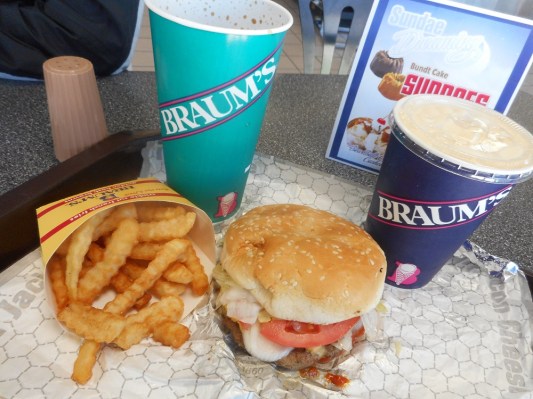 Alright, so here's Braum's good ol' fashioned vanilla milkshake, the special treat we've all loved since childhood, the rich act of atonement our fathers would surprise us with after a particularly rough beating (or is that just me?)…ugh. I don't know what they changed or what they added or what they removed, but this isn't the same shake I used to quietly gorge on in silence as a maladjusted tween. And teen. And adult. Gone is that patented creamy, real milk flavor, replaced with something that has a cacky aftertaste like…is it Lemon Pledge I'm feelin'? Something fake and fraudulent and definitely worth a nasty email to customer service if you're so inclined.
My first trip to Braum's after their big changes left a truly bittersweet taste in my mouth, one that forced me to immediately head to the nearest Sonic Drive-In for a Route 44 Cranberry Slush. Even though the Braum's burger and fries were stand-outs—please don't mess with them any further, guys—as was this particular store's outstanding cleanliness, that milkshake, man… if it ain't broken Braum's, why break it? ¡Cómpralo ya!
_
 To be fair, my usual Braum's order is their chicken strip dinner which, thank God, remains untouched. Follow Louis on Twitter at @LouisFowler.
Stay in touch
Sign up for our free newsletter