Everything Else
TLO Restaurant Review: Polar Donuts
5:05 AM EDT on May 16, 2017
In a nou-faux riche city filled with overeducated coffee-houses overly-proud of their overpriced confections, it's good to visit a hole-in-the-wall joint that don't give a good Goddamn about impressing anyone.
Since 1992, Younts Waters has done things his own way at Polar Donuts near NW 10th and Meridian and, over 25 years later, it continues to be Oklahoma City's best-kept secret when it comes to donuts, all done without pretension and presumption. Using a homegrown, not-so-secret recipe that utilizes potato flakes (boxes by the score can be seen from the counter), eggs and butter that gives his special brand of raised rings an absolutely transcendent taste, his sugary spheres run circles 'round even the biggest of boys like Dunkin' Donuts and Krispy Kreme.
As of recent, however, Waters and crew have raised a bit of a ruckus with one of the most popular Polar products, the "pimp hand," a glazed treat that is shaped like, natch, a pimp's hand. It even comes with a warning that "women are not allowed to purchase" the pimp hand without the permission of their "father, husband, and/or baby daddy."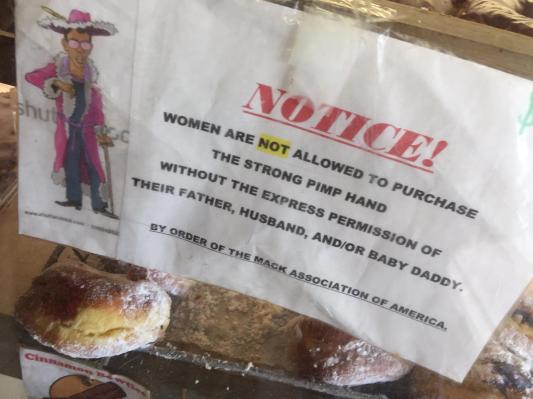 Needless to say, even with a feminine counterpart—the camel toe—available, this hasn't sat too well with a few people. When I stopped by Polar around 11 a.m. or so last Friday, they were all sold out—of the pimp hand and practically everything else—but the clerk behind the counter assured me that the whole thing is in good fun and that, of course, a woman can always get herself a sweet taste of a pimp hand if she is in want—or need—of one.
"It's bringing people into the store though," she added.
Culinary controversy aside, it's impossible not to look in that ramshackle glass case and not want to try at least one of everything, with only the fear of pancreatic shock or diabetic distemper stopping a pre-lunch fried dough fracas. With some of the big sellers like the glazed, the bacon maple and cinnamon bowties, to name a few, sold out for the day, even the handful—and what a handful—I was left with were still better than any daystarting dessert you crammed down your everlovin' gullet that morning.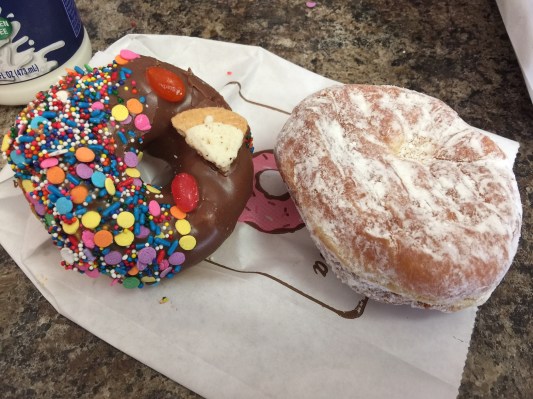 Located without remorse at 1111 N. Meridian Ave. in a shopping center so commercially mundane it's easy to cruise right past it, Polar Donuts usually offers customers a free glazed just for looking, but, as I decided to show up well past the rush, I was just fortunate that there was anything left, controversy-courting or otherwise. It didn't take long for me to decide on a candy-coated chocolate covered ($0.85), a raspberry jelly filled ($0.90), a chocolate long john ($1.15), and, most famously, their renowned apple fritter ($1.15), as well as a couple of whole milks because it does a body good. Pass it on.
Land sakes, man alive and jumpin' Jehovah…if you've never had the sheer hedonistic pleasure of these absolutely Bacchanalian bakery items, it's a Caligula-esque orgy of Dionysian-level edible erotica, one wherein the mandibles gently caress the pastry with slow, meaningful bites, the sugars melting on a tongue that is working overtime massaging the moist, dense buttery bread like a well-trained indeterminably-foreign masseuse working overtime at a questionable spa with vague Yelp ratings, albeit one smothered in a rich chocolate frosting.
And that was just the long john.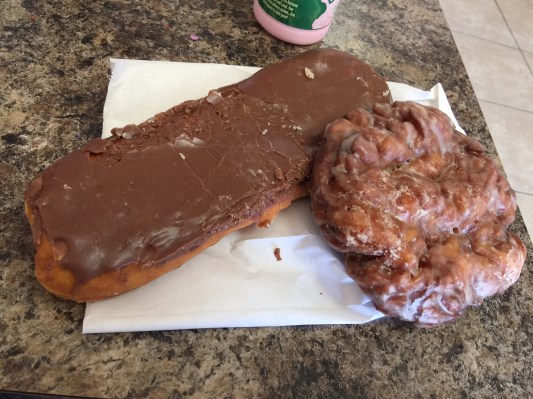 Forgive me if I describe these with all the flair of an undersexed Harlequin romance writer, but the absolute love and passion that Waters and crew put into these works, especially after a lifetime of imbibing assembly line pastries that were devoured with a reptilian need more than a romantic want, is evident with every bite and worth a starry-eyed tribute. These ain't donuts you stuff in your mouth like a greedy glut—these are the kind that you must purposefully enjoy, sitting back and taking the time to almost fetishize these delicate creations.
From the tart crispness of the apple fritter to the playfulness of the jellybean-teased rounder, from the ecstatic enamorado of the long john and the demonic decadence of that raspberry jelly joint, if those are just the leftovers from a busy day at Polar Donuts, can you imagine what it must be like when the glass door unlocks at 5 a.m., tray after tray of virgin territory ready to be devoured, pimp hands, camel toes and beyond…maybe someday, hoss.  Until then, ¡Cómpralo ya!
_
 Sometimes I'll whisper my food reviews into a lover's ear. Follow Louis on Twitter at @LouisFowler.
Stay in touch
Sign up for our free newsletter