Everything Else
TLO Grocery Store Review: Supermercados Morelos
4:46 AM EDT on May 4, 2017
It's been over a year since it was announced that a Natural Grocers was going to move into the iconic Gold Dome at N.W. 23 and Classen, but, like everything ever associated and announced with that structure, nothing has come to fruition. And, based on this news report, it probably never will.
And really, it's probably for the best; in this area of town, do we really need something as useless as a Natural Grocers?  These stores—consisting of basically one small produce department and then 25 aisles of vitamins and supplements—realistically offer nothing to the community-at-large, especially the everyday ham-and-eggers, the blessed low incomers and the spectacularly growing minority factions.
I would, if I may, like to offer an alternative that should work for everyone, especially me: can we get a Supermercados Morelos in the Gold Dome instead? Por favor? It would look good...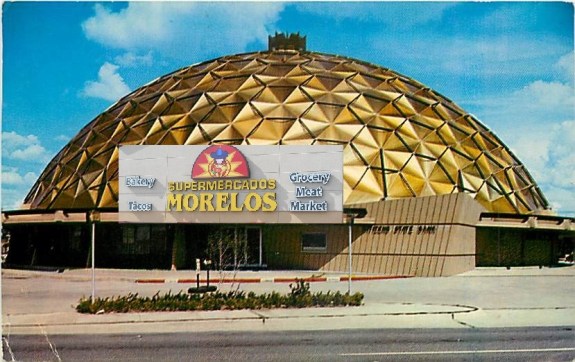 Straight out of Michoacán, los hermanos Morelos have slowly but assuredly been building a supermarket empire across the Metro, featuring a logo with a subtitle that offers the only four things we truly need in life: Grocery, Meat Market, Bakery, Tacos. Offering not only top-notch Hispanic goods at comparable prices, they also deliver a fantastic produce section, a full-service carniceria , an old-fashioned bakery and a one-stop taqueria.
With locations at 4704 N.W. 23rd St., 4475 N.W. 50th St and 621 N. Moore Ave. in Moore, they've obviously shown an inclusiveness to dig stakes in communities that are not traditionally known to be Latino hubs of community and commerce, so it would make more than enough sense, both culturally and fiscally, to open up a gleaming sphere of oportunidad comercial in the Gold Dome. However, well aware as I am that pictures speak louder than words—especially when you're trying to sell gringos on something outside their comfort level—a few days ago I went to the Morelos on 50th and took a few pics of what this neighborhood could have and, even more than that, what this neighborhood should have...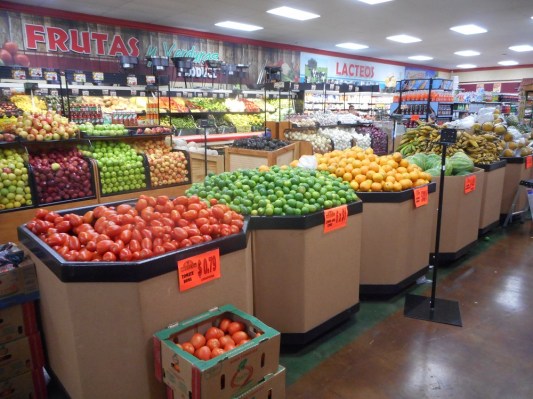 Look at all that fresh produce, brought in and unpacked daily. From everyday needs like bananas and tomatoes to more deliberate items such as plantains and tomatillos, you guys keep telling me I need to eat more fruits and vegetables and with a broad selection like this, one that practically guarantees excitement and variety in every nutritious bite, how could I not?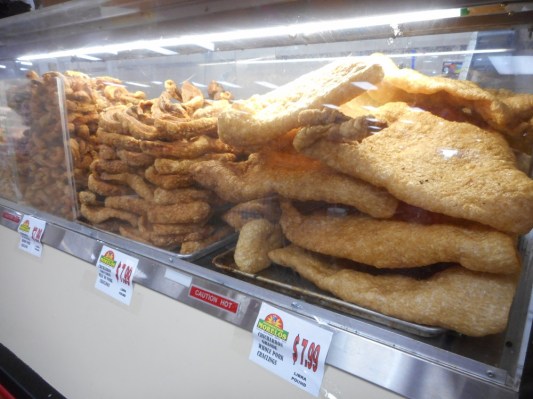 And how about a fully-loaded carniceria, packed with plenty of marinated meats, spicy sausages, obscure organs, fajita-ready fixins, buckets of manteca fresca, various seafood delights and, the real kicker, deep-fried blankets of pig-skin that are close to that of a folded quilt in size and width for around $7.99 a sheet. Betcha can't eat just one (mostly because of the immediate chest pains).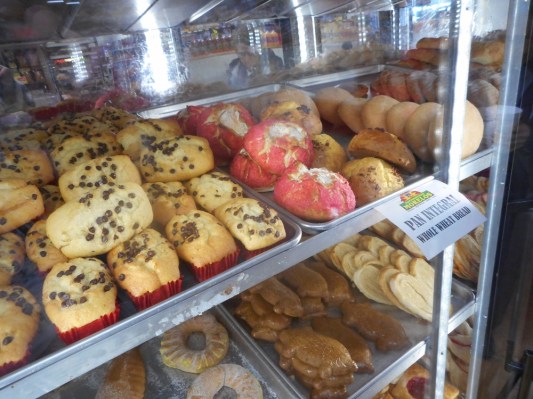 It's impossible not to fall in pure Christian love with the sheer scent of fresh-baked pan dulce wafting through the store, the intoxicating aroma escaping through the doors every time a new customer follows his nose in, ready to imbibe on hot treats like empanadas filled with fruits and creams, traditional sweet breads like the marranitos that go great with morning coffee or flaky jelly-filled delights to impishly snack on during the drive home. It'll be our secret.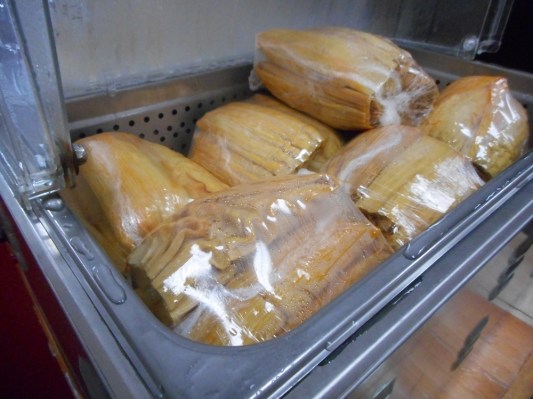 Did I mention the coolers stocked with warm tortillas and steamers filled with hot tamales located near the checkout stands? Forget lame impulse buys like Tic-Tacs and Fruitstripe Gum—you'd do better to grab a couple dozen corn tortillas and a few batches of variously filled tamales just like abuela—mine, at least—used to make. That could be us, everyday after work. We can be heroes. Just for one day.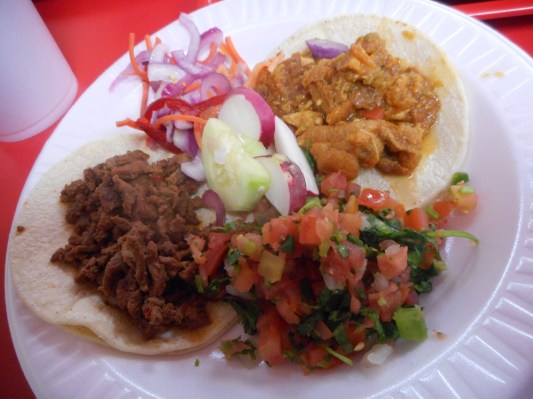 Forget the yawn-inducing deli department with day-old potato salad and heat-lamp rotisseries chicken--the true edge of Morelos over any other grocery that could move into the area—give or take an H.E.B., of course—is the addition of an old-school taqueria that specializes in popular favorites like burritos, tortas and tacos, as well as sit-down or to-go plated meal offerings featuring regional dishes, specialized meat-filled guisos and favorites like chile rellenos, migas and even pork green chile, all served with beans, rice, grilled accoutrement and so on. Add a large, ice cold horchata and you're gold, holmes.
Gold like that famous dome. So to whomever might be reading this, whomever the powers that be are, whomever the Good Lord shall dignify with an answer, can we get a Supermercado Morelos in the Gold Dome? Can we? ¡Cómpralo ya!
_
Even though the parking is terrible, the old Rainbow Records would probably work too. Follow Louis on Twitter at @LouisFowler.
Stay in touch
Sign up for our free newsletter