Everything Else
Patrick's Travel Adventure Diaries: Chicago
9:30 AM EDT on April 18, 2017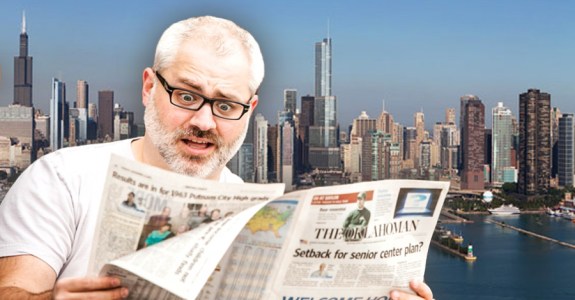 In our 2017 TLO Reader Survey, I asked our readers what type of content they'd like to see more of on the site. The number one result was "travel articles to other American cities." Since I'm never one to disappoint or skip a tax write off, here's the first installment of our newest feature - Patrick's Travel Adventure Diaries.
This was my first visit to Chicago. Oddly enough, it just happened to coincide with my 39th birthday and the first home stand of the baseball season for one of my favorite sports teams – The World Champion Chicago Cubs. What a coincidence, huh?
Accompanying me on this voyage was my very patient and understanding girlfriend: Leigh-Cheri. She's real nice and let me have the window seat on the plane. We were met in Chicago by my friend who recently moved to Denver and his significant other. We'll call them Jules and Mia.
To the Travel Adventure Diary...
Wednesday
Leigh-Cheri and I flew out of OKC at about 2:30 or so on Wednesday afternoon, which means our flight landed at O'Hare International Airport at around 5pm. This was 100% intentional. All my friends who have lived or worked in Chicago have complained about the city's traffic, and I wanted to experience it first hand.
In all honesty, the traffic was disappointing. Yeah, it moved at a slow crawl, but it wasn't any worse than Dallas or Houston or Edmond. We made the 15 mile trek from O'Hare to downtown in 45 minutes. Based on the horror stories I've heard, I thought it would at least take a couple of hours.
We stayed at the Hotel Monaco in the heart of downtown. Like all other Hotel Monacos, it was obnoxiously bougie or boujee or bourgeois or whatever. The beds were soft and the sheets were clean (as far as I could tell). The rooms even had large bay windows that featured a view of the Corn Cob buildings from Wilco's Yankee Hotel Foxtrot album cover…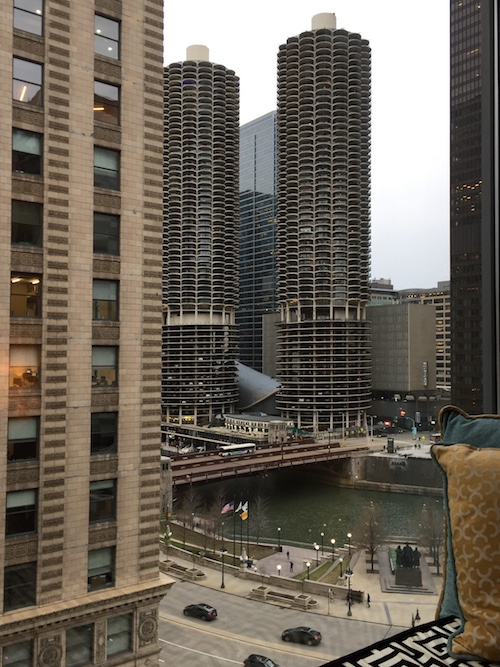 Yankee. Hotel. Foxtrot.
After getting unpacked and singing "Heavy Metal Drummer," Leigh-Cheri and I met Jules and Mia in the hotel lobby. We walked across the street to some Irish-style pub called The Emerald Loop. LC and I shared the fish and chips and seafood chowder. Everything was solid. The most impressive thing was our waitress's Irish accent. It made me want to eat a bowl of Lucky Charms and cut off a slice of Irish Spring. In fact, it was so legit that I'm pretty sure she was faking it.
From there, we took an Uber to a bar called Watershed. Patrick Travel Tip – when you're visiting a big city like Chicago that has a bunch of tall buildings, stick with cabs. That way you don't have to worry about Uber pinning your location three blocks away from where you're standing and the Uber driver canceling your ride, which happened just about every time we tried to use Uber.
Watershed was a pretty cool place. It was tucked away in the basement of a building and had a loungey bottom-of-a-castle vibe to it: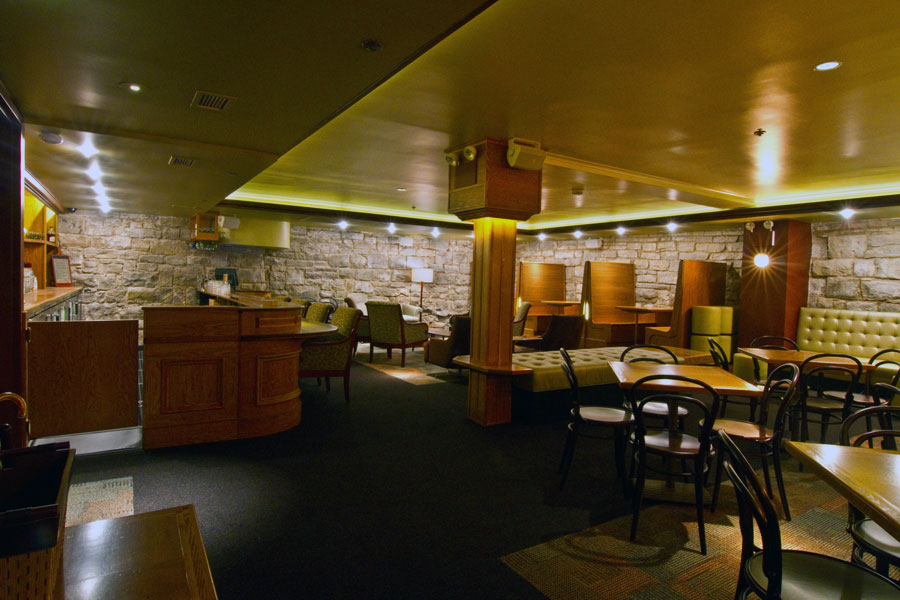 Watershed grade: 4/5. The service was bad, but that seems like the norm in Chicago. The atmosphere and drinks were great.
-
Thursday
It's hard for me to pinpoint how or why I became a Chicago Cubs fan. I guess it's something that just gradually happened over time. I blame the ivy-covered walls of Wrigley Field, rooting for the underdog, and the 1983 Ryne Sandberg rookie card that was the centerpiece of my 7th grade baseball collection. Bonus points go to Kerry Wood, Sammy Sosa and Will Ferrell's Harry Carey impression.
It's also hard for me to pinpoint how or why I had never been to Wrigley Field. I've caught Cubs games in Arlington, Atlanta and Denver, but never Wrigley. On Thursday, April 13th, 2017 – the 39th anniversary of my birth – that was going to change.
Leigh-Cheri and I started the morning by taking a cab to meet Jules and Mia at their hotel. They were staying at one of the many Marriotts in Downtown Chicago. Patrick Travel Tip – Never tell a cabbie "Take me to the Marriott, please!" They'll mumble something inaudible, you'll say "Sure," and then they'll drop you off the wrong Marriott. It's a rookie move.
After taking another cab to the correct Marriott, we ventured to the subway and hopped on the L to Wrigley Field. We weren't the only ones: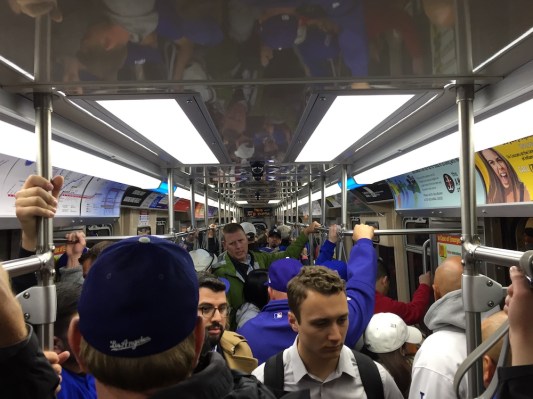 Even though the train smelled like a combination of body odor, fish and a 7-Eleven bathroom, it was a fun ride. It runs so close to row houses and apartment buildings that the graffiti on their walls could jump out and grab you.
After about a 10 minutes, the L stopped at Addison Street. There it was – Wrigley Field. I locked my eyes on the iconic red sign. Just like the first time I saw a boob in real life, I wasn't exactly sure what to do other than hold back the tears and marvel at the beauty.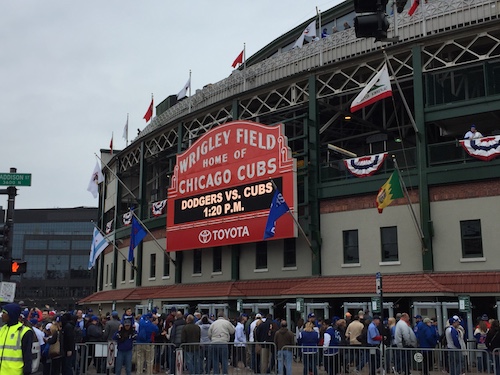 Okay, so maybe you have to be a Cubs fan to truly appreciate it, but whatever. The maze isn't meant for you.
The scene around Wrigley was a lot like Campus Corner before a November OU football game. It was chilly outside and the streets were filled with vendors, ticket scalpers and day drinkers chugging beer from bar to bar. The only difference is that instead of having to walk six blocks to the stadium and then wait in line for 30 minutes to get inside, you simply walked across the street, scanned your ticket and entered. Seriously, it was that easy. Lines to get inside the friendly confines were virtually non-existent. It only took a couple of minutes.
Once inside Wrigley, we grabbed $10 beers and rushed to our seats. As rain water from that morning's storms soaked into the back of my jeans, I soaked in the aura of the moment: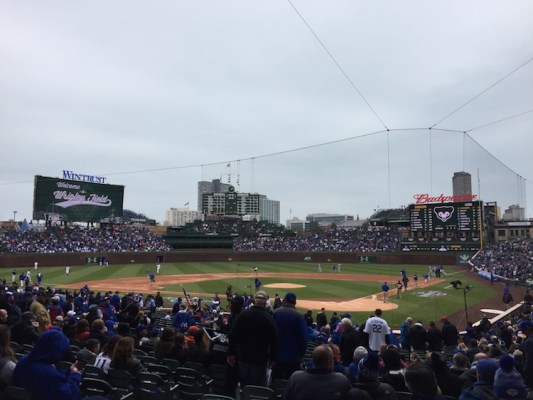 Patrick's Travel Tip – If you're planning on going to a Cubs game, wait until at least May when the ivy turns green and it's warmer than 50 degrees.
After all the pomp and circumstance, the umpire yelled "play ball" and the game began. Rizzo hit a home run in the first, and the Cubs pitcher, Brett Anderson, was rolling. During the middle of the 4th inning, I decided it was time for some overpriced stadium sausage, so Leigh-Cheri and I ventured into Wrigley's innards to search for Bratwurst. All of the concessions were packed, except for the bratwurst line. I ran to the register.
"Two brats, please!"
"That will be $17. Wait in that line over there and we'll have your order soon."
I turned and saw a dozen or so people impatiently waiting in line for a bratwurst. I then realized I was duped by the "pay line" and "wait line" gimmick.
While waiting for the brats to cook, Leigh-Cheri was growing noticeably irritable and impatient:
"How much longer is this going to take?" ...  "What are they doing?"... "We're going to miss the next inning!"
"Wow! This girl must really like baseball!" I thought.
After 15 minutes or so, we got to the front of the line, grabbed our brats and rushed back to our seats. We got back to catch the final out of the top of the fifth. I was blabbering about the bratwurst when Mia pointed at the big video board in left field.
"Hey Patrick. Look! They're doing the anniversary announcements on the video screen."
"Who cares?" I thought, but I looked up to play along. Three seconds later, this appeared: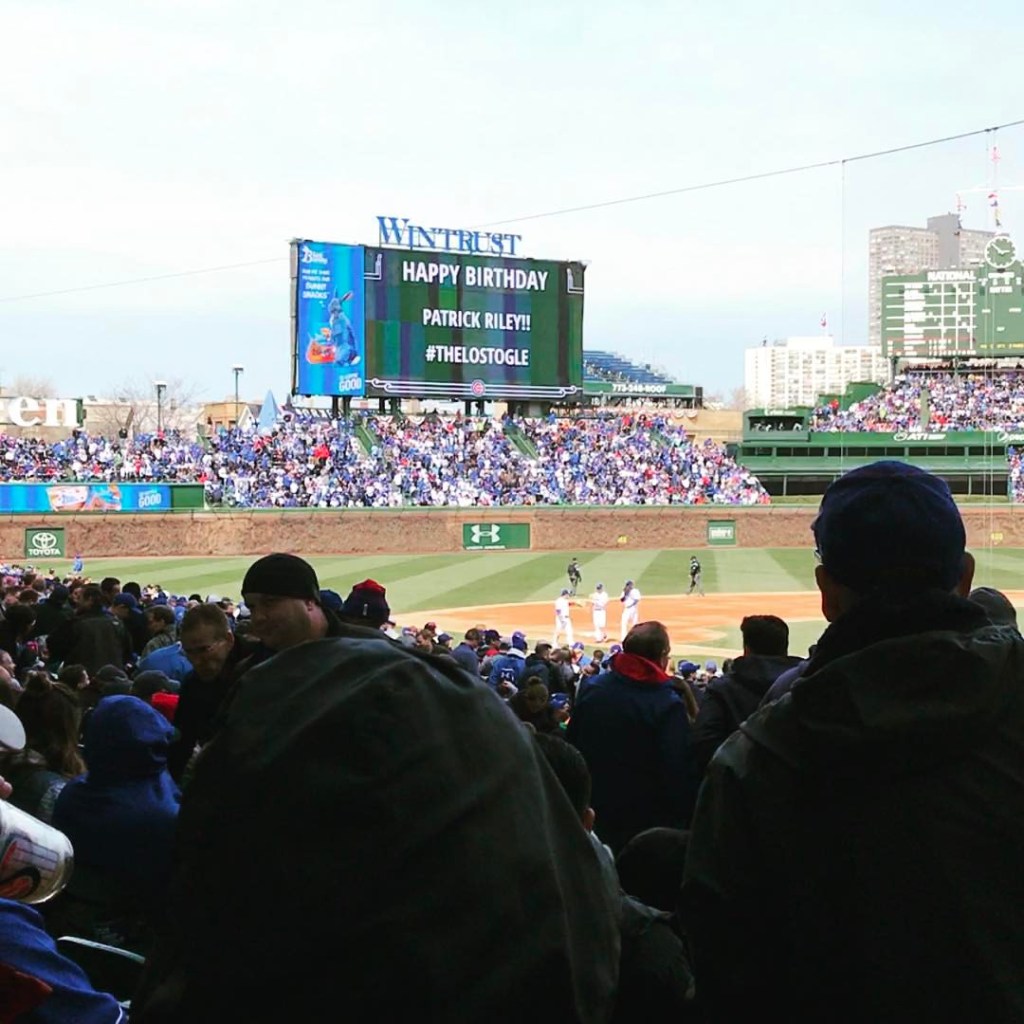 What do you get for the blogger who has everything? How about his name and second-life hashtag on the scoreboard at Wrigley Field!!! I haven't been that surprised and excited about something since Gary England asked Val about "the game." Thanks for the great present, Leigh-Cheri! I'm sorry the brat wait nearly ruined it.
From this point on, things get a bit blurry. This is thanks to A) drinking copious amounts of beer and B) consuming a special "tobacco" vape pen that Jules brought with him from Colorado.
When the game ended, we wandered around Wrigleyville for a bit. We then took an Uber to a place called Bullhead Cantina to meet Leigh-Cheri's cousin, Marcus. The place had a beer, shot and taco special for $6. Who says everything is expensive in Chicago?
After a few hours there, Marcus drove us to a dive called Richard's Bar. It's apparently Chicago's only smoking bar, which means it would fit well in Oklahoma City. We chugged some Old Style and then called it a night. My 39th year on this planet was getting off to a great start.
-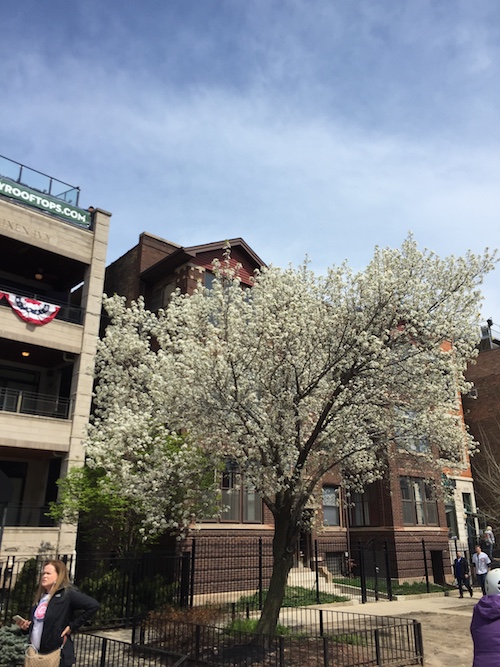 Friday
Yeah. The Bradford Pears were blooming in Chicago. I thought I escaped the smell of those things six weeks ago. Outside of seeing paramedics tend to a woman who was hit by a cab while riding her bike, it was the low light of the trip.
On Friday, Jules and I went to another 1:20 Cubs game. This time they were playing the Pirates. Once again, we took the L train and once again it was freezing out. There's nothing too exciting to report from this game other than the security guy at the gate calling out Jules for his magical vape pen from Colorado:
"Hey, what's that?"
"It's my tobacco vape pen."
"No it's not!"
"Yes it is."
"No it's not."
This exchange continued a few more times before the security guy handed him the pen and said "enjoy the game."
The game was cold and blah. The Cubs blew a lead, left the bases loaded in the 8th and 9th inning and subsequently lost. We then headed over to Murphy's Bleachers, located catty-corner to the right field bleachers, to drink away our sorrows. It's basically the O'Connell's or Eskimo Joe's of Wrigley Field.
Unfortunately, Murphy's was full of brahs – one of whom decided to urinate on the wall while we were waiting in line in the bathroom – so we decided to call it an afternoon and head back to our hotels. We hopped back on the train, but not before saying one final goodbye to Wrigley Field: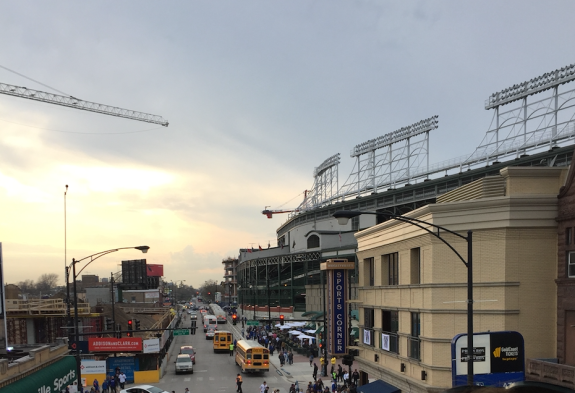 For dinner than night, we tried out Frontera Grill. It's the signature Mexican restaurant of OKC 's most famous celebrity chef – Rick Bayless (a.k.a. Skip Bayless' brother). I can see why he built the restaurant in Chicago, because around here it wouldn't last.
Leigh-Cheri and I shared the oysters and ceviche sampler, and the pork loin entrée. The ceviche was delicious, but the oysters were comically small. I've had better at the Drake or Shack or Applebee's. The pork loin was nothing too special. It was very dry and sliced too thin.
Jules went with the waiter's recommendation and took on the carne asada ribeye. The steak was tender but drenched in an overpowering heavy sauce that masked the flavor of the beef. Mia ordered the $20 Mole enchiladas. She barely touched them.
Patrick's Travel Tip – If you want good Mexican food, don't go to Chicago.
-
Saturday
The weather on Wednesday through Friday reminded me of Oklahoma in late February and early March – cloudy skies, cold wind and intermittent showers. Saturday, on the other hand, was sponsored by Sunshine, Good Vibes and the Chicago Chamber of Commerce. Seriously, it was amazing. The sun was bright and hot and offset by a cool breeze rolling off Lake Michigan. Downtown was packed with tourists, locals and Trump protestors all enjoying the weather.
Before we headed to the airport for our flight home, Leigh-Cheri and I walked along the river and over to the Navy Pier that looks out over Lake Michigan. We marveled at the architecture and fantasized about how cool it would be to live in the heart of a world-class city. We then stopped by a brewhouse for a late brunch. As we walked to the host station, I noticed a teenager wearing an OKC Thunder hat.
"Go Thunder! You from OKC?"
"No. Iowa."
"That's cool."
"Yeah."
And then much like this travel article, our conversation ended.
=
Okay, I don't want to end this thing all weird like that.
Chicago is a great city and I'd encourage everyone to go, especially if you can convince an awesome group of people like Leigh-Cheri, Jules and Mia to come along. I'd like to thank them, and the lady with the fake Irish accent, for making the trip extra-fun and memorable.
Stay in touch
Sign up for our free newsletter