ICYMI
Severe Weather Coverage Recap – Preseason Report Card
3:48 PM EDT on March 27, 2017
The Severe Weather Coverage season blew into the Metro viewing area last night with the first preseason storm outbreak of 2017. Although the storms thankfully didn't pack that much of a punch, they did give our first look at this season's new storm chasers, fancy weather equipment and David Payne's skinhead mohawk:
Hmm. Maybe it's about time for David Payne to wear a cap when he cuts in for live storm coverage? I'd suggest a red one that says "Make Oklahoma Weather Coverage Great Again."
Overall, the big three local news stations were rusty, disorganized, and thanks to a mild winter that only generated a couple of winter weather emergencies, totally out of game shape. Basically, they were in preseason form.
As a result, news stations primarily used the storms as an opportunity to develop chemistry between new storm chasers, iron kinks with new weather equipment, and piss off college basketball fans by cutting away from the ending of one of this century's greatest games.
Anyway, I'm also in preseason form when it comes to writing about our over-the-top severe weather coverage, so I thought it would be fun to put together this little report card to get me back in the groove. Check it out: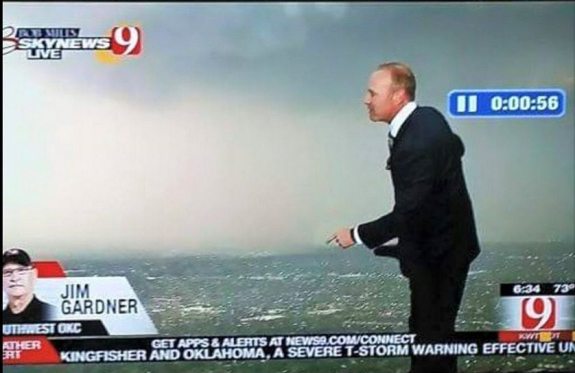 KWTV Channel 9
David Payne: C
Once again, I think David Payne is a bit out of his element as Chief Meteorologist. You can see in his eyes that he wants to dive head first into the green screen and chase water spouts and maxi-wedge grinders, but for some reason, Channel 9 has him caged inside a studio reading radar and playing stage manager. They need to get David out into the Oklahoma back roads where he belongs. Release the beast, News 9!
Storm Chasers: B-
For the most part, it was a solid night for Channel 9 storm chasing crew. Val was Val, and Bobby Payne caught a couple of gustnadoes. Unfortunately, David Payne and his storm chaser Darren Stephens still lack the chemistry required for a full-blown tornado genesis. At one point, David had to take time out of a tornado warning to serve as Darren's personal GPS. They need to get better soon, or Darren may be sent back down to AAA before the real weather begins.
Other Stuff: C+
Every 15 minutes or so, David Payne will flip it over to Lacey Swope and Cassie Heiter in the weather command center. I'm not 100% sure what they're doing in there, but they get your attention. I was a bit disappointed in David Payne's new overhyped radar. They spent six months promoting it, but other than making the screen more busy, I didn't notice anything different.
Overall Grade: C+
-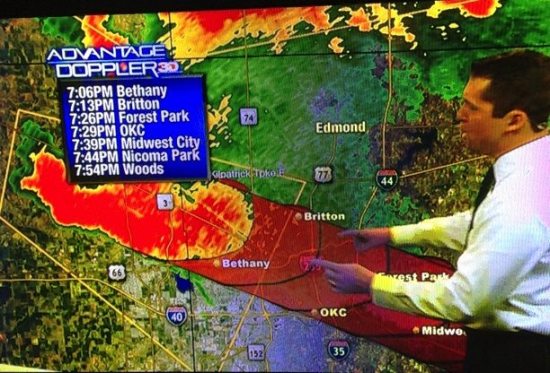 KOCO Channel 5
Damon Lane: B
Although he constantly interrupted the Thunder game teasing us with the threat of a, gasp, "tornado watch," Damon was solid. He avoided any massive weather dongs, and for the most part, kept control of his emotions.
Stormchasers: C-
Former News 9 weatherman Michael Armstrong is now playing the role of "Field Meteorologist." He chases storms from a distance, and then gives live reports of what the weather is like from his location. He'll say things like "The updraft is swelling into the cap, back to you." It's kind of boring. Michael Armstrong is the exact opposite of David Payne. He's not a dare-devil. He belongs in the studio, which leads to...
If I was the news director at Channel 5, I'd offer a blockbuster trade to News 9 – Michael Armstrong and a First Round pick in the 2018 storm chaser draft for Val Caster. Who says no? Having Armstrong back at News 9 would free up David Payne to go storm chasing as a quasi-player coach, and Val would give KOCO the signature storm chaser they desperately need. Someone get on the gentner and make this happen!
Other Stuff: B
Damon Lane seems to trust his teammates more than the other guys. It's not uncommon for him to turn the radar controls over to Jonathan Conder, and let him provide the play-by-play for a segment or two. That works well as a change of pace, but Jonathan needs to remember not to lecture drivers who are not watching. He spent a lot of time complaining about idiots stopping their cars under overpasses during hail, and also seemed overly concerned with something called "chaser convergence."
Overall Grade: B-
-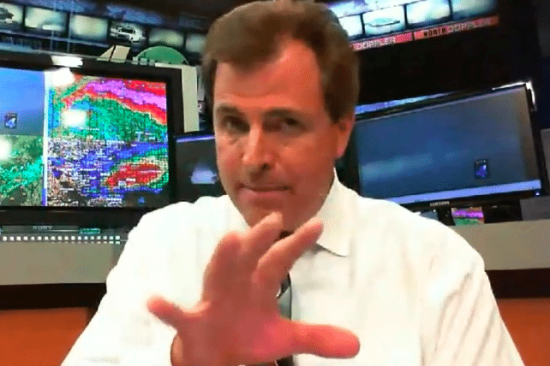 KFOR Channel 4
Mike Morgan: B
Not a lot to say about Mike, which in all honesty, is kind of good thing. He wore a red flashy tie and used colorful words to describe storms. I think he also broke out a couple of magic tricks.
Stormchasers: A-
I know it's only the preseason, but Chance Coldiron is developing into one of Mike Morgan's most trusted storm chasers. The young buckaroo tracked down the center of storms like he was Daniel Day Lewis in The Last of The Mohicans. He was so close to one EF-0 tornado that he got caught in what Mike Morgan called "dust swirls." It may be early, but KFOR may want to give Chance his own Dominator. He'll need it to combat that more powerful tornadoes that may strike come May.
Other Stuff: B-
Maybe I'm old-fashioned, but I like KFOR's doppler radar the best. It has traditional colors, and doesn't give you an epileptic seizure when it flashes warnings. That being said, Mike Morgan really needs to bring back the bedazzled severe weather tie. He looks empty without it.
Overall Grade: B
-
Channel 25: N/A
Once again, who other than a tourist would watch Channel 25 during a severe weather outbreak? Do they even have live coverage, or just stick with Big Bang Theory reruns?
Stay in touch
Sign up for our free newsletter