Everything Else
Oklahoma lawmakers think 10 Commandments are a "historical document"
8:34 AM EDT on March 23, 2017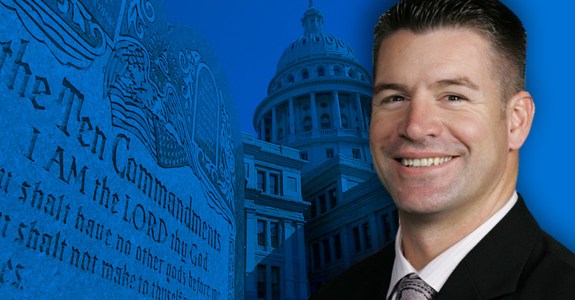 Oklahoma lawmakers (once again) want to defy the will of the Oklahoma people.
Back in November, Oklahomans voted on State Question 790. According to Ballotpedia, it would have repealed a section of the Oklahoma Constitution that prohibits public money from being spent for religious purposes, and in the process, cleared the way for Moses to bring the Ten Commandments monument back to the State Capitol steps.
In a surprising result that shows not all Oklahomans are hypocritical religious zealots who want to insert their chosen religion into government and politics, the proposal was defeated by over a 200,000 vote margin. It may be hard to believe, but apparently some of us really do respect the separation of church and state. It's fun being in the majority for once!
Unfortunately, the will of the people really doesn't matter all that much to the gerrymandered theocrats who control the State Capitol (a.k.a Oklahoma lawmakers). They're now going a different route to undermine the separation of church and state, and the will of the Oklahoma people.
Earlier this week, the State House passed HB 2117. Authored by noted Islamophobic lawmaker John Bennett, it will categorize the 10 Commandments as a "historical document," paving the way for monument's return to the state capitol before some court once again rules it unconstitutional.
Here are the details via KFOR:
Despite voters rejecting the question, some Oklahoma lawmakers continue to work to bring the monument back to the Capitol.

House Bill 2177 would allow cities, schools and [sic] muncipalities to display 'historical documents, monuments and writings' in public buildings and on public grounds.

The documents that could be displayed include the Magna Carta, Mayflower Compact, Declaration of Independence, United States Constitution, Bill of Rights, Oklahoma Constitution and the Ten Commandments.
Hmm. Which one of those historical documents is not like the others? In case you were indoctrinated as a small child, the answer would be "Ten Commandments."
You see, unlike the other historical documents listed in the bill, the Ten Commandments is a product of Christian mythology – not history. We don't even know if it really existed, and if it did, it was compiled by an old hermit who spoke with a burning bush high atop a mountain. It also has some bizarre rules that directly contradict fundamental rights of our society, like forbidding the worship of different Gods. Therefore, the 10 Commandments should be considered a religious document, and monuments built in its honor should probably be saved for churches, bible colleges, and Conservative political action groups.
Then again, what do I know? I'm one of the 809,000 Oklahomans who voted against State Question 790.
Just like the last time they decided to circumvent the decisions of Oklahoma voters, lawmakers are going with the "Oklahoma people are too dumb to know what they voted for" excuse.
"The defeat of the Blaine Amendment last year wasn't so much against the Ten Commandments, but it was the possibility of all kinds of other things happening," Bergstrom told NewsChannel 4 in January, regarding SJR 15. "There were a lot of people putting out things like 'You're going to have a spaghetti monster on the state Capitol, a satanic monument, all kinds of things like that, because how can you restrict that?' And, I think that was a legitimate concern. I met a lot of people who told me they were concerned about that question. But, they liked the idea of the Ten Commandments being displayed."
Oh, so you spoke with a bunch of hypocrites? That's nice. Their anecdotal concerns should obviously carry more weight than the 800,000 people who voted against SQ 790 in November.
Since the Ten Commandments is a religious document, this legislation would probably be ruled unconstitutional if it ever becomes law. Lawmakers have apparently thought this through, and included the following nugget:

That's nice. We'll once again get to waste taxpayer time and money defending legislation taxpayers do not want. Please let your kid know that when you enroll them in a new school because they one they were attending was closed due to our state's budget crisis. May the will of the Oklahoma people be damned.
Stay in touch
Sign up for our free newsletter