Everything Else
TLO Restaurant Review: Toby Keith's "I Love This Bar and Grill"
9:06 AM EDT on March 14, 2017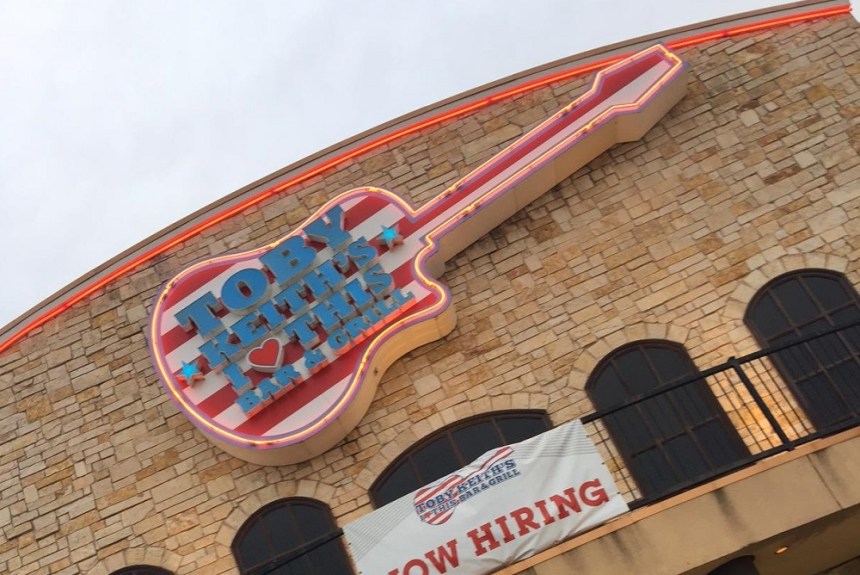 Oklahoma City's lauded Bricktown district is home to many fine eateries that are sure to appease both locals and tourists, but if you had to ask which one I believe is the big dog daddy of them all, hands down I'm gonna go with Toby Keith's I Love This Bar and Grill. How do you like me now?
Located at 310 Johnny Bench Drive, TK's offers a wide variety of traditional all good in the trailerhood eats that have been refined and revitalized for not only fans of Keith's music, but the redneck lifestyle in general, at least from a distance; if you've ever wanted to know how "the other half" eats but don't want to set foot in a Moore mobile home kitchenette to masticate on it, then you'll most definitely love this bar and grill as much as I have come to.
Walking into the restaurant, possibly after a long day of indoor fishing at the Bass Pro Shop, the only thing as big as that built-up hunger is the impossibly huge LeRoy Neiman-esque painting of Keith being unleashed in concert that greets all comers, letting them know that as soon as they enter those doors, they are in for the ultimate American ride, culinary-wise at least. Flatbed trucks take the place of benches, while every inch of wall space is decorated with everything from platinum records to classic neon signage straight out of Clancy's Tavern.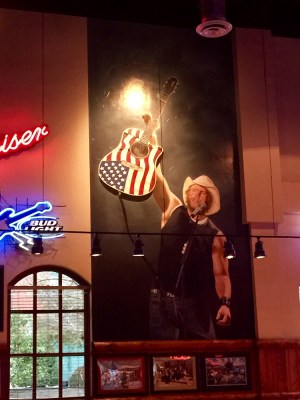 With the feel of a classic small-town roadhouse (but totally amped-up for that big league city shock'n y'all), one would hope that a fight would break out any moment wherein I would accidentally break a chair on my dining companion's back, only to shrug it off as not being "as good as I once was," but it was a moderately calm Sunday evening at this particular outlet, the country music overhead was even mellower than usual. Maybe we were a little too late for the fireworks. The explosive food would have to do.
Imaginatively conceived for the presumptive "white trash with money" crowd, many of the classic items on the menu such as the "Baddest Steaks on the Boulevard" or many "Boomtown Favorites" like the chicken and shrimp or the sirloin and chicken can run you into the high twenties and thirties. Sadly, that's not only out of my price range but out of my cultural range as well; I can get steak and chicken anywhere. Show me what they serve in the cafeteria of Honkytonk U, Tobes!
Ordering up a starter from the section labeled "The Winners," we put in a request for that beloved Okie treat, Calf Fries ($9.99), "hand-breaded and deep-fried with spicy, horseradish cocktail sauce and gravy." That done, now, as far as affordable eats go, I highly suggest giving the "Sandwiches" section a little less talk and a lot more munchin'. It offers just about the same kinds of food choices as the high dollar items, only they're between two pieces of bread.
Speaking of which, as soon as I saw it was a selection, I knew that I was all-in for the Fried Bologna Sandwich ($9.99), featuring a "thick slice of bologna with signature BBQ sauce, Jack & cheddar cheese, lettuce and tomato on Texas toast," and, courtesy of the red, white and blue, served with a side of Freedom Fries. My dining partner went a little more upscale with the Meatloaf Sandwich ($11.99), as well as a side-dish of burgundy mushrooms 'cause he think he fancy and shit.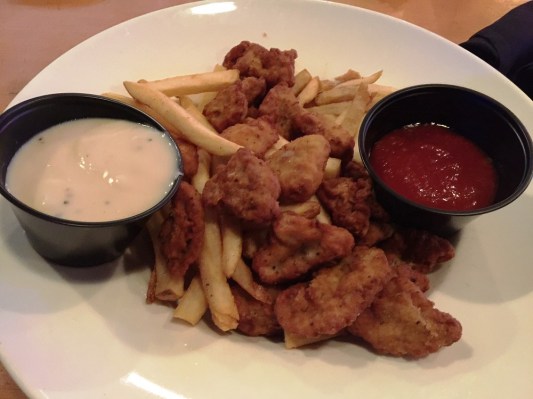 The Calf Fries definitely lived up to their built-up accolades, almost on par with Cattleman's, if I'm being honest; each plump teste is coated in a flavorful, heavy-seasoned breading that gave these babies a darn near Cajun feeling, the addition of cocktail sauce far more welcomed than the gravy. Have a ball, I say! Have a whole mouthful!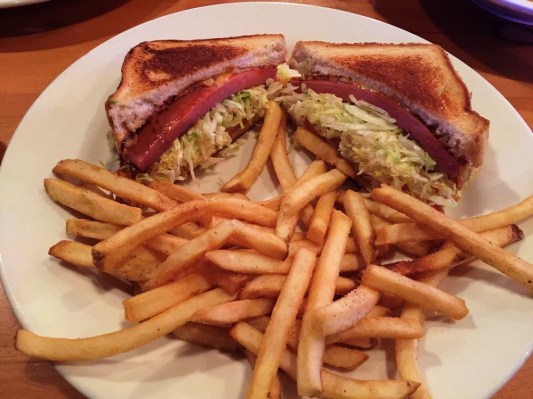 Rich and smoky like nobody's business, I wanna talk about me and my Fried Bologna Sandwich now: this is gourmet poverty done right, son! That thick cut of bologna, so juicy with a hint of garlic, topped with the tangy BBQ sauce (and yes, a little leftover gravy from the calf fries) were the bullets in the gun this bad hombre had been craving. And if that wasn't enough, thank God for those Freedom Fries, because they're as addictive as a field of opium guarded by the Taliban themselves. Seasoned with a naughty bit of backwoods heat, they complimented the bologna perfectly, even if it was all gone too soon.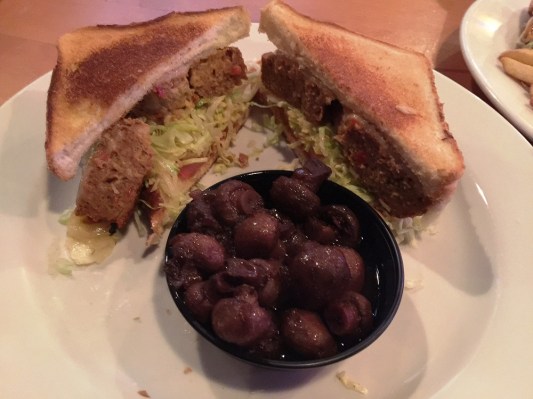 That being said, my friend's meatloaf sandwich wasn't too shabby either; one bite and I was already lamenting that I gotta get me some (gotta get me some) of that next time, the tender, juices of the loaf flooding out of every corner of his sandwich with each bite, mixing with that spicy chuck and pork amicably with a red chile sauce that practically overwhelmed—in a very good way—the entire proceedings with a unique taste that made me feel like I should've been a sous chef, lest I recreate this masterwork at home.
(As for the burgundy mushrooms, my pal loved them immensely; I just couldn't get into them though, they made me feel too much like a high maintenance woman or something.)
An absolute mainstay of the Metro dining scene, if you ever have friends from other states (or, even better, other countries) visit and they want to know what real, authentic Sooner home-cooking is all about, especially while under the looming shadow of our state's best-known contribution to modern culture all in one tight wet spot, you can't get better than the doublewide paradise that is Toby Keith's I Love This Bar and Grill. Now that don't make me a bad guy, does it? ¡Cómpralo ya!
_
Now if only Jimmy Buffet would come back to town. Follow Louis on Twitter at @LouisFowler.
Stay in touch
Sign up for our free newsletter