Everything Else
The 5 Best Chinese Buffets in OKC
3:41 AM EST on March 9, 2017
`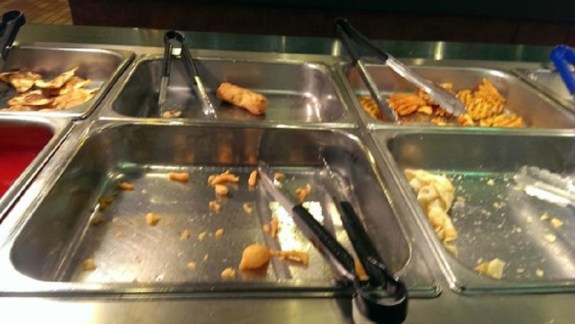 Oklahoma might be last in healthcare access, but I can proudly say we are number one in the country when it comes to Chinese buffet access!
With such a vibrant Asian culture that has brought a wide mélange of styles from across the Far East to the Metro, from the fanciest hipster fusion joint to the smallest "to-go" housed in a former Taco Tico, Oklahoma City is also home to some of the most high-quality, high-class Chinese buffets that offer a little bit of everything from every culture, all expertly prepared and served in a manner that, honestly, you don't see anywhere else in the country. Consider it a melting pot filled with duck sauce, if you will.
But what's truly beautiful about OKC's Chinese buffets, that I've noticed from my encounters with various owners and managers, is the way many of these establishments treat their food (as well as their customers) as though they were in Michelin-rated restaurants, taking absolute pride in offering mostly-traditionally prepared, delicious all-you-care-to-eat meals at an affordable price without skimping on the chef's flair for inventive flavors, and, most importantly, adding that little something special to each serving that makes their food stand out from others. I'd actually be willing to put up some of these eats against a more expensive upscale eatery any day, holmes.
Over the past year or two, I've had numerous requests for my favorite Chinese buffets, and, after a few months of research, I think I've found my definitive five. (For now, at least.)  Noting the wide ranges of flavors and tastes to the broad selections of different foods sampled—all cooked up fresh and served with an absolute adherence to pleasing the palate of every customer—here are my picks for the top five Chinese buffets in the Metro, in no particular order. ¡Cómpralo ya!
-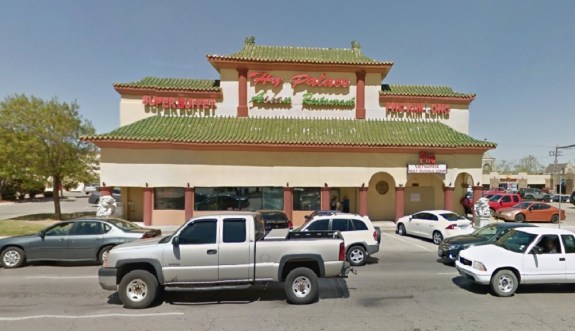 Hy Palace Asian Restaurant (1133 NW 23rd St.)
As long as I can remember, there has always been a Chinese buffet on the corner of NW 23rd and Western. For many years, friends and I would sneak off the Classen SAS campus to eat lunch at one that resembled a big green temple, complete with golden lions and grinning Buddhas standing guard out front. Their offerings were simple enough fare, served on recycled Arthur Treacher's trays, but I will always remember them having the best French fries I've ever had in my life. Weird, I know.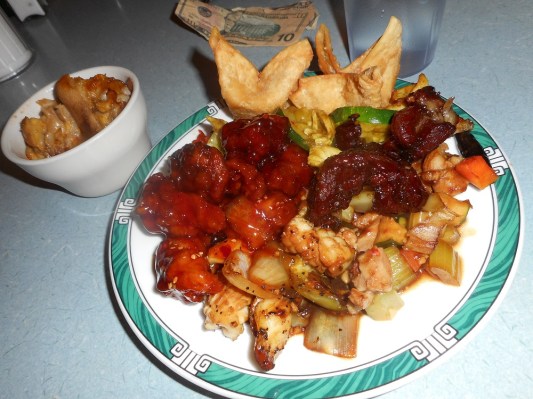 And while I'm not sure if Hy Palace is owned by the same people, even without the nostalgic vote, it is still a beautifully resplendent replacement, the friendly neighborhood buffet that is always stocked and ready to go with a wide variety of outstanding traditional buffet items done right like the tangiest orange chicken and the best salt and pepper fish this side of town, but there's also a nice selection of Vietnamese and even Indian delights such as a very sinus-clearing take on chicken curry. And those French fries…still pretty damn good.
_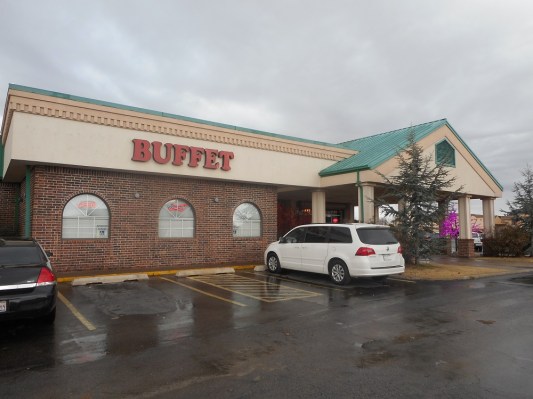 Hibachi Supreme Buffet (1012 W. Interstate 240 Service Rd.)
The city might as well name that stretch of I-240 from about Western to Penn the "Buffet District," with everything from Golden Corral to multiple Hunans dotting that consumer-driver Southside landscape. And, to be fair, they must be filling a real need because these places are almost full every night, with every seat particularly taken on Sundays, with the after-church crowd tithing to the glorious buffet of their choice, with the most religious experience (for me) being the Hibachi Supreme Buffet.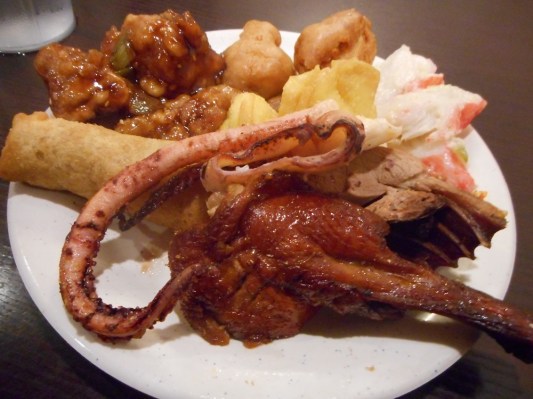 While Taste of China across the street earns notoriety for having everything from Chinese to BBQ and even Mexican in its steam-trays, sadly, most of it is actually quite mediocre. Hibachi, on the other hand, might have a smaller buffet, but that focus allows for not only a more expansive taste of Asia, but one that's done exquisitely. From their absolutely succulent roasted duck and an innovative crabmeat lasagna to the pan-fried Japanese squid and the explosively monikered atomic chicken, thank you, Jesus, for this Supreme bounty you've set before us.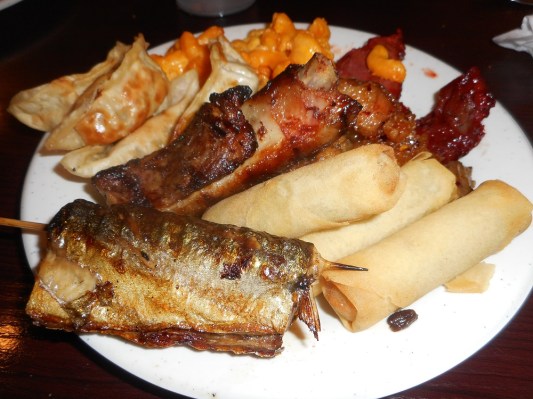 _
Chen's Buffet (4537 NW 23rd St.)
Little known fact about Latinos: we absolutely love Chinese buffets almost as much as we do Mexican food. And as much as I would like to delve into what I believe are the socio-economic reasons behind this, instead let me just offer you this piece of advice: if you're ever wanting a primo Chinese outing with good food at a good price, just look in the parking lot and see how many Ford F-250 King Ranches have Virgin Mary decals on the back window.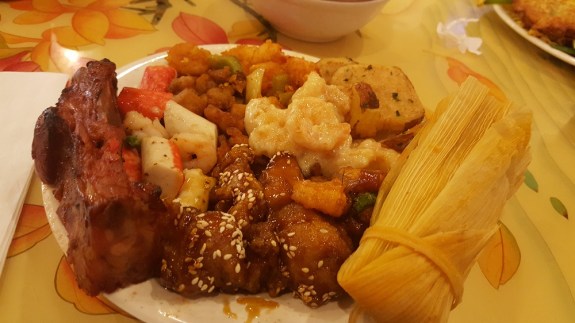 One such Latino secret that I am going to let you in on is the sweet and sour diamond of the Windsor District, Chen's Buffet, located in that shopping center where Crest and the old-school movie theater is. Featuring dishes that are absolutely loaded with homemade care, they don't skimp on the spice or the heat here, with the pepper chicken and General Tso's providing a bit of expert traditional wares, while their seafood offerings such as salty crab shrimp, steamed crayfish, spicy squid and those savory mussels swimming in bean sauce are worth the trip by themselves. And they even have tamales, natch.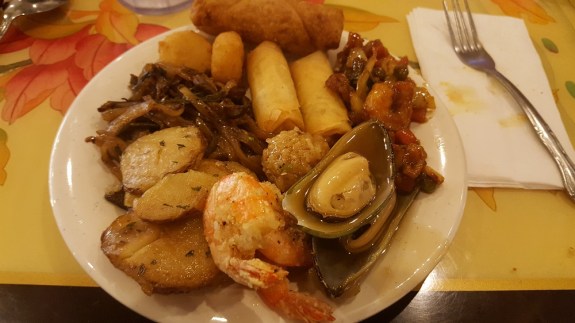 _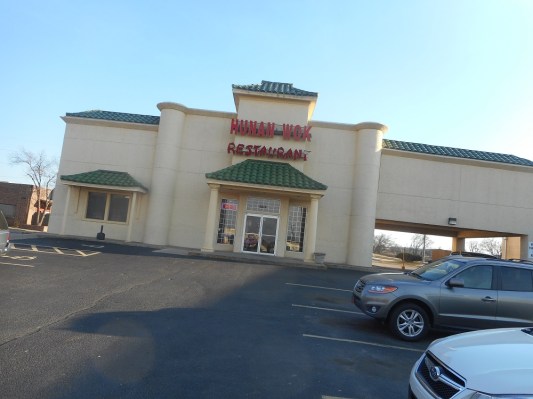 Hunan Wok Restaurant (6812 Northwest Expy.)
Another one of those places that have been around for ages, don't let the no-frills demeanor and simple buffet trappings throw you off. Heavy on the meats, Hunan Wok's selection of supreme savories is without compare, starting off with garlic chicken, egg foo young and Korean pork spare ribs mingling beautifully with the crab-heavy seafood delight and, yes, I know they are bad for you, but dammit, those cheese-stuffed mussels get me every time.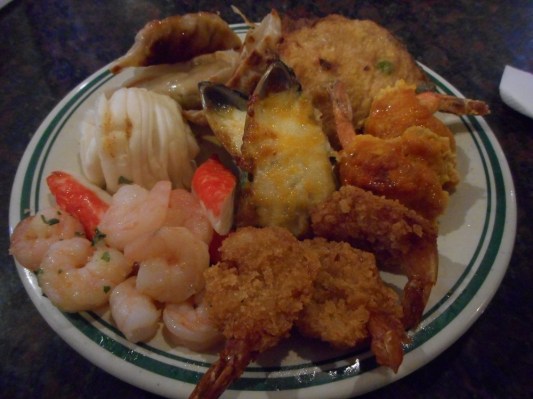 Hunan Wok also offers a great selection of sushi, some that really is above par for Chinese buffet sushi, as well as a fantastic Mongolian barbecue. Side some of that off with the tasty steamed pork buns and such that's really all you need…except for the desserts. If you've got the room, they've got the gourmet cheesecake, homemade flan and these crazy breakfast cereal squares that have, like, Fruity Pebbles or something in them. The kids love 'em.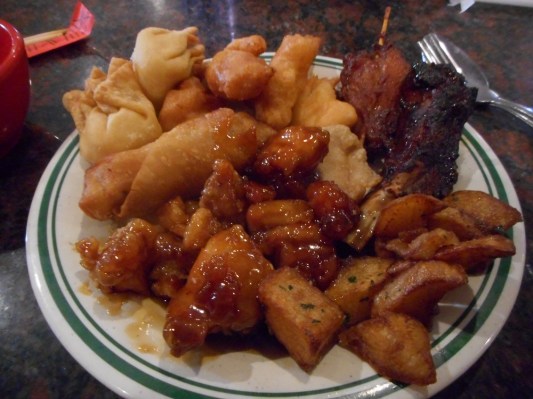 _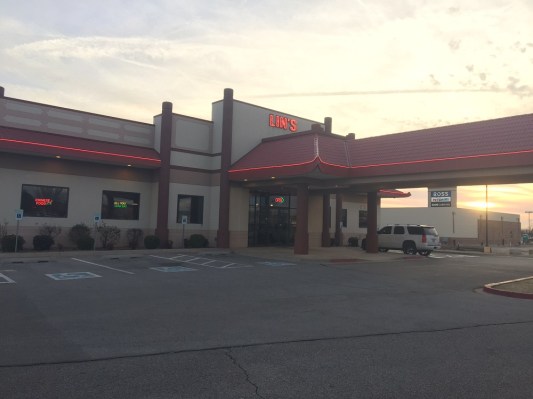 Lin's Grand Buffet (6220 SW 3rd St.)
My last girlfriend, the Zumba instructor, whenever her family was in town, we would always eat here at Lin's. Returning there was kind of a bittersweet affair because everywhere I looked all I could see were the broken promises and bitter lies about the future she told me, but, also, they have the best seafood selection (for a Chinese buffet) in town. The heart wants what it wants and, since mine will be useless and dead in a few years anyway, time to wipe those tears away and get a clean plate and start over again, right?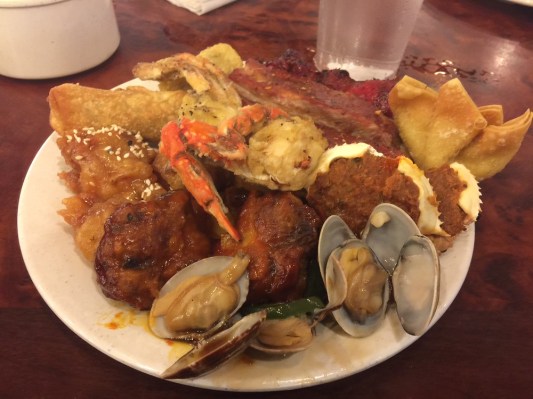 Stuffed crab, crab legs, spicy mussels, salty frog legs, buttery crab rangoon and some of the most pungently delicious grilled fish (swimming in greens onions, no less) I've enjoyed recently, you're really getting your money's worth here if the catch of the day is your bag, baby. And while traditional American fare at these places often suffers terribly, Lin's kinda does an admirable job rockin' the crispitos, enchiladas, and tamales like no one's business, with some dutifully pacifying pizza and hamburgers to boot. I could see myself having a wedding reception there. Well… I used to.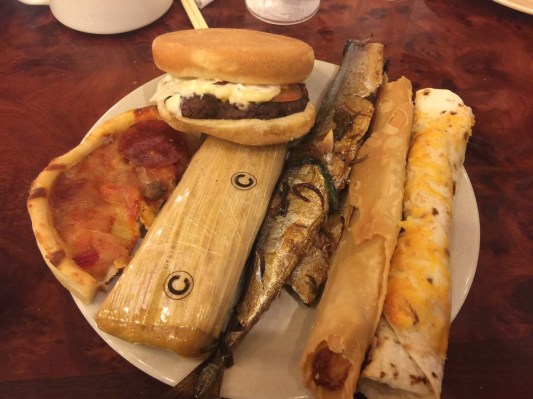 _
Previous TLO Top 5s: Snowcones | Taquerias | SW 29th Taco Trucks | Non-Taco Food Trucks | Breakfast Joints | BBQ |
I write reviews for the guy who only has $10 in his pocket, because that's who I am. Follow Louis on Twitter at @LouisFowler.
Stay in touch
Sign up for our free newsletter