Everything Else
TLO Restaurant Review: Taco Rico
9:25 AM EST on February 7, 2017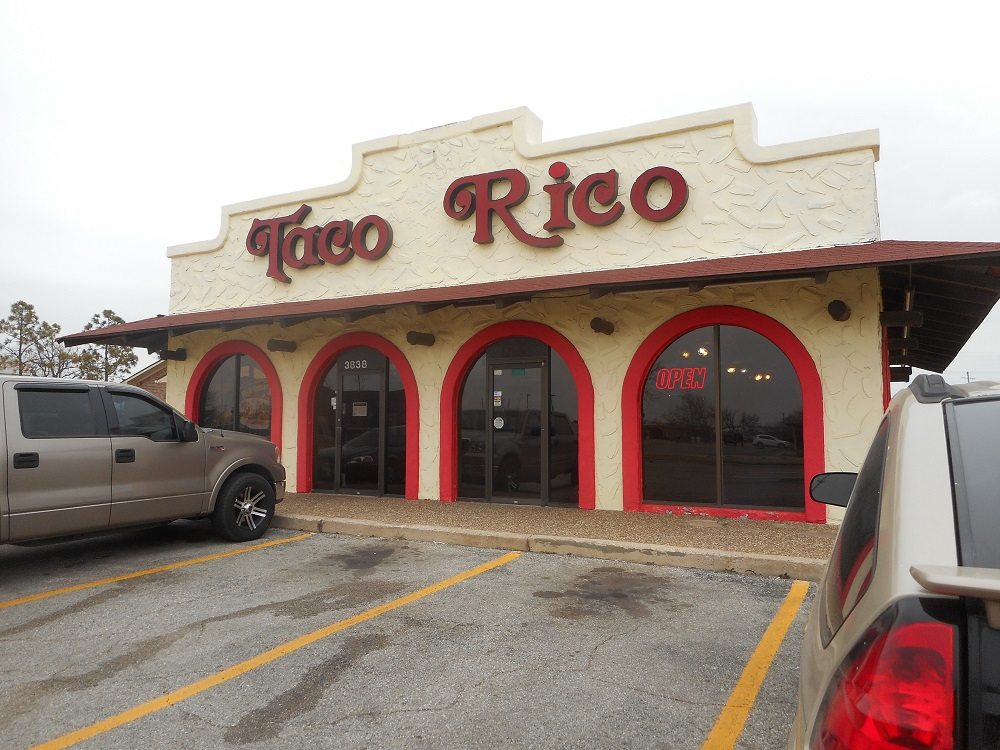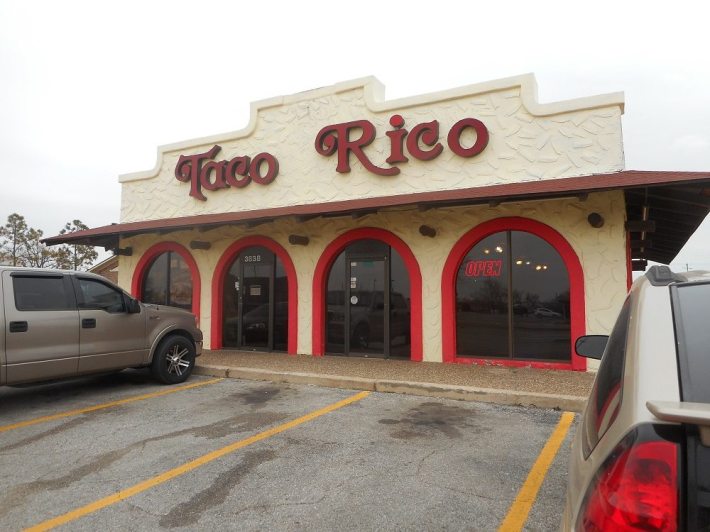 Remember when you were a kid and all you wanted was a Sony Walkman cassette player with Bass Boost, but you couldn't quite afford it, so you mowed a few lawns and eagerly made do with the cheaper drugstore knock-off, a Suny Walkmuch AM/FM stereo with optional volume control?
Yeah, it wasn't the same, but it was all you had and, dammit, listening to KJ 103 while you did summer landscaping with your dad was sure as Hell better than listening to him bitch about how worthless you are at hedging. It did its job and, in retrospect, I was grateful to the Suny Corporation out of Malaysia for their efforts.
The only reason I bring that up is because those same appreciative feelings came rushing back as I stood in the lobby of the heretofore unknown (to me) Mexican fast-food joint Taco Rico—with an R—a taco-based eatery which has apparently been located right up the street from me at 3838 N. Lincoln Blvd., for lo these many years and I never once noticed it. Too busy turning right when I should've been turning left, I guess.
With a catchy name highly reminiscent of the late, lamented Taco Tico and a broad, brassy structure and logo that's quick to draw comparisons to an old-school Taco Bueno, the memorably monikered Taco Rico, from the outside, might give off the idea that it's just a cheap drugstore knock-off, complete with their very own Prince Akeem mopping the floors. But stepping inside and taking even the most discretionary glance at the immediately hunger-inducing menu will quickly prove otherwise.
This knock-off is truly its own special thing...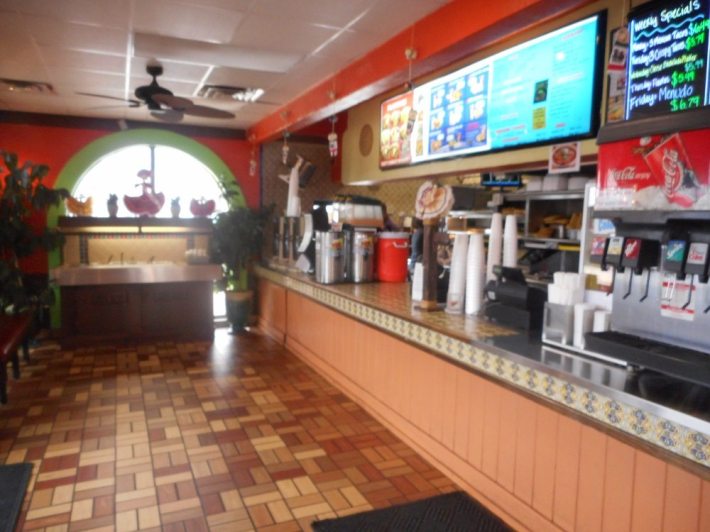 Walking an extremely fine line between fast-food and taqueria, Taco Rico is a true anomaly on the Mexican scene here in the Big Town: a Northside joint that embraces both the Mayo and the Mayan, capturing everything we truly love about the eats at the Bell and the Bueno while culturally complimenting the need for some homegrown authentic taco truck specialties, all in a recycled fast-food atmosphere that has Eugenio Derbez comedias blasting on the telly. North truly meets south here, both locally and nationally.
Looking at the menu, I couldn't make up my mind; it's like Mr. Rico took all of my favorite Tex-Mex and Real-Mex items and put them together on one menu, offering up everything from chile rellenos and pork tamales to carne asada tortas and even steaming bowls of menudo on Sabado. Desperately, I decided on the Flautas Platter ($7.79), some of those Rico's Chips and Dips ($4.99) and, because, of course, a taco de barbacoa ($2.49) because, like it says on my business card, barbacoa always.
Peering into the food prep area from where I was sitting in the spacious dining room, as the kitchen crew hustled and bustled to get our orders out, it was easy to tell everything here is fresh and made to order. The salsa bar was readily restocked with new product—no ugly, wilted cilantro and dried onions that employees and time forgot about in favor of a smoke break here—and the pico de gallos and  picantes were right outta the processor, still rich in vitamins and minerals.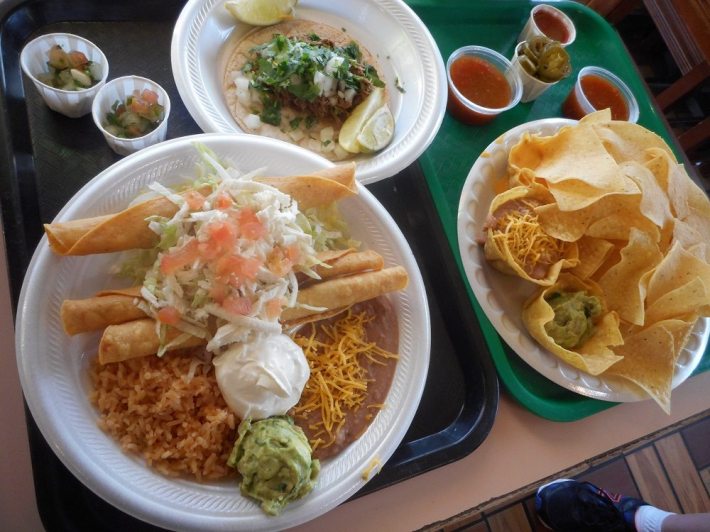 The Flautas were crispity and crunchity, stuffed with spicy ground beef and ready to dip in the just-made chunky guac and most-welcomed cold sour cream; they gave me three hum-dingers, but sweet Lord a'mercy, the way they topped them off with Mexican crumbly cheese, lettuce and tomato I could've easily down three more. (Self-control is a cruel mistress, ain't she?) Add some totally top-notch refried beans and some tangy Spanish rice to that fat plata and, for reals, you got a meal to rival even the most sit-down of top-dollar Tex-Mex joints.
I ordered the Rico's Chips and Dips out of blatant nostalgia for my former Taco Bueno fave—the Mexi-Dips and Chips combo—which includes beans, cheese and guac came in those beautifully formed l'il taco cups, a final edible blessing once the various dips vacated their former shell. It was the perfect knock off! The shells perfectly held my trio of beloved dippin' dips in a crunchy configuration of fiesta dippage.
Finally, the taco truck experience really comes alive via their handcrafted barbacoa and asada tacos, proving you can have your taco-flavored cake and eat it here too. And even though their said barbacoa recipe utilizes shredded beef as opposed to the typical cow cabeza sloughage, you'd be a hard-pressed know-it-all to tell the difference given their painstaking spices and whatnot.
Wanting to explore this expansive menu a bit more, I went ahead and grabbed a couple of platters for the road, including the highly-recommended tamale platter ($7.79) for dinner and, oh Hell, let's add the beef Chamaco platter ($6.79) as a late night fourth meal treat while I'm knee-deep in the hoopla, working on this here review at three in the morning.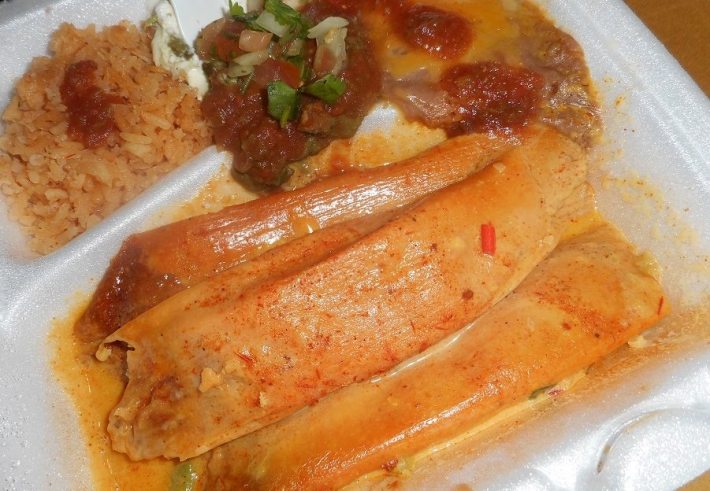 The spicy pork tamales were fresh as fiends, obviously made that day and, truth be told, just about as good as those I buy out of coolers in the trunks of strange cars on the side of the road on the Southside. Just because they're situated in a fast food situation doesn't mean they ain't making with the same bit of amor. This goes almost double for my two-fisted McDowell's-esque Chamaco special—it's basically a Muchaco, but, you know, not—they got this Designer Imposters variation dead-on, made all the better with those hot 'n ready aforementioned rice and beans, a double-feature of that voodoo that they do so well.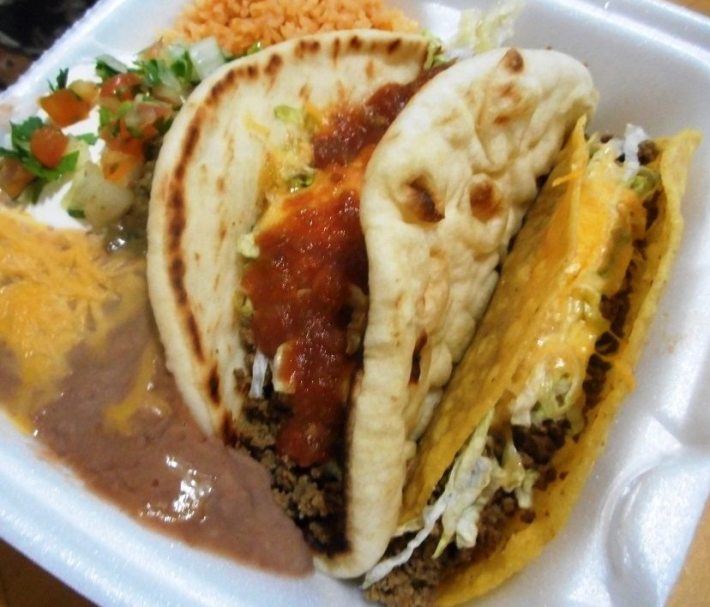 Taco Tico might be long gone—there's only a handful, if that, left n the state—and Taco Bueno might have given up the ghost—man, the franchise at N.W. 23 and Penn is perhaps the worst dining experience in the Metro—but their old-school spirit lives on, filtered through a decidedly necessary South of the Border behind-the-scenes point-of-pride that no pendejo corporate s.o.p. manual could ever hope to authentically duplicate.
In English, rico can translate into both rich and delicious—I couldn't think of a better word for the sheer overabundance of toothsome tempters that Taco Rico delivers on a daily basis. ¡Cómpralo Ya!
-
There's also a Wendy's by my house. Who knew? Follow Louis on Twitter at @LouisFowler.
Stay in touch
Sign up for our free newsletter