Everything Else
5 Songs a Drunk, Belligerent Toby Keith Should've Sung at the Trump Inaugural Festivities…
9:59 AM EST on January 20, 2017
The biggest name to perform at any of President Trump's inaugural festivities this weekend has been Moore, Oklahoma's own Toby Keith. Yesterday afternoon, he calmly, soberly, took to the stage and ran through all of the jingoistic ditties required of his Nation as both the biggest name and opening act of Trump's "Make America Great Again" gala...gee, you really shot your wad all at once there, huh, Donny?
I know that there was a part in of each of us—the Moore, Oklahoma part of each of us—that was hoping and praying that our favorite homegrown version of Toby Keith—the drunk and belligerent one with no effs left to give—in true Moore, Oklahoma, fashion, would've showed up, red Solo cup in hand, kicking the Piano Guys off the stage and combatively launched into one of those old-fashioned Toby Keith redneck party favorites we all know and love and have drunkenly made babies to.
Let's face it, guys: grittier than Garth, more vitriolic than Vince and definitely more bona fide than Blake, even the most critical of us towards the country superstar can't help but singalong to one of his numerous chart-toppers when a tune comes on the jukebox and you're a few beers in and a few cigs down. Every Okie has that one Toby Keith song they like. They might not admit it, but somewhere in the iPod, car visor CD-organizer or just when scanning the radio, from a Valley Brook junkie to the Plaza District hipster, we all have that utterly ingrained Toby Keith number that you know by heart, shamefully buoyant but regrettably energetic nonetheless, singing along to it like there is no tomorrow. Because let's face it: there probably isn't.
And while sure, Toby Keith has already performed, don't all of us honestly hope that, like a drunk uncle at a quinceanera, he shows up tonight to the big gala Inaugural Ball in a special tuxedo made by Carhartt, grabs the microphone from Jackie Evancho and launches into to at least one of these classic true TK hits before Trump's security team subdues him like a minority exercising free speech. That's Moore Strong!
"Trailerhood"
Few songs have every really captured what a typical Saturday afternoon in Oklahoma—Moore trailer park of otherwise—is truly like as the woefully accurate "Trailerhood" does. What better way to subversively slide in a slickly uncomfortable tribute to America's bloated proletariat classes, hopefully with plenty of intoxicated commentary, all in front of the nation's bi-partisan fat-cats? (Bonus points if he takes off a "Make America Great Again" hat, throws it on the ground and replaces it with the one that says "Nachos.")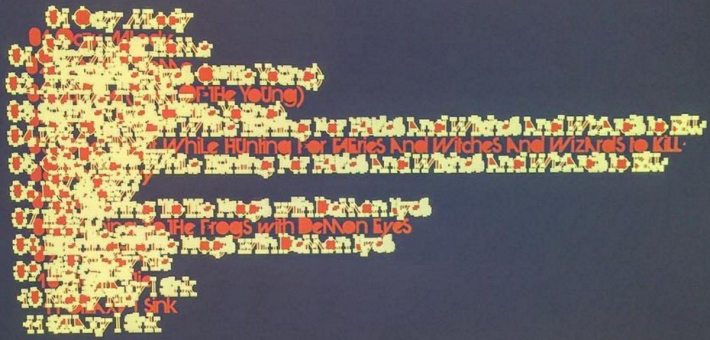 _
"Get Out of My Car"
While the slovenly, misogynistic Trump might just outright grab women by their babymakers and brag about it to toothy Bush family members, at least in this banjo-driven paean to consent Toby Keith has the  Oklahoma morals and gentlemanly druthers to give his fictional sexual ladyfriend the choice of either getting out of her clothes or getting out his car, a decision he calmly respects by staggering home alone and self-abusing his blues away.
-
"Stays in Mexico"
Let's be honest: America has never really been all that great, especially when it comes to drinking Pina Coladas on white sandy beaches while wearing baggy linen pants and justifying sexual mistakes. In his borderland anthem "Stays in Mexico," Toby Keith is clearly saying let them build the wall—and if you're smart, gringo, you'll stay on the south side of it, leaving that albatross of a family and relocating permanently to the 24/7 fiesta that is Cabo Wabo, baby, swimming in tequila and penicillin for the rest of your days.
-
"High Maintenance Woman"
Toby Keith could throw some serious shade towards the Don with this ribald bit of rancor featuring a lascivious maintenance man who lusts after all of the c-grade models that live in the apartment complex he manages, even going as far as to break into their dwellings while they sleep and steal their soiled undergarments, parading them around in his pocket with absolutely no shame whatsoever. If this isn't a metaphor for Trump's courtship of not only his current wife but America itself, I don't know what is.
-
"Too Drunk to Karaoke"
Can we all agree that Jimmy Buffett seems like a pretty awesome dude? Kind of like that one uncle your mother doesn't talk about much, but whom you meet up with later in your adult life and you're all like, wow, he's a pretty awesome dude! Eschewing any and all politics, I could totally see Toby Keith sneaking Jimmy Buffett into the Inauguration festivities, tokin' up some reefer, overturning some portapotties, and launching into an expletive-laden medley of this and "Jamaica Mistaica."
-
I kind of think I want Jimmy Buffett to play my funeral. Follow Louis Fowler on Twitter at @LouisFowler.
Stay in touch
Sign up for our free newsletter