Everything Else
College Football Musings from the Train: Bedlam
9:01 AM EST on December 5, 2016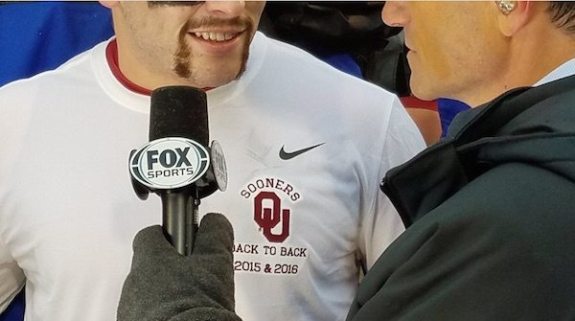 The Game
Oklahoma won its 10th Big XII Conference Championship Saturday afternoon in Norman, defeating perennial bridesmaid Oklahoma State 38-20. OSU played great for the first 28-minutes on Saturday morning, racing out to a 17-10 lead on the backs of a stifling defense and the legs of Justice Hill.
And then the game turned. It turned on a five play one minute drive, an amateur coaching decision, and a 60+ plus yard run on the first play of the 2nd half. Boom ... 28-3 run and ball game.
Oklahoma was led by a running attack that amassed over 300 yards on the ground in second half. Samaje Perine was a workhorse with 239 yards on 37 carries and a score out of the wildcat. He was posterizing Oklahoma State defensive backs. Joe Mixon, despite a dropped touchdown early in the game, finished with 99 yards on 11 carries and a touchdown reception, including a scintillating 79 yard scoring run that ended the game for intents and purposes.
Mayfield was crazy efficient, per usual, completing 13 of 19 passing attempts for 288 and three scores. Four of his receptions went to Dede Westbrook for 111 and score, all in under a half of play. 6 players split the 13 receptions.
Perhaps it was the lack of throws early in the game. Maybe it was the weather. But whatever the case may be, Mason Rudolph wasn't very good Saturday afternoon. He completed less than 50% of his passes and completed only two passes more than 20 yards downfield. The lack of downfield passing against this Oklahoma defense was incredulous. Oklahoma has shown the complete inability to stay with any decent receiver on a go route.
Credit Oklahoma, though, with pressuring the hell out of Rudolph. After a bad (aka normal) first half of football, the defense went all 2001, holding OSU to 143 yards, and giving up 3 points to secure the victory and the conference championship.
Here is what we know about the Big XII:
Baylor is a dumpster fire.
Bill Snyder is old.
Texas can't be as bad without Charlie Strong.
There is no defense.
Oklahoma is the champion once again.
-
The play(s)
Per usual, there were plenty of big plays on offense. Samaje Perine's huge run to start the second half. Dede Westbrook going all Randy Moss in the first half. But nothing beats what happened the last two minutes of the first half of Saturday's contest.
Oklahoma State dominated the first two quarters. The Pokes had taken a seven point lead with 1:28 left in the half. Oklahoma proceeded to drive 76 yards on five plays, highlighted by a 42 yard pass from Mayfield to Jeffery Mead, and culminating in a Mayfield to Geno Lewis 10 yards touchdown pass. It was an efficient, momentum killing drive highlighting the differences between OU and OSU football over the past century.
That, however, could have changed. History could have been re-written. Oklahoma State could have turned the tides Saturday at the end of the first half after a 49 yard kick return by Barry J. Sanders.
If only OSU and HC Mike Gundy had not completely twatted out.
Oklahoma State had the ball at midfield with 27 seconds left and a timeout. And instead of doing the obvious (pass, pass, pass, timeout, Hail Mary/field goal), The Pokes ran the ball into the Oklahoma defense and amazingly let the clock run out.
This was a stunning decision from the coaches on the east side of the stadium. No one can give me a good reason why Gundy didn't try to score at the end of the half. It rivals the re-punt from 2014 - there are no excuses. It was criminally terrible clock management and coaching strategy.
OSU fan has unreasonable expectations at times. OSU is a mid-tier (at best) football program stuck in a state that doesn't have the horses to house two top-tier football programs, but they have every right to be pissed about how the end of the first half was handled. OU ties up the game, ends all momentum for the Pokes, and scores on the opening drive of the last 30 minutes. The mental game was over with that sequence.
-
The Player
This one is easy.
Throughout the year, Joe Mixon had (rightfully so) been lauded as arguably the best running back in the country. But this is still the Samaje Perine show. It is he who stirs the drink - he is the key to the success of this historic offense. And it was he who turned Bedlam from loss to rout.
-
The statistic(s)
143 and 3 - total offense and points allowed by Oklahoma in the second half. Considering how gashed the defense was in the first half, that was as impressive a half of defensive football as Norman has seen in at least a year.
-
Where do we go from here
In an effort to place unrealistic expectations on the most unrealistic of fan bases, Oklahoma's defensive performance Saturday engenders thoughts of a drastically improved defense coupled with what should be a top flight offense in 2017. Westbrook, and possibly Mixon And an O-lineman Orlando Brown, will be gone, but OU returns almost every other play who made a meaningful contribution this year. OU should be pretty damned good next year.
Mike Gundy is a borderline great coach. Outside of Jimmy Johnson, he is the best coach in the mediocre history of Oklahoma State football. But he has an Oklahoma problem. It's not just the fact he is 2-10 against Oklahoma. And those losses are either blowouts or heart breaking. His decision to go full chicken at the end of first half is emblematic of his armadillo curl up when it matters. Until that gets fixed, Oklahoma State can expect 8 to 10 win seasons and 2nd or 3rd place finishes in conference. Which shouldn't be a problem for 2017 assuming not everyone who can go to the League goes. Rudolph and Washington returning with most of the line and emerging star Hill would create a stout offense. The defense loses four starters, but the line remains intact assuming Vincent sticks around.
Oklahoma State and Oklahoma should finish one two again in 2017. Though if Gundy doesn't start recruiting better ...
-
Bowl Games
Alamo Bowl - Oklahoma State vs Colorado
Oklahoma State seems to win games like this. I don't know how good Colorado really is. I know their fans suck and won't travel. OSU fans will. And should win a defacto home game.
Sugar Bowl - Oklahoma vs Auburn
This is a game Oklahoma should win. You can't lose to a four loss mid-tier SEC team if you are the conference champion, even if said conference is shit.
Stay in touch
Sign up for our free newsletter