Everything Else
College Football Musings from the Train: Go Pokes
9:52 AM EDT on October 31, 2016
10) Oklahoma State beats West Virginia
So Vegas DOES know what it's talking about.
Oklahoma State, favorites (or at worst 3 point underdogs) to unbeaten West Virginia raced out to a 27-10 4th quarter lead, watched the Mountaineers come back to within a score, and then put them away with good and opportunistic defense, Mason Rudolph, and patient play calling on both sides of the ball to beat what many considered (me included) the best team in the Big XII.
Oklahoma State forced three Mountaineer turnovers, which led to 17 Cowboy points and very short fields for the offense to work with. The defense was able to pressure Skyler Howard into his worst game of the season. He was held to 5.4 yards an attempt, sacked four times and pressured many others. The Poke defense kept the West Virginia receivers in front of them, content on allowing Howard to complete short passes and combining same with sure tackling.
The offense wasn't able to muster much on the ground. Justice Hill was fairly effective in the first half, but would finish with only 54 yards on 19 carries. Didn't matter because they didn't need the running game. Mason Rudolph was on point, throwing for 273 yards on and three scores. James Washington was welcomed home with a nice six catch, 117 yard effort. Jalen McCleskey caught another 11 balls, allowing Washington to roam free on man coverage.
West Virginia is still good and has some talent on both sides of the ball, but this Oklahoma State team looked solid in every aspect of the game.
-
9) Oklahoma State just became a contender
There is one school undefeated in conference - Oklahoma. There are three schools with one loss in conference - OSU, Baylor, and West Virginia. OSU has beaten the Mountaineers. They have already played Baylor. The Pokes go to Manhattan, Fort Worth, and Norman. Kansas State is game, but not game enough to beat OSU. TCU is borderline awful. And the last time OSU was in Norman ... Well, you know:
Baylor just lost to pathetic Texas. They come to Norman and go to Morgantown, where they play West Virginia (so that's two losses for someone). The Mountaineers still have Texas in Austin and host Oklahoma.
All that to say this - if Oklahoma runs the table (ha), Oklahoma State will have a chance to play for the conference championship because they have already played two of the top three teams on their schedule and none of the other contenders can say that.
-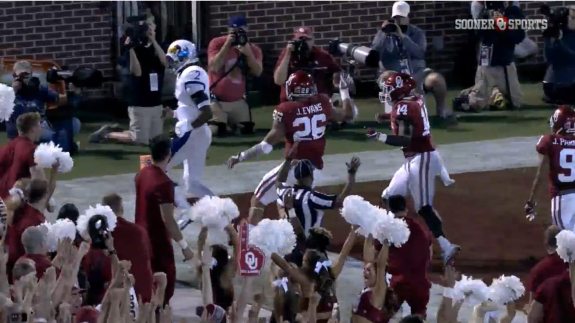 8) Oklahoma obliterates Kansas
Well, it was competitive for a while.
Alas, Oklahoma woke up in the second quarter, remembered they were playing Kansas and not Ohio State, raced out to 28-3 halftime lead and won going away 56-3 against Kansas, who despite some indications otherwise, looked and played like Kansas. Baker Mayfield was efficient, attempting only 24 passes in under three quarters of work, completing 16 of those passes for 9.8 yards an attempt and four scores. Oklahoma also ran up 267 yards on the ground, let by freshman Abdul Adams and Joe Mixon, who also caught three passes and scored on the ground.
But of course the real offensive star was and continues to be Dede Westbrook. He of the now five straight 100 yard games. He of yet another touchdown catch. He of the most recent way to find the end zone - punt return for touchdown. With the Oklahoma offense struggling (against Kansas ...) ignited the crowd with a 71 yard punt return for touchdown in the 1st quarter. He added what appeared to be another special teams touchdown in the first half, but said return was called back by penalty of course.
Oklahoma did what they were supposed to do against a bad team - beat them down for 3 quarters then let the reserves take over. The Sooners travel to Iowa State for some absurd Thursday night game this week. Then shit gets real with Baylor, West Virginia, and Bedlam.
-
7) Ermahgerd defense
The Oklahoma defense gave up nearly 700 less yards to Kansas in a game that allowed yet another record number of players to get PT whom I did not recognize at first or second glance. Oklahoma limited Kansas to 170 total yards. The Jayhawks accumulated 49 of those yards on the ground on 28 carries. They threw the ball constantly against a moribund Oklahoma secondary, who held its own with two picks, 56% completion percentage and 120 yards on 36 attempts.
Moreover, they looked the part. Steven Parker was all over the place. Tackles, deflecting balls, coverage. It was nice to see. It was also nice to see Jordan Thomas and Jordan Evans, vilified (rightfully so) for horrific play last week make actual plays, each pulling down an interception. Sure tackling, something that waived bye-bye a few weeks ago, came home Saturday night ...
OK, I can't do this with a straight face. The defense played one good game since ULM. They have been horrible all season. They should look good against one of the worst Power 5 teams in the country. Sorry not sorry.
Because ...
-
6) Look good against someone worth a shit, then let's talk
So in summary, Oklahoma looked good on defense, ran the ball well, moved the ball through the air, played good special teams.
But a season's worth of inconsistent (or consistently bad) football does not change because of a good performance against a bad team. Giving up 170+ yards of offense is generally a very good performance regardless of the competition, and especially good against a conference foe (even Kansas). But when you have been consistently shit on by the likes of Texas Tech and Houston, who has proven to not be who we thought the were, a once in a blue moon performance against bad Kansas engenders no optimism.
Oklahoma travels to Iowa State for a Thursday night game against a woefully outmatched Cyclone team. Even with the insane amount of injuries and suspensions, Oklahoma is much better than ISU. Baylor isn't great. West Virginia isn't great either. OSU is pretty good. The Sooners show up against those guys? Then ok, they have turned a corner. But there is nothing to believe that has happened based on Saturday's results.
-
5) Texas is 4-4 and showed their ass
Get excited when you score. Celebrate. No problem. But when you are 3-4, hoping to get to .500 ... celebrating like an asshole after your first two scores is some hilarious bush league shit.
first things first - Texas finally beat a decent team Saturday afternoon, outlasting the Raping Bears of Waco 35-34 in Austin. Great. Charlie Strong probably gets a raise.
the first touchdown of the day was scored via pass from Shane Buechele to some overhyped receiver who will be drafted in the 3rd round never to be heard from again. In lieu of running down the field and "side fiving" said overrated receiver, this goofball grabs another member of the offense and performs a ridiculous version of the Kid 'n Play.
As if that wasn't enough ... sigh ... Donte Foreman, upon scoring Texas' second touchdown, a run where Foreman made no cuts, shook no tackles, did the Heisman pose.
There are no words. A decent running back playing a bad defense in a bad defensive conference on a bad team struck the mf'g Heisman pose in the first quarter?
-
4) Texas Tech and TCU eviscerate talking point 6
763.
That's how many yards were run up by Texas Tech Saturday afternoon. Combined with TCU. In a game that went to double overtime. Take note Mike Stoops - Pat Mahomes is not the second coming of Quarterback Jesus.
TCU and Tech each had 17 points at the end of regulation. This a week after Tech ran roughshod over "supremely talented" Oklahoma Sooner defense. It took regulation and two overtimes for someone to score more than 24 points. Same teams that scored 46 and 59 respectively against Mike Stoops shitshow.
So maybe it isn't just these newfangled offenses.
-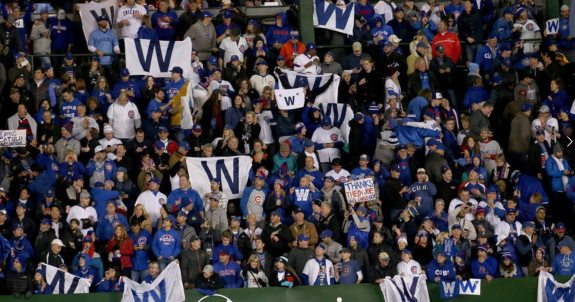 3) Go Cubs!
Arrieta and Hendricks in (hopefully) two must win games? It can happen. It probably won't, but it can.
-
2) Final Four
Michigan - Well coached, supremely talented, and down to one game for the playoff.
Alabama - Still the best team despite the bye week. Though maybe ... just maybe ... Auburn is decent enough.
Washington - Best of the worst not named Big XII
Clemson - Fine. Better than most, I suppose.
-
1) Predictions
Oklahoma at ISU
Iowa State gave up nearly 400 yards to Kansas State, and was down 31-10 entering the 4th. Oklahoma crushes teams they are man for man more talented than.  Yes, it's ISU on a Thursday but Oklahoma didn't play anyone worth a shit this past weekend.
Oklahoma 49
ISU 28
Oklahoma State at Kansas State
Oklahoma State is starting to come together. The defense was especially impressive. But this is one of those games. Not that I think Ks wins but ...
OSU 31
KSU 30
Stay in touch
Sign up for our free newsletter