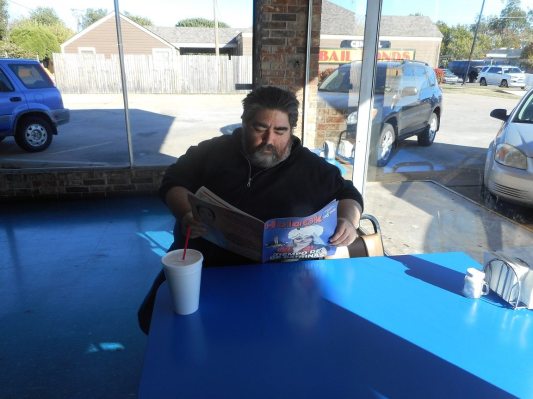 As pretty much the only Chicano food critic in Oklahoma City, it is very much a cultural and spiritual duty that I have on my shoulders to bring to light the underrated Hispanic joints that many gabacho foodies fear to tread. Having recently done this city the grand service of covering what I believe are the best taco trucks along SW 29th, I figured it was only evolutionary (revolutionary?) that I take the time and answer the second most asked question I get on a regular basis: What are your favorite Metro taquerias?
While technically "taqueria" means "taco stand," these mucho casual sit-down eateries have always made up a large part of the Southside culinary economy and, in recent years, have crossed the river with several notable taquerias positing their flags in the most barren of Northwest taco deserts. In the past decade, OKC has truly become an embarrassment of riches when it comes to the taco game, son; so much so that one should never have to eat at a Taco Bell, Taco Bueno or, God forbid, Taco Mayo ever again unless you're trying to prove some sort of point about making America "great again."
Here are five of what I currently consider to be the best taquerias in Oklahoma City, providing high-quality, exceptionally flavorful Mexican food at an east-to-aquire amazingly great value, open from dawn 'til dusk, morning, noon, and when you really need it, deep into the night, mami.
Taqueria Los Desvelados (1516 SW 29th St.)
When most people think Southside taquerias, Taqueria Los Desvelados is usually the first to come to mind and with good reason: it's a neighborhood mainstay that keeps the lights on until 3 a.m. some nights; it's not unusual for me to end up here in the middle of a lonely night, reading some Elmore Leonard novel as I greedily down their expertly crafted birria (goat), buche (pork stomach) and tripa (beef tripe) tacos—a Holy Trinity of out-of-the-way flavors that they seem to do better than just about anyone else for about $1.60 each.
As the hot and sexy party people from all over the city start to flood in for their post-club eats, however, before shuffling off that Mexican coil, I suggest quickly ordering an overstuffed Burrito Californiano ($4.75) to have for lunch the next day, and maybe another even one more for the road as you head back to your long suffering hovel to fall asleep in a cold, single bed.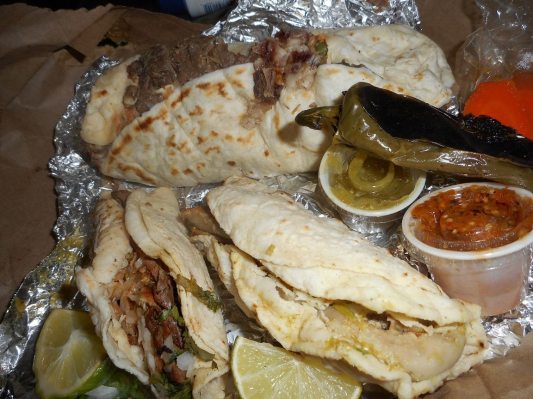 _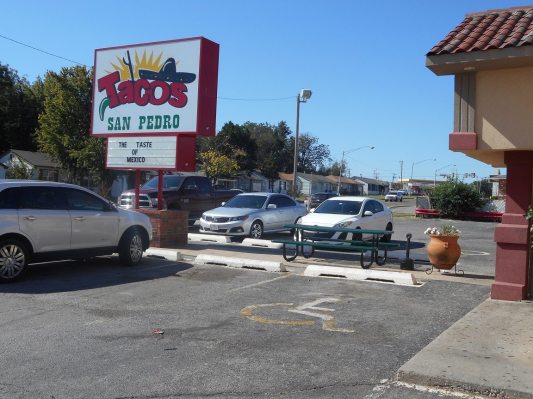 Tacos San Pedro (2301 SW 44th St.)
When it comes to straight-up value where taste isn't sacrificed for thriftiness, Tacos San Pedro is always the light-in-the-wallet drive-by destinos. I've been in love with joint since at least high school, where I'd routinely meet this girl I became friends with by chance at a Northwest Classen vs. Capitol Hill football game and we'd hang out and talk and flirt and, of course, eat tacos and taquitos and so on. She wasn't allowed to date, so that was the furthest our relationship could go and, eventually, just faded away into a distant memory that's so far gone, I can't even remember what she looked like.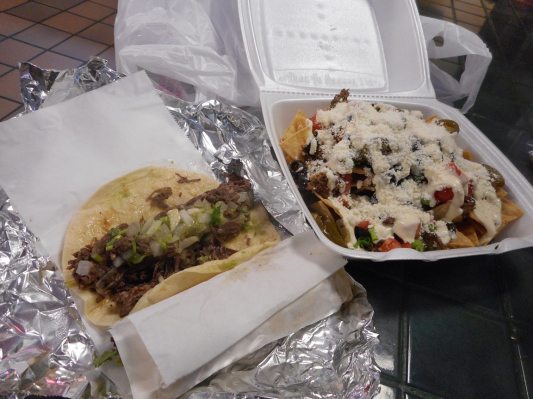 So it's always with a pang of bittersweet romance that thoroughly enjoy their traditional carne asada and pastor tacos ($1.80)—they're also one of the few taquerias that offer a flour tortilla option for their tacos, if that's your thing—and, the meal we'd often share together, their seriously unique and wholly original take on nachos ($6.00) featuring aged Cotija crumbles, made all the better with plenty of fresh salsa spooned straight out of an oversized Molcajete like it were a bruja's cauldron.
-
Hugo's Taquizas (3409 NW 23rd St.)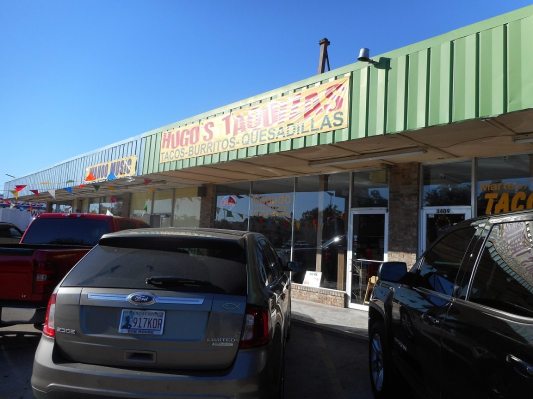 When I first moved back to the Metro and was reacquainting myself with the various neighborhoods districts, feeling the changes and mourning the losses, I came across Hugo's Taquizas down towards the W. With a storefront proudly exclaiming their $1 Taco Tuesdays, it would've been a sin not to stop. After all, this was some true progress—when I left OKC back around the turn of the century, there was practically no such thing as a Northside taqueria. Los tiempos están cambiando…
Their menu is packed with one scintillating South of the Border taste temptation after another, like the irresistibly hot and crispy flautas ($5.49) delivered with lettuce, tomatoes, sour cream and guacamole, and then there's the muy excepcional tortas like the milanesa and cochinita pibil ($7.99). And Madre de Dios, you just gotta try the Burrito Impossible ($9.99); filled with four choices of meat, this is the Kubrickian monolith of burritos and I was but a mere Neanderthal in its mighty, looming presence, banging a fork, wondering where do I even begin with this thing. Thus Spake Hugo's, bringing the traditional taqueria over to the Northside, one much o grande burrito at a time.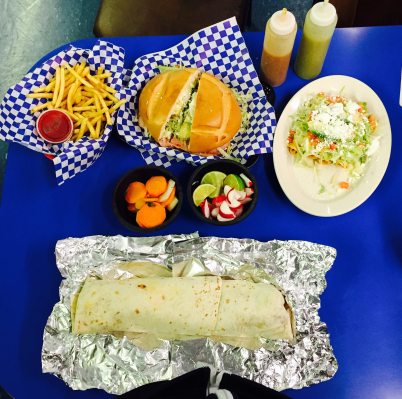 -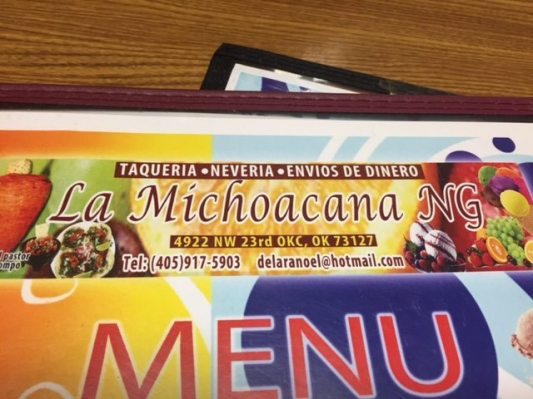 La Michoacana NG (4922 NW 23rd St.)
The most recent addition to my list, even though I was familiar with this area, it seemed as though La Michoacana NG appeared out of nowhere, right when I was in my darkest hour of hunger, like a browner version of Brigadoon with more pickled carrots and radishes. Even though the windows proudly advertise their specialty raspados y paletas—snowcones and ice creams—which are absolute summertime treats, mind you, it's their tacos, tortas and burritos that I truly fell in love with.
The barbacoa burrito ($6.99) is packed tightly with all the fixings you'd expect and want, with a nice greasy gamey-fat flavor that shows these guys weren't cheating you out like most places do—this was real face meat, dammit, not just reconstituted shredded beef—I'm looking at you, Chipotle. If you got the time, I can't say enough about the Taco Grande platter ($8.99), either: combining around four different meats (!) of various animals, cuts, spices and textures and piling them high on a few tortillas with some rice and beans, it's truly an edible religious experience, a true suicidio de la carne.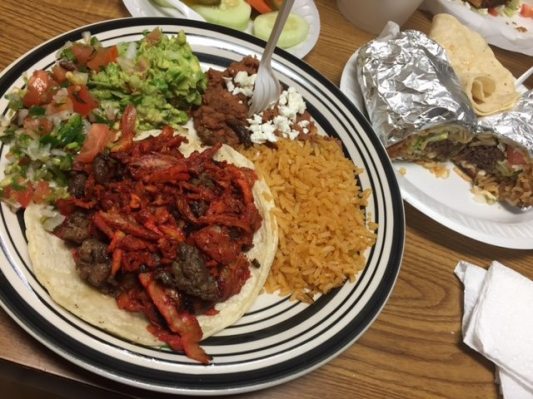 -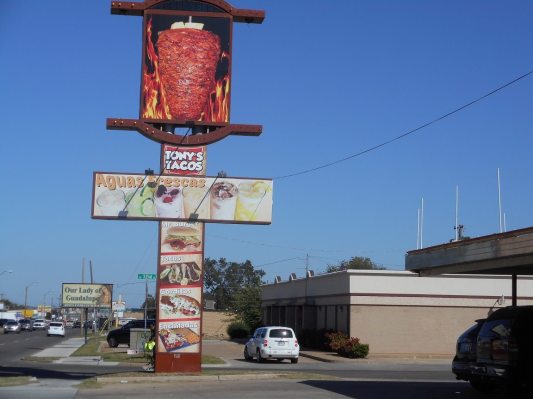 Tony's Tacos (3300 S. Western Ave.)
Why hasn't the idea of the drive-in taqueria caught on more over the past view years? Somewhere in that twilight period of comfortability between taco truck y taqueria, here's a place where you don't even have to leave your car to get tasty made-to-order tacos and more delivered right to you and, believe me, after an afternoon of running around all over God's green earth, a taco joint like this absolute balm in Gilead.
Kicking back and turning up the Exitos 96.5 FM while I wait, Tony's menu has something for even the biggest anti-Mexican food jerk in the car, from the mouthwatering Mr. Burger (you gotta see this thing, it looks like a porno movie you can eat) and Hawaiian sandwich, to gorditas, flautas and enchiladas, just to name a small selection of likable menu options. The best deal for a quick recharge in-between proper meals, however, are their perfectly filling tacos, available both in crispy ($1.49) and traditional ($1.65). Nothing moves the needle to full like a pedal-to-the-metal power-trio of asada, buche and barbacoa tacos, at least for me. Soy extraño como eso.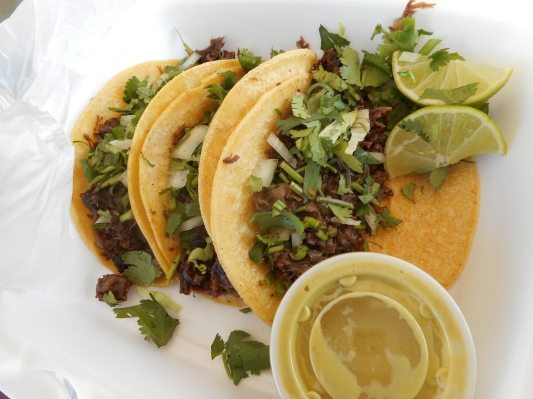 -
Be sure to drink your horchata, kids. Follow Louis Fowler on Twitter at @LouisFowler.
Stay in touch
Sign up for our free newsletter