Everything Else
College Football Musings from the Train: Karma
9:42 AM EDT on September 12, 2016
It was a pretty boring week of college football in the state. Oklahoma State squeaked by Central Michigan and...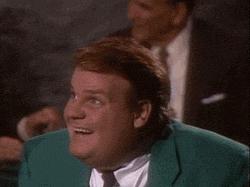 10) Wait ... WTF just happened?!
You want more thorough OSU coverage? Fine.
Rule number one about college football – don't publicly talk shit when your rival is upset on the football field. Quietly celebrate with friends. LOL when no one is around. Express amusement in the comfort of your own house. Do not get on social media or comment on a blog and proclaim your glee at the expense of your in-state rival's unfortunate play against alleged inferior competition like some losers do.
Because karma.
In the most stunning end to a college football game since, well, 10 months ago, the Spartans (?) of Michigan Directional University defeated Oklahoma State 30-27 on a last second, Hail Mary/hook and lateral hybrid play of ridiculousness in Stillwater Saturday afternoon.
Let's watch the play again, but remember not to laugh. Because karma...
Further details of the game's ending are ... detailed further. But the bottom line - the problems plaguing Oklahoma State showed out big time Saturday afternoon. Remember those days when the Cowboy offense lit up every defense it faced? They of the balanced run and pass offense? Yeah, those days seem decades ago. OSU was held to less than 350 total yards of offense by an average MAC team. They threw the ball 45 times and ran it 16 times ... for 66 yards. The Pokes have one dynamic player on that side of the ball. Mason Rudolph isn't who we thought he was. His numbers were OK, but he was one fumble recovery from pissing the game away and depriving us of the seminal moment in college football to date. Oklahoma State may have found something in Jalen McCleskey who caught 11 balls for 103 yards and touchdown, but how is this offense so putrid with alleged NFL talent on the roster?  They were 1/11 on third downs. They were dominated by 11 minutes in time of possession. Against a MAC team!
The offense in Stillwater has and will continue to get defecated on for its performance, or rather lack thereof, the first few weeks of the 2016 season. But the defense in the second and third quarters was terrible. Forget the last play of the game. The Oklahoma State defense was at best not-very-good and at worst troubling against a simple offense from the MAC. They gave up 418 yards and were ground into submission by a team led by a quarterback who couldn't throw the ball 55 yards on the fly.
Poke fan learned some things this weekend. The offense is going to struggle all year. The defense is going to have great quarters and bad quarters. The team is not going to compete for any kind of championship.
And talking shit about an OU loss has embarrassing consequences, because karma.
-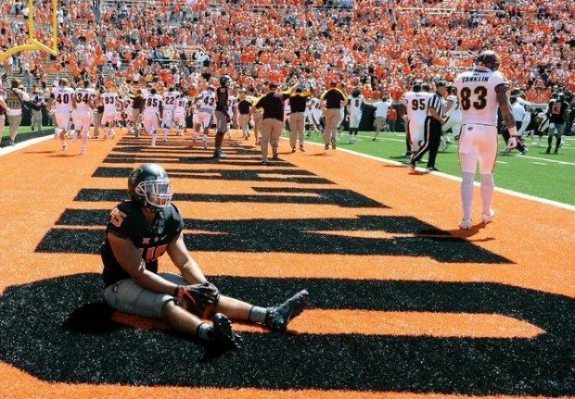 9) The play call, the penalty, and the end
There is so much to talk about what happened the last two plays of the game Saturday. It took a terrible play call, a misinterpretation of the rules, a catch in traffic, and inches of end zone.
I sit here Sunday morning, typing this during an unnecessarily long sermon, trying to figure out what Stoops would have done in the same situation. Four ticks left on the clock. At home against a team with inferior talent that has hung in all game. Punt to Tyreek Hill? Snap the ball then run around in the back field? Just run to your own end zone up by 3 and take a safety? Any of those options could have unfortunate consequences.
Gundy chose the worst option - willingly commit a penalty that resulted in a turnover on downs and gave Central Michigan another bite at the apple. Or so everyone thought until 2 minutes after the Hail Mary hook and lateral was successful. According to people who know this stuff better than I, the game can in fact end on an offensive penalty if the penalty results  in a loss of and turnover on downs.
Extension of Periods

Article 3 a. A period shall be extended for an untamed down if one of more of the following occurs:

1. A penalty is accepted for a live-ball foul(s) (Exception: Rule 10-2-5-a, where the period is NOT extended if the foul is by the team in possession and the statement of the penalty includes loss of down)
CMU should not have been allowed to run the play of the year in college football. Which is stupid AF. Why reward a team for willingly committing a rule infraction?
No, this should not have happened, but it did. How do you leave a guy with single coverage in that moment? And then leave a guy open for a pitch? And then not run down a MAC receiver?
Regardless of the ruling ... it was a colossal meltdown against a team OSU had no business keeping in the game.
-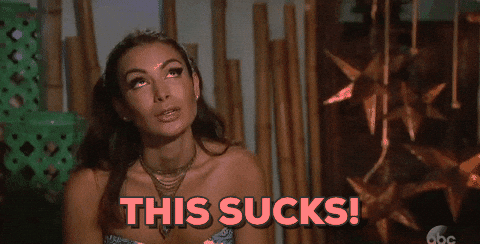 8) The running game
Oklahoma State is going to lose more games than they should this year. The Pokes have talent on the outside and a good quarterback. But they aren't good enough throwing the ball to win games without a successful running game. OSU's running game is many things. Successful is not one of those things.
Barry J. Sanders is more Colonel Sanders than Barry Sanders. His dad was elusive, impossible to bring down, fast, transcendent. Barry J. Sanders goes down on the first hit, can't out run mid-major linebackers, and struggles to get loose in the open field. The savior of the Oklahoma State running game had five carries for five yards and three catches for 20 yards. He isn't any good. Chris Carson is "just a guy and what not." Justice Hill will be a good back at some point in his career. Assuming that OSU can recruit some decent offensive lineman.
I know the vocal OSU fan contingent tried to pass off the loss of Joe Wickline as relatively meaningless. But since that man left for Austin to be co-offensive coordinator in name only, Oklahoma State has sucked on the offensive line. They are the worst running football team in the Big XII not named Kansas. I think many believed Gundy was being coy when he hoped OSU would average 120 yards on the ground a game this year. That number looks like stuff of fantasy two games and two mediocre opponents into 2016.
-

7) Oklahoma figures out not a lot. 
The Sooners rolled Louisiana Directional School 58-17, leading 42-0 at half before the subs produced one terrible quarter of football. It didn't matter, with OU eventually cruising through the 4th for the easy win.
The Sooners were wildly efficient in the first half when the game mattered. They amassed over 450 total yards of offense the first 30 minutes. They ran and threw the ball with precision. Baker Mayfield, who claimed to be trying to do too much against Houston, did the opposite of that against an overmatched ULM squad. He checked down to short, easy passes instead of waiting for the big play. He stayed in the pocket. He made no attempt to run. It was a nice change from the week prior.
That Joe Mixon guy was pretty good too. 8.4 yards a carry. 117 rushing yards. Samaje Perine carried the ball for 58 yards and caught two passes for 38. Mark Andrews kept on showing he is a real threat in the passing game, hauling in another long touchdown pass.
Aside from the 3rd quarter, the defense was fine, especially stopping the run and defending the pass. It is concerning that OU has no real pass rushing threat. Obo is all over the place, but Eric Striker (or hell Devonte Bond) he is not. The young linebackers look like safeties and haven't shown the ability to get to the quarterback. That will have to change in order for OU to win next week and beyond.
All in all, a big bunch of meh - an expected blow out. On to reality next week.
-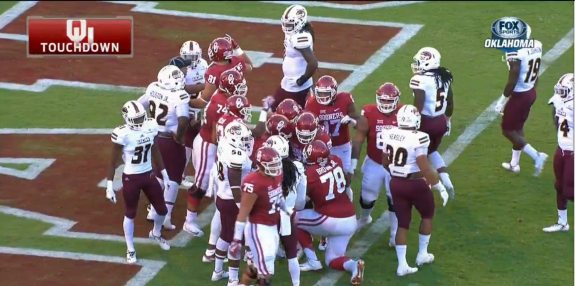 6) If a bear shits in the woods and no one is around to see it, who cares?
The only thing that mattered about the ULM game Saturday evening was that no one got hurt (hopefully) and that OU played good enough. So on to the non-conference game of the year.
This is it for Oklahoma. Win this game and OU is squarely back in the playoff discussion. Lose and the goals of the football team are severed at the neck three games into the season.
Oklahoma hasn't played great at home against a major opponent in years. Notre Dame, Oklahoma State, Baylor, TCU, Tennessee. Even in those games OU won, they didn't go all Texas Tech 2008 on them. OU really needs a big win against a team like Ohio State to re-establish a once-dominant home field advantage that has waned over the past 5 years.
That will be a hard road to hoe. The Oklahoma lines will be severely outmatched by Ohio State. Will the offensive line open any holes for the running game? Will Baker have (read: take enough) time to go through a read or two? Will OU stop Ohio State and Urban Meyer's run first spread? The Buckeyes have NFL talent all over the field and superior minds on the sidelines. They are a legit national championship contender. So yeah, I think OU has a problem this weekend.
-
5) Big XII sucks
Well that went about as poorly as could be anticipated.
The Big XII, with no marquee match ups to speak of, shit the bed this weekend. Oklahoma State loses to CMU. And if you wonder why I keep mentioning that, it's because it's still ... um ... surprising, yeah that's the emotion I was looking for. In addition to the Stillwater Shitshow, Ohio (not Ohio State) humiliates Kansas because Kansas. Except this was even worse than vintage Kansas, being outgained by 264 yards to a program that just lost to southwest power Texas State. Iowa State is clobbered by Iowa 42-3. Texas Tech goes all Red Raider, giving up 68 points to Arizona State. Baylor started the third quarter tied 6-6 with SMU.
And then this:
Is the Big XII the worst Power 5 conference? Are they better than the ACC? Probably and doubtful. Oklahoma should have left when they had the chance a few years ago.
-
4) So how about the renovated stadium and bad ass Jumbotron?
I mean, whatever. I'm not trying to mail it in. I could write another few paragraphs on Oklahoma State's collapse or the final play or how OU beat a bad Sun Belt team. Not saying I am mailing it in, I am just saying that it was a terrible week of college football with one or two HUGE exceptions.
I am impressed that OU only added a few more hundred more seats in the capped-in end zone. There's no reason to have a stadium with 100,000 seats that doesn't need 100,000 seats, The new mini-suites are pretty badass. The sections look like something in an NFL stadium. It helps people get to their seats quicker when you can go around the entire stadium without having to walk the concourse.
The Jumbotron is fly. And it doesn't take away from the game in my opinion. I would, however, be pissed to pay $10,000 up front plus $2,000 per seat per year to not see the screen comfortably.
Does bowling in the stadium make it louder? I guess we'll find out in a few days. Boos count as crowd noise, right?
-
3) The NFL
Sunday's are now completely worthless, which when taken in conjunction with each Saturday, renders me father of the year.
-
2) Final Four
Clemson: They looked bad against a bad team. They seem to win every close game.
Alabama: They looked bad for while against a decent Western Kentucky team for half or so. The SEC doesn't look all that great and Alabama is primed to roll
Houston: The Cougars won't lose this year unless Greg Ward is really injured and not just resting.
Ohio State: See above.
-
1) Predictions
Oklahoma State can't lose all these games. I think Pitt is relatively good, but this is the kind of game OSU usually wins. They must win. The next two weeks are trips to Waco and a home game against Texas.
Oklahoma State: 27
Pitt: 26
I think Oklahoma will figure out something by the end of the season. I could see them winning the last, say, six games and rolling into a nice bowl game. Unfortunately, we are in the third week of college football 2016 and the Sooners play Ohio State.
Ohio State: 35
Oklahoma: 24
Stay in touch
Sign up for our free newsletter