Everything Else
College Football Musings from the Train: Beginning of the End
8:59 AM EDT on September 6, 2016
Hello everyone.
I'm back for another season of college football writing, whining and punditry. I'd like to thank the University of Oklahoma for giving me lots to write about out of the gate.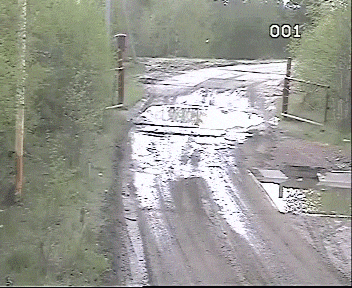 10)  Let's get this charade over with...
The University of Houston proved they are not only worthy of Big XII consideration, but to be in the conversation for the College Football Playoff. And Oklahoma once again shattered the hopes and dreams of thousands of alums and duplex renters, pissing away a great chance at an early season quality win, losing 33-23 at NRG Stadium.
Statistically, the Sooners were in the game, but what the stats don't tell us is that Oklahoma's penalties were demoralizing and drive sustaining, and that if you include that shitshow masquerading as a 109 missed field goal return for a touchdown, the team really had three turnovers.
The stats also don't show how many times Houston converted 3rd and long, particularly when the game was still in the balance. Or how the Oklahoma Sooners running attack went absent. Or how Houston – from the kicker sneaking field goals through the uprights to players making ESPY worthy catches – got literally every single break in the game.
Houston was as advertised – good to great on offense, excellent in the front seven, talented, and well-coached. Greg Ward may not have been "so much better it's not even close" than Baker Mayfield, but he was very good in the passing game: 23 of 40 for 321 yards, two scores, no turnovers, and turning into John Elway on third down. Steven Dunbar, a guy who had 27 catches last season, dominated the Oklahoma secondary with 7 catches for 125 yards.
But we knew Houston was going to score. What we didn't know was that their oddball offensive strategy of foregoing positive yards on first and second down for back-breaking conversions on 3rd and long would give them a massive two to one play advantage going into the final quarter. Also, I guess we didn't know that Houston would man up and dominate the "Wow, they really miss Sterling Shepherd" OU offense. The Sooners were in rhythm for two drives and that's about it. Mayfield was pressured constantly and the inexperienced Houston secondary prevented the Oklahoma receivers from providing any help for the Oklahoma quarterback.
I could go on and on and on. And do as you can see below. But, in direct departure from prior years, I am not going full-fledged, five alarm meltdown mode. This was game one against a quality opponent. The season is not over. Yes, it will take a monumental performance here on out for Oklahoma to make a run at the playoff. Yes, Houston is tOSU lite. But this is just one game. It felt like a fluke. There is no need to panic or pack in the season. Well, at least until September 17th at around 11 pm.
-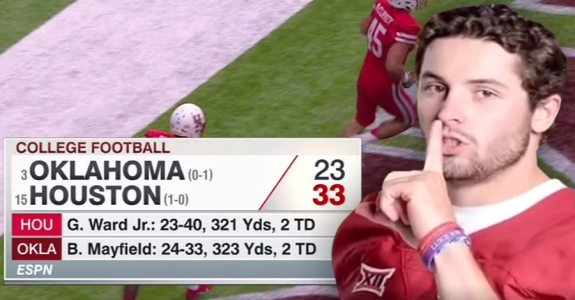 9) The Execution
How many shit ass personal foul penalties can one team commit? Jordan Evans pushes down Ward two seconds after he releases the ball for absolutely no reason at all. Obo blasts Ward in the head after jumps to block a pass. Dakota Austin (yes, I recognize he was squeezed all day by the officials) can't avoid devastating pass interference penalties on 3rd and long. Were there inexplicable coaching decisions? Yes. But this one is primarily on the players.
For example, Riley calls a great reverse pass from Dede Westbrook to Dimitri Flowers. It was a sure touchdown and would have brought OU to 33-24 on the first play of the 4th quarter. He misses the wide ass open receiver. Then Baker fumbles two plays later. How can you say that is the on the coaches?
-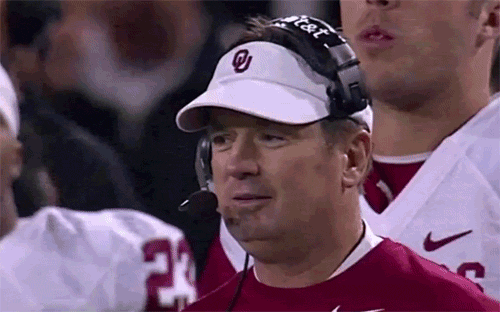 8) But it's not all on the players
Joe Mixon and Samaje Perine ran the ball 12 times. Not 12 times each. 12 total rushing plays. Combined. They ran the ball four fucking times in the 2nd half. How does that happen? Oh yeah, the oddball offense, but seriously, why in the hell did Lincoln Riley completely abandon the run? OU's three best offensive players are in the backfield!
Yes, Baker was good through the air. But he wasn't standing back there picking the Cougars apart. He was pressured constantly. To not feed the big boys in the running game was criminal. The game had a Texas feel to it – drop back after drop back with no hope of getting Mayfield in a groove. A complete disregard for the running attack.
The Sooners couldn't muster 400 yards of total offense against a non-power five team that lost a good portion of its defense from last year. After we all saw how successful this team can be when it relies on the running game, Saturday afternoon's performance by the offense was inexplicable.
-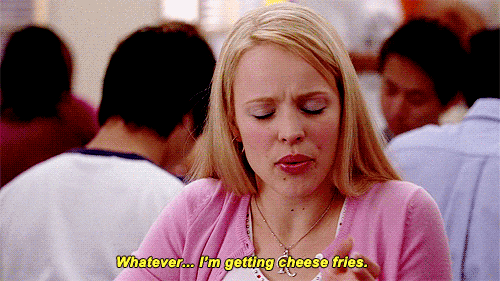 7) Season expectations
I am trying my dead level best to be positive about this season. It is conceivable that Oklahoma could win the rest of their games, and still make the College Football Playoff. They have a top 5 quarterback, two great running backs, good tackles, at least two receivers who, as long as they aren't throwing the ball, seem to be decent players. Obo can rush the passer. The Jordan's are tops at their positions in the conference. Charles Walker is an NFL player. Steven Parker is an all-American. You have the Stoops brothers and Lincoln Riley running the show.
But ... I don't know. Something didn't feel right Saturday afternoon. And something feels ... off. The team didn't play with any sense of urgency or emotion. Houston seemed to want it more. The discipline from the vets was shockingly poor. Where is the leadership? How do you allow that awful kick six to occur? At what point does someone, anyone, on that sideline not get into the shirts of the players and teammates and get their shit together?!
I watched tOSU and Texas play. The Buckeyes are who we thought they were - young, talented, and well-coached. Texas looks the part all of a sudden. Big, physical, fast, talented. TCU was surprisingly susceptible on defense. But when was the last time Oklahoma played well against TCU?
This could go bad real fast. Though I am cautiously optimistic, there is reason to believe OU could be 1-4 after the 2nd weekend in October.
-
6) Oklahoma State Wins a scrimmage
I really don't have much to say about this game. Oklahoma State beat an outmanned directional school from one of the smallest states in the country 61-7. Mason Rudolph was pretty good in his limited work. The wide receivers were excellent. As expected. The defense held the Cajuns (presumably  correct) to 203 yards of offense. No one got hurt. It's how to properly start a college football season.
Except that you can only look at what didn't work because everything should work. The offense did not amass 400 total yards on 72 plays. The running game is at best suspect. The quarterbacks were sacked 3 times. The latter two issues point to another year of bad offensive line play.
It's hard to predict exactly how the season will progress for the Cowboys. But it looks eerily like 2015 thus far, for better or worse.
-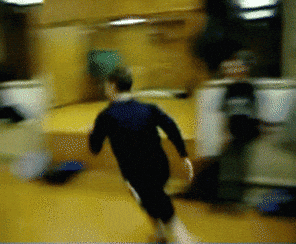 5) The Oklahoma State rushing "attack"
Sorry Pokes fan, OSU still can't run the ball. 33 rushes for 142 yards against a bad FCS team isn't good by any measure of the word "good." Yes, it is somewhat hard to gauge exactly how good the offense was when the starters were pulled before the end of the first half. But averaging less than five yards a carry playing against air isn't an improvement over 2015.
And the over-hype of a guy who rushed for 350 yards during the first three years of his college career was outrageous. Barry J. Sanders rushed for a grand total of one yard on four carries and caught one pass for 18 yards. He isn't his father. Hell, he isn't Tyreke Hill or even Justice Hill. I never understood the love this guy was getting when he announced his transfer. He is third or fourth best runner on a team that has one good running back.
Oklahoma State isn't going anywhere with its current running game. Well, except for the training room to check on Mason Rudolph 'cause he ain't gonna last dropping back 60 times a game behind that line.
-
4)  Oklahoma has company
Wisconsin defeats LSU. USC is embarrassed by Alabama. Mississippi State loses to a directional school in Alabama.
Mississippi State is likely the worst team in the SEC West. The loss of Dak Prescott was a program changer apparently. USC is just bad. Bad, bad, bad. That performance set back the Trojans a good two plus years. Why USC felt the need to hire from within after beating a decent UCLA team in 2015 is head-scratching. The Trojans will be starting over in 2017.
But the low-light of the weekend was LSU. At what point does LSU start being mentioned with the OU's and Texas' and USC's and Georgia's of the world as the most-overrated program in the country? Top five hype for a team with no offense in 2015? Sure. Because SEC Y'ALL! The Bengals might have a great running back and a good defense. But they cannot move the ball through the air and have no desire to revise their offense to the 21st century.
Oh, and their coach is a moron who says moron things (regarding the clearly cheap, vicious hit laid in at the end of the game):
"I grabbed [Boutte] right away," Miles said after the game. "I'm going to have to see the film, but he's an offensive lineman in protection and what happens downfield sometimes is you're protecting beyond the play."Again, I'll have to check this, but it's very logical that he did not even know (Dixon) had gone down and was just running. He's not a malicious guy. I just can't imagine that he saw him go down and then made it back."
(UPDATE - The player in question was suspended ... for SEC power Jacksonville State)
-
3) Texas is back?
The Fighting Texas Longhorns of Austin defeated Notre Dame 50-47 in the game of the year thus far in college football. Texas found themselves a quarterback it would appear in the form of Shane Buechele and Tyrone Swoopes. They two combined for six touchdowns and 366 total yards of offense in an upset win, but damn near meltdown, over Notre Dame.
Buechele was a revelation. The numbers say a lot – 280 yards through the air, 2 scores, 33 yards on the ground and a score. But they don't say everything. Dude looked like the real deal in his first collegiate football game against a talented, albeit inexperienced Fighting Irish squad. Texas has struggled the past seven years, primarily a result of bad quarterback play. This kid is not the past seven years of quarterbacks in Austin. Texas has the tools to win the conference this year.
But let's not overreact. Notre Dame has the name and talent to be good. But they lost 15 starters. They were only a 3-point favorite on the road in Austin. This isn't going to be a one or two loss Notre Dame team. So Texas fan has understandable giddiness over the Week 1 result. But let's see how this plays out in a few weeks against more experienced competition.
-
2) College Football Playoff
Houston - Well, that was quick. I expect Houston will be ranked in the top 10 when the new polls are released this week. They play no one the rest of the season.
tOSU - Oklahoma played tOSU lite this past weekend. The Buckeyes are the second most talented team in the country and aren't losing unless it's the last weekend of the year.
Alabama - 'bama IS the most talented team in the country and should roll with the putrid offenses in Baton Rouge and Knoxville, assuming they can actually beat Ole Miss this year.
Clemson - Squeaked by a game Auburn, but isn't this kind of what they did in 2015?
-
1) Predictions
Oklahoma State has another craptastic game this week. They will once again try to establish a running game, and for the 24th straight week, they won't. Not that it will matter for a least a few more weeks.
Oklahoma State: 31
CMU: 14
-
The Sooners are going to pass the ball maybe 15 times this week. I expect the time of possession differential to be drastically different on September 10th. If not, hold onto your butts ladies and gentlemen.
Oklahoma: 38
ULM: 0
-
Gravy Train is our resident college football complainer and pundit. He avoids Twitter. 
Stay in touch
Sign up for our free newsletter