Everything Else
The 5 Best Taco Trucks on S.W. 29th…
10:00 AM EDT on August 4, 2016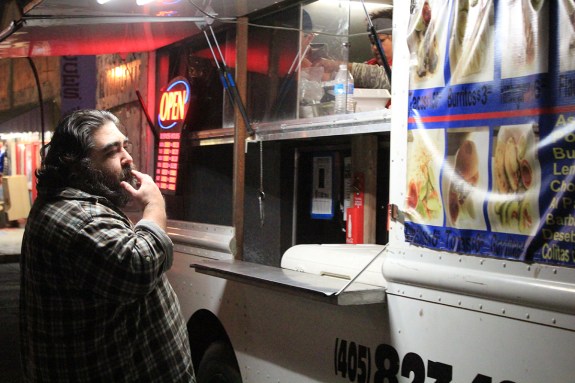 We can sit here and argue all day about what makes a good taco. We all have our preferences and our tastes and whatnot, but, for me, the best tacos—and, let's be honest, Mexican food in general—comes from the taco trucks and taquerias dotted along S.W. 29, from about S. May to S. Shields, in the historically Hispanic area of Oklahoma City, right across the river.
These Southside taquerias on wheels ain't no Friday night lark. Forget the H&8ths and Bleu Gartens and wherever else you have get dressed up in nice clothes and then use an app and hire an Uber and post a pic of on Instagram while listening to Broncho in the background. These S.W. 29 taco trucks are the real deal.
Before food-trucks were endowed the respect they are now, these Southside entrepreneurs were the tireless heroes, striving for the American dream on a daily basis, all the while being insulted with epithets like "roach-coach" and having the validity of their cleanliness questioned. But, as la raza is apt to do, they brushed it off, persevered and proudly served their communities, providing a daily service of serving low-cost, authentic, home-made South of the Border flavor to the working man, providing heartier (and yes, healthier) options than a McDonald's could ever offer.
Here's a list of five of what I currently consider to be the best taco trucks on S.W. 29, providing high-quality, exceptionally flavorful Mexican food at an amazingly great value, open from dawn 'til dusk, morning, noon, and especially night.
-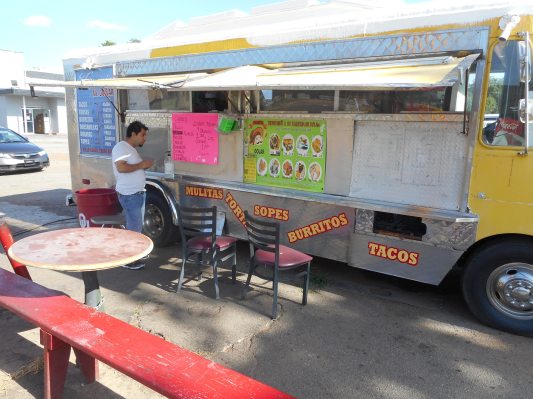 Taqueria Mr. Dolar (Located at S.W. 29th/S. Shields)
Coming off Shields, often times the first taco truck on the side of the road is the perfectly priced Taqueria Mr. Dolar. While in American culture the idea of a dollar menu means sacrificing quality for quantity, when it comes to this taco trucks, the sheer culinary skill and craftsmanship that has been learned takes even the cheapest cuts of meat and makes a million dollar meal out of them. The menu here, both in price and taste, feels like an absolute steal, from the beautifully stuffed $4 torta (try it with barbacoa!) or their 5-taco plate (the carnitas are off the chain!). If a lot of comida for little pesos is what you're looking for, Mr. Dolar is the ultimate value menu.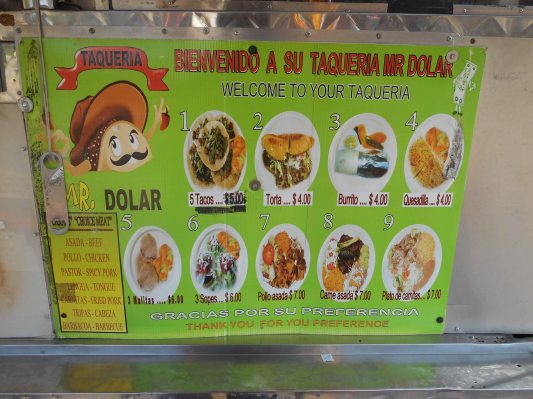 –
Tacos El Pariente (Located at S.W. 29th/S. Western)
Located off to the side of a Valero, we've got Tacos el Pariente. They've been a staple of that corner for quite a while and even though they have the word tacos in their name, I've really gotta give it up for their wholly Hispanic take on the classic hamburger. Maybe it's because that beef patty is cooked on the same griddle as all the other meats, but it's an explosion of greasy flava that lays even the best greasy spoon diner burger to waste. The same can be said for their phenomenal flautas which, I ain't gonna lie, I've been known to procure a half-dozen and down 'em while driving, avocado sliding down my shirt as the sour cream falls on the floorboard. Ain't no shame in my game, son.
(Word has it that a new joint, Hamburguesas el Pariente, has opened up in the old Del Rancho on S.W. 29th. Dear God, I hope and pray so. Stay tuned.)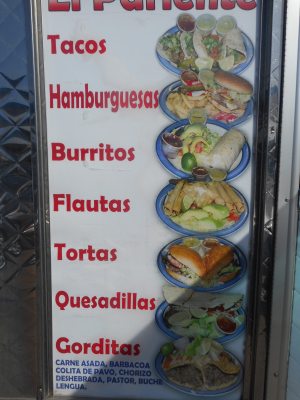 –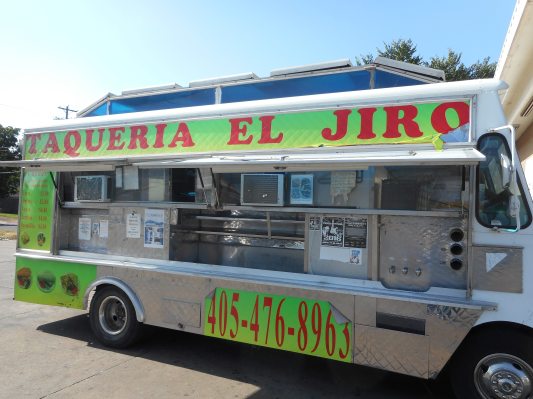 Taqueria El Jiro (Located at S.W. 29th/S. Kentucky)
You know that creepy Family Dollar, the one right next to the large warehouse with the trucks that have Chinese writing on the side of them, I bet there is some real intrigue and adventure that goes down over there. When the action calls for a break, Taqueria El Jiro and their stellar mulitas become the large and in charge savior of the strip. Never had a mulita? It's kind of like a torta, but instead of two slices of bread, they use fresh tortillas. Aye Dios mio! Why have I never thought of doing that before? It's like a taco sandwich! Get it spicy cabeza-style for two bucks and then, what the Hell, get two more. You deserve it, ya guey.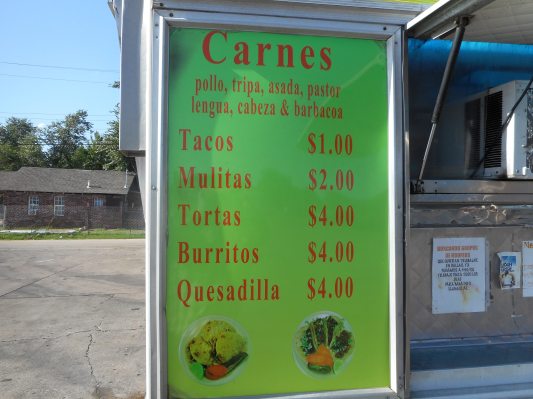 –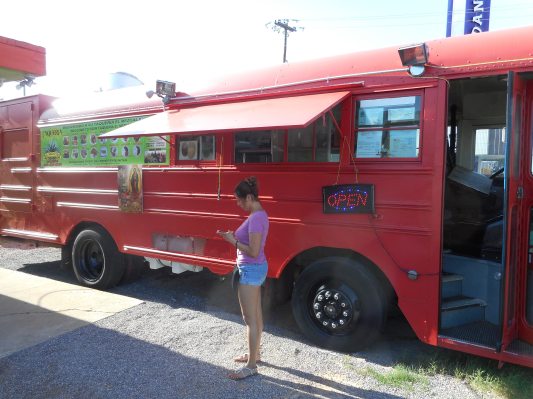 Taqueria el Mezcal (Located at S.W. 28th/S. Agnew)
O.K., so this beautiful repurposed big red school bus is located a block over on S.W. 28th. Let's go ahead and give it to them anyway. Relatively new on the taqueria scene, Taqueria el Mezcal is rapidly becoming my favorite taco truck in the Metro, from the fresh, ice-cold barrels of horchata to the sheer fact that they have the cojones to serve birria, a goat-meat based delicacy. Like a blessing from Our Lady of Guadalupe herself, Mezcal's dinner platters are an embarrassment of riches and, if that weren't enough, they also serve breakfast all day. Hail Mary, full of deliciousness, Taqueria el Mezcal be thy name. I can't wait to explore the rest of your menu, in Jesus' name I pray.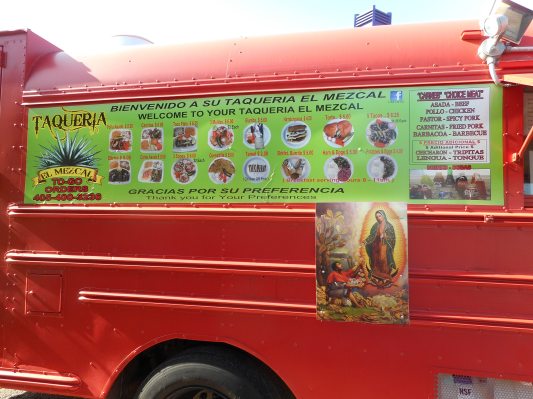 -
Taqueria Cocina Pequeña (Located at S.W. 29th/S. May)
Can we take a moment to give it up for Buy for Less? Just like it's hard to walk out of the Buy for Less at N.W. 23th and N. Penn without taking home some of that amazing barbecue from the pig-stand by the exit, it's even harder to leave the Buy for Less Supermercado at S.W. 29th and S. May without grabbing a quick carne asada burrito for the road. Or maybe some hot 'n ready elote swimming in creamy mayo and Parmesan cheese. Or, if, like me, you get sick and tired of having to wait until Sunday morning, howzbout a big steaming bowl of road menudo with two or three ice-cold tutifruti Jarritos stuffed between my legs? Think about it. Gracias por ser como eres, B4L.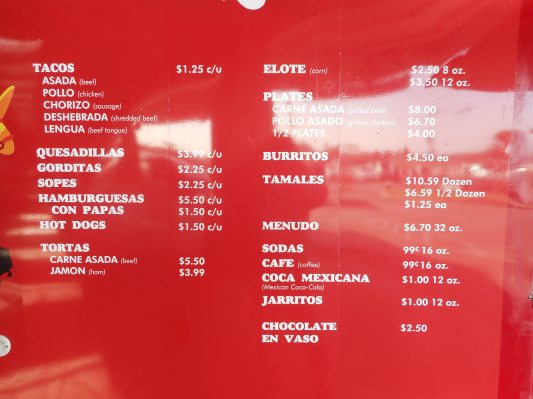 -
I want to make love to you on a bed of tacos. Follow Louis on Twitter at @LouisFowler.
Stay in touch
Sign up for our free newsletter