Everything Else
Steve Lackmeyer wonders if bar patios are a good thing for OKC's urban core…
8:49 AM EDT on July 29, 2016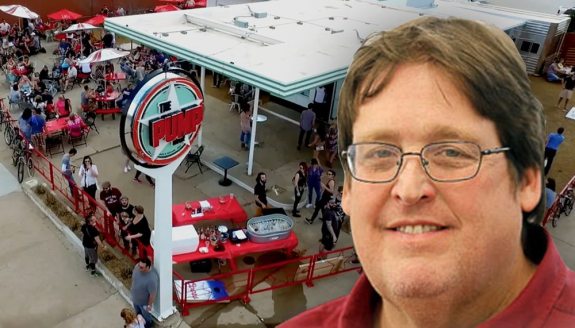 Earlier this week, Steve Lackmeyer took a break from not drinking or doing drugs to look into the dire patio bar epidemic that is hitting OKC.
Apparently, wealthy gentrifiers who only want Oklahoma City to become a "Big League City" if it meets their stale, personal definition of "fun" are now "debating" whether or not all the popular patio bars in the urban core that bring in tax revenue are a good thing for the city.
Via NewsOK.com...
As downtown continues to evolve into a mix that includes an influx of housing, debates are popping up on whether outdoor bars and restaurants are a good addition to the urban core revival.

The latest debate surrounds the former Foodies diner at 1220 N Hudson, vacant for the past two years, but now being eyed by veteran restaurateur Joe Jungmann as the home for a restaurant and bar with outdoor seating for up to 230 people.

Jungmann, who also owns Sauced and the Paseo Grill in the Paseo Arts District, secured a long-term lease for the vintage Valentine-style diner earlier this year. His plans call for extensive repairs to the diner, removing the old rooftop equipment, and building an extensive patio on the adjoining parking lot he envisions as a "park" for the neighborhood.
"We looked at this venue on how to be great," Jungmann said. "Once we looked at the area, we were excited to get the lease. It's an incredible place."

Jungmann's plans call for an extensively landscaped patio surrounded by shipping containers resurfaced to match the diner. Another shipping container would be attached to the rear of the building to provide new restrooms.
Although we already have a Pump Bar and Blue Garten and Powerhouse and Fassler Hall and Sauced and Delmar Gardens and 51st Street Speakeasy, that sounds like a cool concept. Although Oklahoma City weather does everything in its power to make them as unenjoyable as possible, you can never have too many patios. They're the best way to enjoy the great outdoors.
Well, at least they are for people like me. Apparently some of the gentrifiers who live in these developing, affluent urban cores don't want thriving businesses in their neighborhoods. They're worried they may be too "noisy."
In this case, Hudson Avenue is a mix of different property owners and is even closer to the historic Heritage Hills neighborhood.

And that's where the rub is with the proposed Jungmann operation. And similar dynamics may soon come to play with at least a couple of similar projects in and around downtown. Jungmann is promising to shut down no later than midnight.

But neighbors are wondering, is it all too much of a potential attraction? Some spoke out against the project as it was deliberated by the Downtown Design Review Committee, which is tasked with judging designs — but not proposed operations or hours.

That did not stop the committee from discussing such issues.

"We have concerns about the amount of food that will be served to the alcohol ratio," said Marva Ellard, who owns the Sieber Hotel apartments across the street.

"There is a lot of interest in the neighborhood for a restaurant with a patio. But a patio that seats 230 people seems a little extreme. Louie's nearby seats 50," Ellard said.
There you have it. Marva thinks the patio bars in Oklahoma City should be a whole lot more like... Louie's. I can't blame her. When I'm thinking of fun places to go in Oklahoma City with my parents where I don't want to see anyone I know, the Louie's patio is always the first place that comes to mind.
Call me wise, but I think we should take a free market, libertarian approach to this debate. If the late night sounds of people boozing it up in an attempt to get laid bothers you, maybe living in Downtown Oklahoma City isn't for you. Perhaps you should move to a cookie cutter neighborhood in Edmond where the only sounds you'll hear at night are an occasional cricket chirping to the silence of boredom.
Stay in touch
Sign up for our free newsletter