Everything Else
5 Metro Places to Get a Damn Good Snow-Cone
9:56 AM EDT on July 21, 2016
There are few things more refreshing to snack on under the blistering Oklahoma sun than a good snow-cone. Forget Icees, ice cream cones and even a boring glass of ice water—while trodding this sunbaked Hellscape, you just can't beat sucking down artificially-flavored shaved-ice through a straw, be it sitting in the car, stuck in afternoon traffic, or just walking down the street, trying to get some outdoor time with a couple of dogs in tow. A fresh 'n fruity snow-cone makes it all good in the hood.
But I'll be damned if I know where to find them. Back in the day, there used to be trucks that would zig-zag through neighborhoods offering shaved ice—with only a handful of flavors—for 75 cents or a dollar if you wanted a gumball at the bottom. Where have those trucks gone? Where is the neighborhood snow-cone man? Hell, I'm lucky if I even come across the ice cream man once a year, driving those scary "Summer Song" vans.
Short of buying a Snoopy Sno-Cone Machine, the best ways these days it seems to procure the frosty nosh is catch those cozy little snow-cone shacks located in random creepy parking lots. Just to save us all time and energy, I've compiled a list of five diverse local places to imbibe on the icy treats, places that I've enjoyed over these sultry past couple of months.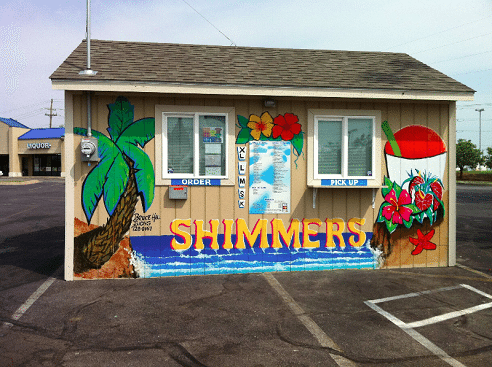 Shimmer's
When it comes to the snow-cone game in OKC, few, if any, have cornered the market quite like Shimmer's has. From their little shacks in the parking lots of every corner of town, this local chain has just about everyone beat as far as visibility goes. My preference is the outlet at NW 36th and May, next to Wendy's, with my usual being a large flat sugar-free Tiger's Blood, gummy bears optional. While they are a bit pricey—around 4 or 5 bucks for a large—the staff is courteous and they work to keep the line, which can be long, moving pretty fast. Their punch-card program ain't half-bad either.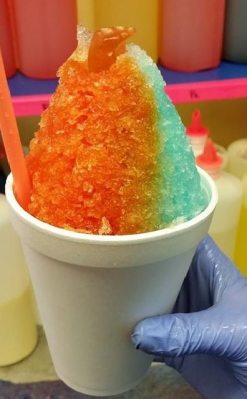 Locations: 1433 E Danforth Rd., Edmond
5116 N MacArthur Blvd., Warr Acres
6918 Northwest Expy., Oklahoma City
3721 N May Ave., Oklahoma City
-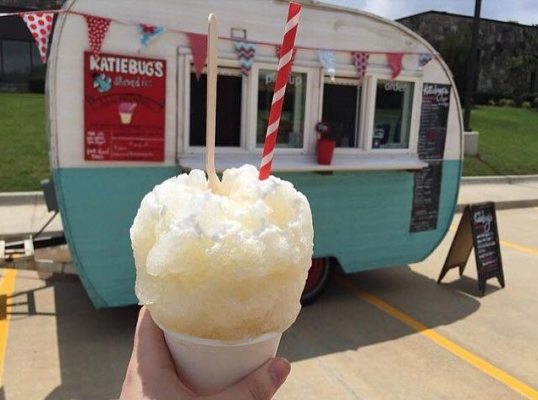 Katiebug's Shaved Ice and Hot Chocolate
Don't let the annoyingly cutesy name fool you: these gals got gourmet shaved ice on lockdown! This Edmond-based food-truck is often tough to track down around the Metro so if you're ever in Edmond, a trip to their stationary spot is a must. Their fanciful take on the classic snow-cone is definitely worth the trip—they make all of their syrups using organic cane sugar, fresh fruit, and local herbs and teas. The blueberry lemon shaved ice is an absolute must-try, and their homemade chocolate cream soda is a decadent summertime treat that would make Caligula blush.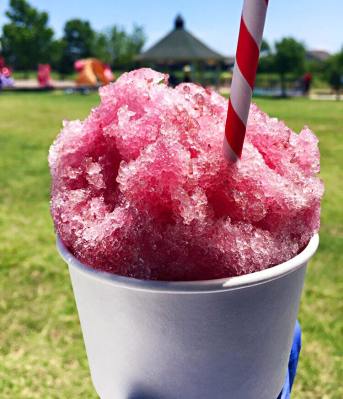 Location: 103 N. Broadway, Edmond
-
City Flavors
The only place to get the rare gem that is Philadelphia Water Ice in OKC, Del City's City Flavors is the type of snow-cone outlet you really wish would franchise out, at least opening up a location somewhere in the Metro. You'd know what I mean if you've ever had the taste sensation that is Philly Water Ice—basically a smoother, more in your face variation on the classic Italian Ice recipe—and this joint ain't shy with scoops and flavor combos. The watermelon-sour apple is quite the tangy heat-beater, while it's on my list to give the Fiesta—cherry, lemon and mango—a sample next time I'm in Del City. If I'm ever in Del City again, which I never am.
Location: 4420 SE 44th St, Del City
-
Raspados Hawaiian
Since my favorite Southside cold dessert joint Paleteria Y Neveria Monarca closed last year, it's been hard to find a new place that serves raspados—Mexican-style snow-cones—the right way, with the chili powder and chamoy seasonings that gross out all your gabacho friends. Thankfully, Raspados Hawaiian—which has absolutely nothing to do with Hawaii—takes up the slack by offering such south of the border shaved ice delicacies as sweet 'n spicy Chamango, the tamarind-heavy Chimarindo and the cucumber-infused Tornado. Truth be told, if I lived closer to either of these locations, they would probably be my number one summertime cool-down hot-spot. I'm actually kind of amazed they haven't opened up satellite shops around Penn and NW 10th, or even on the Southside, to be honest. This is a chain just looking to break.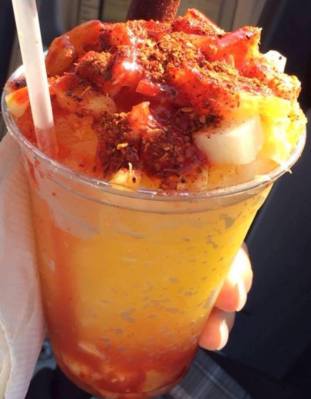 Locations: 6041 NW 23, Oklahoma City
4950 N. MacArthur Blvd, Oklahoma City
-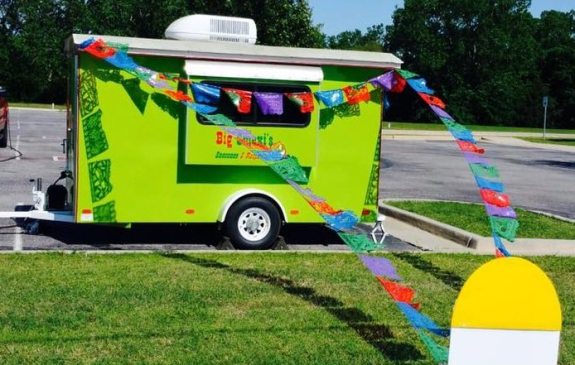 Big Smexi's Snocones & Raspados
While I haven't actually been there yet, I received enough tips about this truck that the next snow-cone place that I want to try is Big Smexi's out of Moore, if only for the name.  Mixing American and Mexican snow-cones with some more experimental flavors—the pickle-dilly, a cherry or sour apple snow cone topped with chopped pickles, pickle juice and pickle salt sounds mighty intriguing—here's a place that I will definitely go out of my way to give a fair shake to in the next couple of weeks.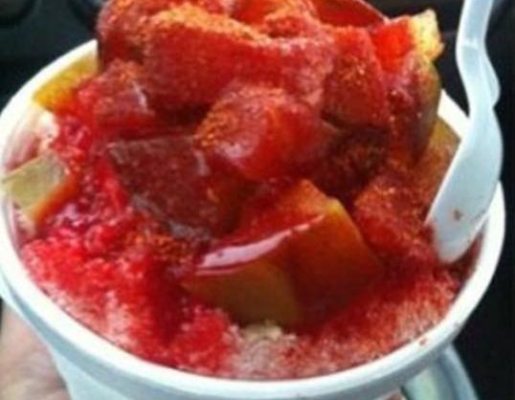 Location: 525 S. Broadway, Moore
-
Don't see your favorite cold-spot? Feel free to add your favorites to the comments section. Follow Louis on Twitter at @LouisFowler.
Stay in touch
Sign up for our free newsletter