Everything Else
Another Oklahoma County Sheriff is in trouble…
8:33 AM EDT on July 20, 2016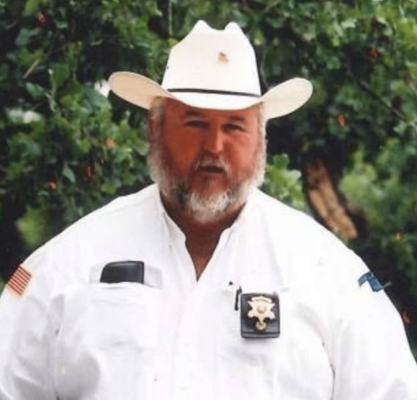 The guy pictured above who looks like he spent too much time in the Marietta broken cookie factory over the years is soon to be former Love County Sheriff Joe Russell. Back in 2015, he announced he would not run for reelection so he could "relax and play dominos," presumably with his live-in son Willie who was apparently operating a law enforcement-protected meth den in the family home.
Via a Nolan Clay article on NewsOK.com:
A longtime sheriff accused of allowing drug use at his own home for years was arrested Tuesday and is facing possible removal from office.

Love County Sheriff Joe Russell is accused of maintaining a house where drugs are kept and of harboring a fugitive. He was released on his own recognizance after his arrest.

"Thank you. I ain't got nothing to say," he told a reporter when contacted by phone Tuesday evening.

Russell, 62, has been under investigation by both the FBI and the state's multicounty grand jury. His address is listed as in Leon. His son, Willie Russell, 38, has pleaded guilty to a federal charge of methamphetamine distribution and is awaiting sentencing.

The sheriff has not been charged yet. The state grand jury, however, is requesting his immediate suspension and removal from office based on the same accusations.
Wow. That's shocking. As you know, Oklahoma's 77 county sheriffs are some of the most upstanding members of our community. I can't believe one would use his power and authority to engage in illegal activities! Outside of the times they rape women in jail, offer promotions and jobs in exchange for sex, let their fishing buddies play deputy and shoot a man in the back, or abuse civil forfeiture laws, they can always be trusted to do what's fair and what's right for the people they serve.
As I mentioned, Sheriff Russell was allegedly letting his son Willie use the family home as a meth den. He also arrested his son's girlfriend after she dumped him:
The sheriff protected his son's drug dealing, an FBI special agent, Steve West, testified last year at a detention hearing for the son.

"There has been drug use for a number of years in Willie's house that he shares with the sheriff, drug purchases, drug sales ... and that has been going on with no consequences," the agent testified.

An investigator for Attorney General Scott Pruitt reported in an arrest affidavit that on multiple occasions dating to 2011 individuals used meth at the sheriff's residence while the sheriff was present.

One witness stated that at the sheriff's direction, he and the sheriff's son would go to locations to pick up meth for distribution and take it back to the sheriff's house, according to the arrest affidavit.

In their request for his removal, grand jurors alleged the sheriff let his own home be a drug house from April 2, 2011, until May 29, 2015, when his son was arrested, accused of selling methamphetamine to an undercover police officer for $200.

Grand jurors alleged the sheriff also let a fugitive stay at the house for a couple of weeks last year even though she had four warrants out for her arrest. The woman was dating his son at the time.

The woman told investigators that the sheriff's son "assured her that it's the safest place you can be," but then the son used the situation against her, the FBI agent testified last year.

"Anytime, she said, that she would try to stop his advances or not want to have sex ... he would remind her, 'You've got warrants and as long as you are here dating me, you are not going to get arrested,'" the agent said.

The woman admitted using methamphetamine while at the sheriff's house, investigators reported. She was arrested by the sheriff himself days after she ceased dating his son and moved out, investigators reported.
That's kind of sick and disgusting, but on a positive note, at least they have a very strong father - son relationship. If my dad were the sheriff, I hope he'd also enable me to run a large-scale meth operation. It's a sign of love.
Anyway, I guess we'll follow this story and see what happens. Well, that is until another scandal rocks another Oklahoma sheriff's department. You know it's going to happen.
Stay in touch
Sign up for our free newsletter