Politics
10 odd things you need to know about Oklahoma Governor Mary Fallin…
7:47 AM EDT on July 1, 2016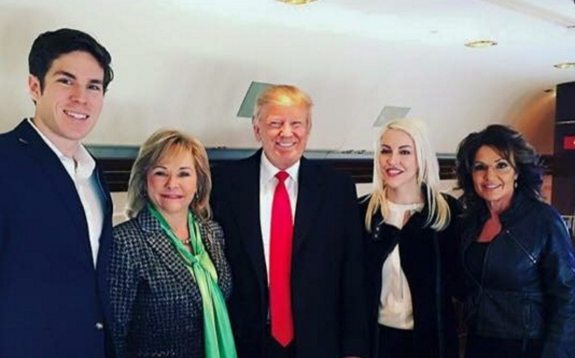 I thought it would be fun to go through our extensive archives and share 10 odd / strange / interesting news stories that we've written about Mary Fallin since 2010. Please keep in mind, we're avoiding many of the policy failures and political blunders that have defined her reign as Governor, and led to her 42% approval rating in Oklahoma. That's for a different post. Until then, here are 10 odd / borderline amusing tidbits to know about Oklahoma Governor Mary Fallin...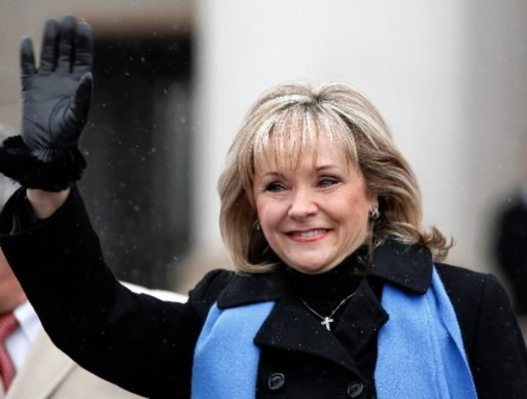 1. She plagiarized NPR at her first inauguration...
"Although stealing stuff like that is a weird and tacky thing to do, I guess it could be worse. She could be stealing stories from Hee Haw or the chain emails that your uncle forwards to you. And if she ever uses obscure car knowledge as an analogy in a speech or accidentally calls Tulsa World reporter Randy Kriebel "Zorba Paster" during a press conference, at least we'll know why."
-
2. She prefers the temperature in her hot tub to reach 104 degrees...
"In the whole scheme of things, the costs associated with the maintaining the pool isn't that big of a deal. Sure, $3,255 is a good chunk of change and could go a long way for an Oklahoma family, but in relation to a multi-billion state budget it's pretty insignificant.
However, it's irritating that while the average Oklahoman was cutting back and trying to recover from the Great Recession, our state's Chief Executive Officer was busy worrying about the temperature in her swimming pool and the size of a hot tub cover. If that doesn't show how out of touch she is with the average Oklahoman, I'm not sure what does…other than her constant need to vacation out-of-state."
-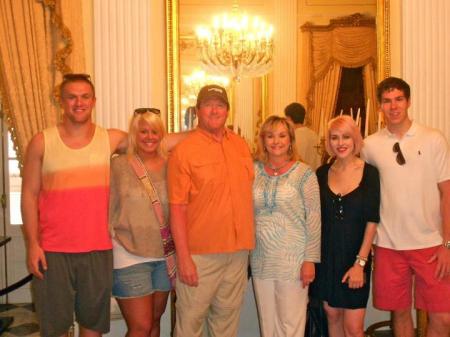 3. She really likes to travel...
-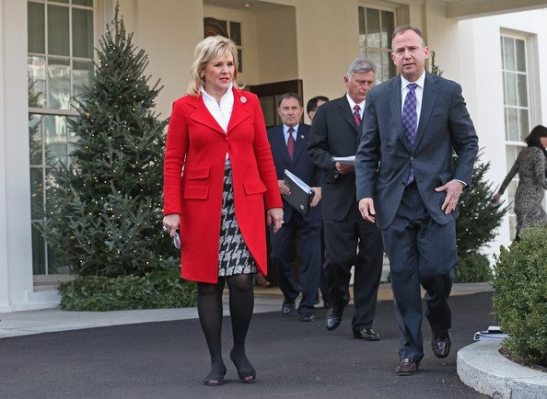 4. She wears open toed shoes with black tights...
"Yikes, who knew Gov. Fallen had such an avant-garde fashion sensibility when it came to women's hosiery! That's like the male equivalent of wearing a brown belt with black shoes, only worse, because you're a damn woman and are supposed to know these things! At least a dude can untuck his shirt to cover up the fashion faux pas. The only thing Mary could do is squint like she just walked out of a movie theater."
-
5. She got engaged at the Playboy mansion...
"Let's go ahead and give it up to Joe Fallin. Proposing to your girlfriend at the Playboy Mansion requires balls the size of a small moon or Death Star. It would be like taking your wife to Hooters for an anniversary dinner and requesting the waitress with the largest breasts. Basically, it's a pimp move that even the Video Vigilante would respect.
Okay, so maybe I'm overreacting it a little bit. This happened 30 years ago. It's not like it's news or anything. It's just funny to learn that Mary Fallin, a socially conservative governor from a socially conservative state who ran on a socially conservative platform probably had sex in the Playboy Mansion hot tub. I hope it was the proper temperature…"
-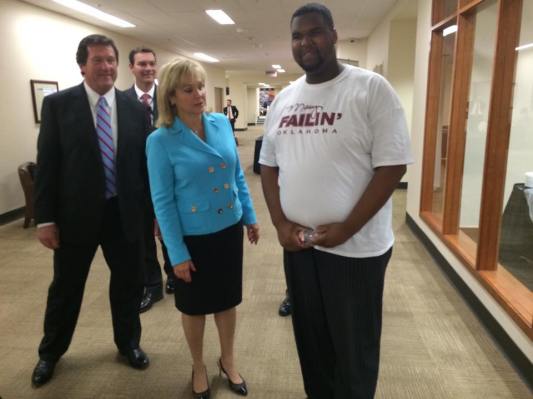 6. She doesn't pay attention to T-Shirts...
"Just one month after some dude put on a "Legalize Gay Marriage" shirt andsnapped a selfie with the Mary Fallin during a campaign spot, OU student Rico Smith won the Oklahoma internet last night when he posed for a few pics with the Governor while wearing a "Mary Failin'" t-shirt.
The pics were snapped following the gubernatorial debate in Stillwater and immediately went viral on Facebook. At first, Mary didn't notice that the shirt mocks her name and campaign logo. She simply thought Rico was one of her three African-American supporters and thanked him for wearing the shirt."
-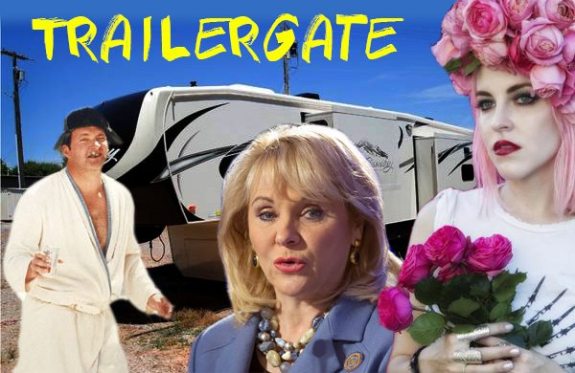 7. She let her grown daughter live in an illegally parked trailer at the Governor's mansion...
"Say what you want about Governor Fallin and her family, but they really do a great job of advancing and perpetuating negative stereotypes about Oklahoma.
In case you haven't heard, Hipster Boo Boo has moved into a trailer at the Governor's mansion. Yes, a trailer. In a perfect world, I'd follow that sentence with "And she's engaged to and living with Sir John Michael," but as Governor Fallin constantly reminds us, the world isn't perfect."
-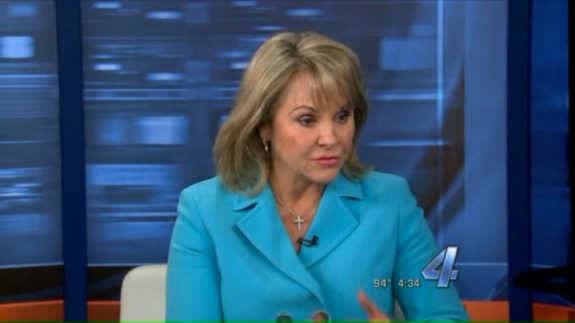 8. She couldn't recall the three branches of government...
"That's a new low for someone who specializes in new lows. Not only did she make up three new branches of government – The Supreme Court, the people and the people with the ability to vote – but she left out the one branch she represents. She's going to make a great Republican vice presidential candidate some day."
-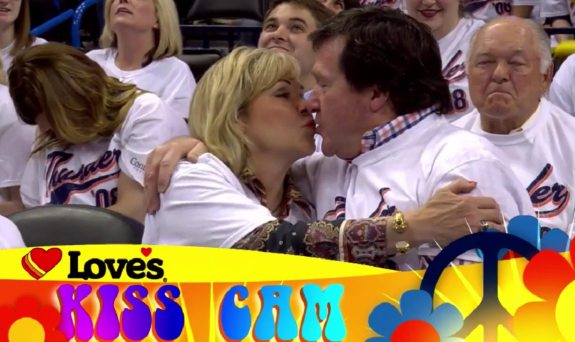 9. She was booed on the Kiss Cam at a Thunder playoff game...
"From what I've heard, the boos were actually louder inside the arena than what you hear in the video. Way to go Thunder fans! You're the best in the NBA for a reason. That's what I call the Oklahoma Standard."
-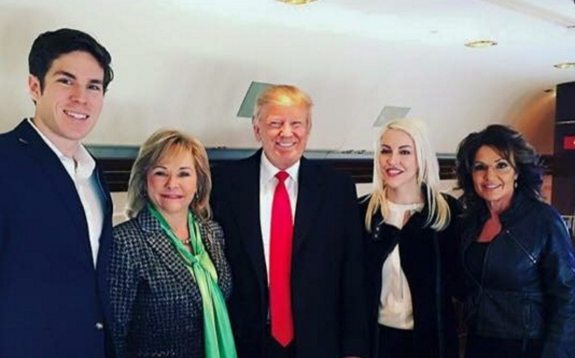 10. She endorsed Donald Trump for President...
"Earlier today, Mary Fallin – the Governor who can't remember the three branches of government, let her daughter move a trailer into the front yard of the Governor's mansion, took a pic with a guy wearing a Mary Failin shirt, created one of the worst economic and budgetary crises in state history,supported the mass flunking of third graders, and finally, helped make Oklahoma the earthquake capital of the United States – endorsed Donald Trump for President.
She also said she'd be happy to be his Vice President."
-
Remember, these are just the odd things you need to know about Mary Fallin. Next week, we'll have the scary things that show how she's helped wreck Oklahoma, and how it qualifies her to help destroy our country with Trump.
Stay in touch
Sign up for our free newsletter