Everything Else
TLO Restaurant Review: Sid's Diner
9:06 AM EDT on June 7, 2016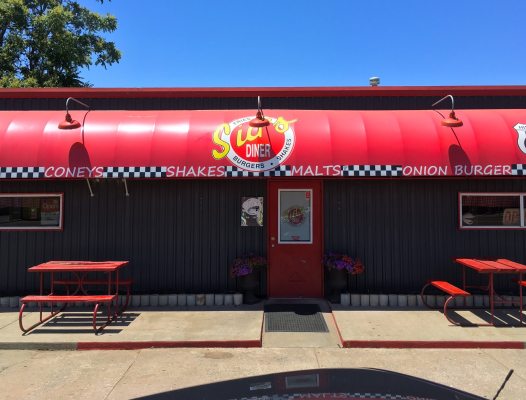 My father grew up in Waurika, Oklahoma, during the Great Depression. I remember him telling me once that, in order to make a pot of Choctaw stew last, they'd add macaroni, wild onions, corn and even sawdust to it, feeding the family on it for at least another week.
That's pretty much how the onion burger was invented around the same time in El Reno, Oklahoma. Legend has it that Ross Davis, owner of the Hamburger Inn on Route 66, started adding cheap shredded onions onto and into the expensive meat to make the burger look bigger. It was that type of desperate inventiveness – the need to stretch whatever remaining food was left to survive – that led to the creation of the holy Oklahoman culinary delight known as the onion burger.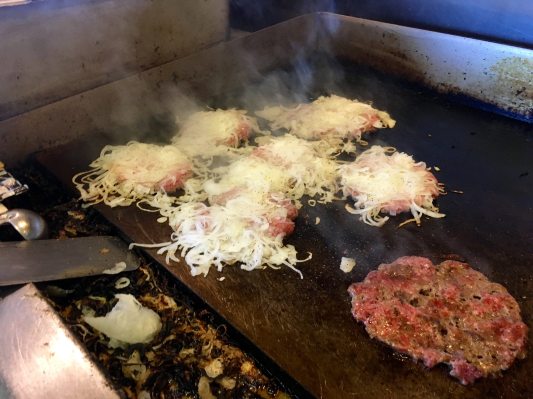 Sadly, many modernesque local foodies treat the onion burger as though it were a decrepit grandfather who can't stop going on and on about World War II, embarrassing the family for having outlived its usefulness. They act as if it's a regretful past atrocity and should be locked up in a nursing home until it's dead dead dead and forgotten, and not in that order.
But, when I look at the onion burger, I see it as a testament to the will and survival of a people. The Great Depression came close to wiping Oklahoma off the map, and, instead, we slapped that bitch upside the mouth and got a new kind of hamburger out of it. Let's see some elitist hipster chef at an overpriced tapas joint try to make oysters and pate stretch in the next Great Depression. We'll all die of hunger first.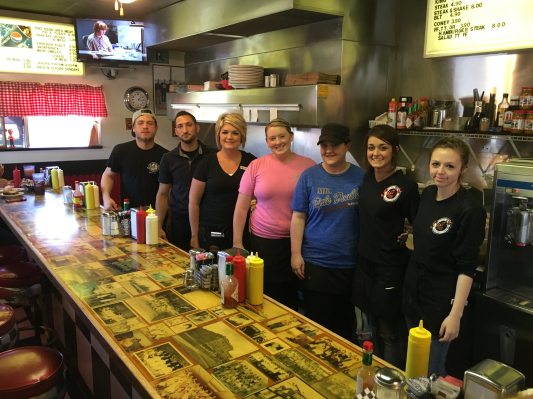 Even though there are a few places in El Reno that continue to carry on this tradition, my favorite is still Sid's Diner, 300 S. Choctaw Ave. When I visited on a cool Saturday afternoon last weekend, I could've sworn it was closed, with no living person in sight and merely the hum of the powerlines above to provide an ambient soundtrack. But the heavy smell of frying onions, that intoxicating aroma, that sensual tear-duct manipulator, danced her dance of seven layers, luring me inside without regard for life or limb.
Like some sort of greasy spooned Brigadoon, once I opened the doors and entered the small edifice, I was faced with an eatery that was absolutely overloaded with hungry customers, every available table taken, the bar filled and the staff of eight or nine waitresses scrambling to take orders from a standing line of customers that wormed about the dining area. It was a bit claustrophobic and at I was afraid these customers were actually all ghosts and I was dead but didn't know it yet, but, I went ahead and gave the waitress my order anyway.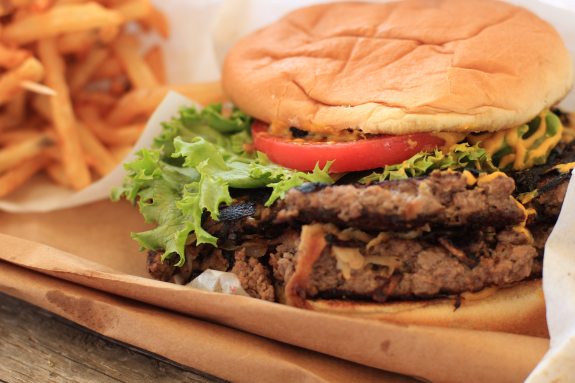 Of course I had to do the King Onion Burger ($4.70! Can you believe that?) and a half order of fries ($2.25), which thank God the waitress warned me about because the large order of fries was a massive outing that could fill a fireman's bucket. The half-order is more than enough for anybody this side of Prader-Willi Syndrome.
With no room inside, my friend and I opted for the picnic area next door to the building. The weatherman had promised torrential rains and hail, but as the warm sun smiled upon us, a light onion-scented breeze enveloped us as the monstrous meat mounds were brown-bagged over to our table. Ripping into that grease-stained paper, the freshness of every aspect of the burger just invaded the nostrils and it was all I could do to just stop myself and breathe in deep this legendary perfume.
Unwrapping the heavy sandwich can be quite an ordeal, holding steadfast to make sure that none of the meat displaces itself or that any of the vegetables slip out. As I took my first bite into this massive marvel, I chewed slowly and savored every moment, tongue working overtime to capture every aspect of this bite, from the flavorful beef pattys and savory onions to the juicy tomato and crunch of the toasty bread. You better bet I did my best to catch the ever errant stringers of hot onions that hung from every corner of my mouth like Oh Dae-su downing a live octopus.
What a burger!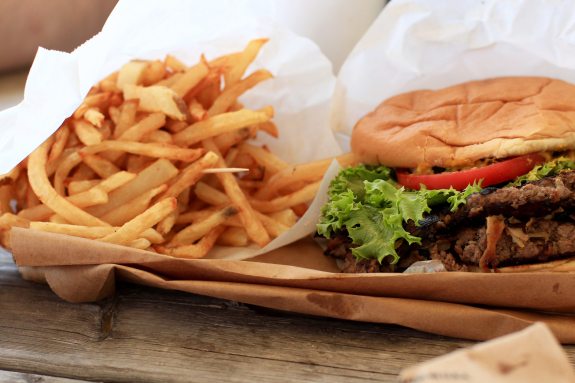 The fries were homemade and greasy, but, you know, I don't know if they're really needed. The onion burger itself is so packed that all those fries—so many fries—are kind of redundant and overpowering and unnecessary. However, I did notice that Sid's has an extensive breakfast menu and their biscuits and gravy look pretty damn phenomenal, so maybe an a.m. return trip is order. Maybe I'll just show up early for next year's El Reno Onion Burger Festival. Which I missed by, like, apparently, two weeks.
Sid's has been called by many the best onion burger in Oklahoma and I don't know if that's true—I haven't tried them all…yet—but I will say that it's right up there at the top of the list. And, with the story triumphal story of innovation over impoverishment behind the onion burger, it's a perfect place to take out-of-state common people.
Common people like you.
Photos by Dustin Harjo.
Louis Fowler's onion-burger grease stains will wash out in the bath. Follow him on Twitter at @LouisFowler.

Stay in touch
Sign up for our free newsletter