Everything Else
Steve Lackmeyer is taking on the Pink Octopus mural in Bricktown…
3:26 PM EDT on June 2, 2016
Move over decrepit old buildings. There's a new obsession in Steve Lackmeyer's heart!
Yesterday afternoon, Lackmeyer posted a lengthy blog post on NewsOK.com complaining about a new mural that was recently that is going to be painted in Bricktown. I guess Steve is upset the mural is weird and isn't some basic, clichéd, Chamber of Commerce-inspired work that pays homage to Oklahoma City's obscure musical history.
East Bricktown is quickly emerging as the center of a new live music hub for Oklahoma City. The Criterion is successfully drawing large crowds even on nights when the competing entertainment draw is an important Thunder playoff game down the street.The entire area is getting built up with hotels, retail and housing. Other music anchors include the ACM@UCO Performance Lab and the Bricktown Event Center. And in the heart of it all, you have a street named after one of the greatest music legends to hail from Oklahoma City: Charlie Christian.Charlie Christian and fellow jazz great Jimmy Rushing still lack any big tributes, however, beyond the street name in Christian's honor.
Wait a second? "Beyond the street name in Christian's honor." Uhm, isn't that a pretty big honor? That would be like saying outside of naming the airport after him, there are no big tributes around town to Will Rogers.
A great potential canvass for a mural, meanwhile, emerged when owners of the southwest corner of the former Stewart Metal Fabricators property chose to turn their spot into surface parking. That left the plain concrete wall of the Bricktown Event Center exposed and prime for some cool art.

The owners of the property, Brent and Brett Brewer, teamed up to split the cost of the mural 50/50 with Downtown Initiatives, a non-profit operated by Downtown Oklahoma City Inc. The Brewers envisioned a mural linked to the city's music culture or history – maybe something honoring Christian and Rushing...Could Bricktown get the sort of brilliant mural done of Woody Guthrie done by Aaron Whisner in Tulsa? It's iconic, loved by locals and visitors.
Yeah, Steve Lackmeyer is suggesting that we ripoff ideas from Tulsa for our public art. No thank you. I'd rather have a mural of pink sea horses mating than steal a public art idea from Tulsa. That would be like suggesting OSU incorporate some of OU's pre-game traditions in football. Also, why does all public art have to be about Oklahoma history? Can't we have paintings and stuff that has nothing to do with our state? Art should be an escape, not a reminder that we still live here.
Whisner, however, wasn't even given a chance to compete for this project. The folks at Downtown Oklahoma City Inc. instead went with Jack Fowler, whose work includes some great portrait pieces.A 2011 interview in the Tulsa World might hint Fowler might be ideal for promoting Oklahoma City's musical heritage or culture:"I'm proud of where I'm from, and I'm proud of the heritage that these people have helped create," said Fowler, 34, who recently "retired" from teaching elementary school to become a full-time artist. "I honestly think not enough people know just how many fascinating people have come from Oklahoma. There are so many incredible stories that haven't been told nearly enough, to nearly enough people. I'm just trying to tell a few of them in my own way."Downtown Oklahoma City Inc., however, gave Fowler no direction on what might be the best fit for the wall. Instead, they gave Fowler total autonomy over the mural's depiction.So we get "Bricktown Octopus."
As the son of a professional artist who has some weird, abstract public art around town, I have no problem with Downtown OKC giving Jack Fowler artistic freedom. That's how art should work. We all have different styles and taste. When you micromanage art to please everyone, you basically turn it into a print you buy at Hobby Lobby.
Let's take a look at a rendering of this "Bricktown Octopus" mural that's ruffled Steve's beret: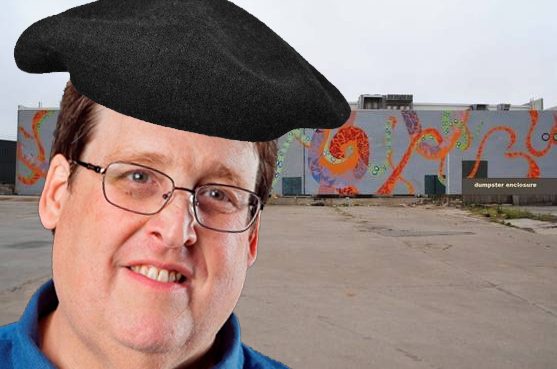 Oops. My bad. Let's remove the gigantic pic of Pierre Lackmeyer.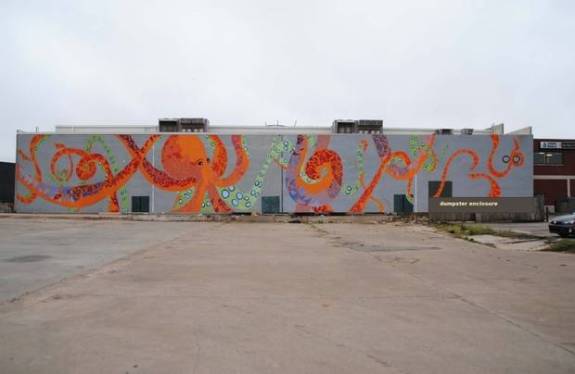 Seriously? That's the mural? I'm not saying his idea to paint old Oklahoma historical figures on brick walls is the way to go, but maybe Steve Lackmeyer has point here.
This is how mural artist Jack Fowler – the same guy who drew that TLO / Aaron Tuttle cartoon for The Oklahoma Gazette – described the piece:
Fowler provided this explanation for the mural in a letter to the Oklahoma City Arts Commission:"I invented the Bricktown Octopus for three reasons: one, the long narrow shape of the building immediately made me imagine something stretched across it, sprawling and twisting and reaching like vines, or in this case, tentacles. Two, the color of the cement building is light and consistent enough to serve as a background palette, and I've always liked public art that was "painted on the building" more than "painting the building." An octopus allowed me to cover the entire expanse in an interesting way without having to cover almost 5,000 square feet with a base coat. Three, I wanted to create something interactive, a piece that views could get lost in. I'm going to place dozens of "hidden" shapes and icons in the colorization of the Octopus. My hope is that people will stand in front of it for far too long, shouting out images to their friends as they recognize them, lost in a small moment like kids lying on their backs searching for shapes in the clouds.
I don't know Jack. I'm sure he's a good dude, but when you find yourself tired and stoned at 3:00am writing things like "I'm going to place dozens of "hidden" shapes and icons in the colorization of the Octopus," it may be time to close the laptop and think of some new ideas. Trust me. I know this from experience.
Anyway, you can read the rest of Lackmeyer's article by clicking here. One thing Steve failed to mention is that Oklahoma City has plenty of big, empty walls around town that could use a mural. I say we commission him to paint one, and just like we did for Jack Fowler, give him the artistic freedom to do whatever he wants.
Actually, maybe we should just send him to wine and palette night instead. That's probably a better idea.
Stay in touch
Sign up for our free newsletter