Everything Else
Barry Switzer is a Donald Trump supporter…
1:23 PM EDT on May 31, 2016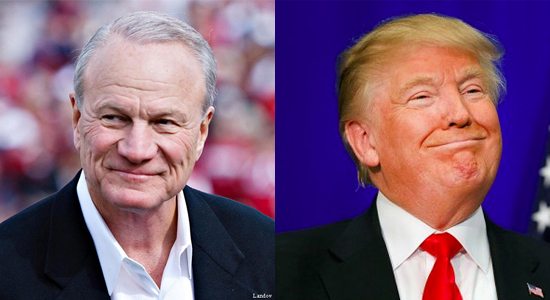 Last week, Donald Trump visited one of the few places in the country more desolate than Oklahoma when he stopped by North Dakota and Montana for a couple of campaign events.
The entire trip was arranged by the greedy, meddling, extremely powerful Oklahoma oil baron billionaire Harold Hamm. In case you didn't know it, Uncle Hammy, who served as Mitt Romney's energy advisor in 2012, recently endorsed Trump for the presidency. Because Hamm is rich and can do whatever he wants, he brought his good buddy Barry Switzer along for the trip.
Via AP:
Former University of Oklahoma and Dallas Cowboys football coach Barry Switzer is slated to attend North Dakota's oil expo and conference in Bismarck.

North Dakota Petroleum Council President Ron Ness says Switzer will attend the event Thursday as a guest of billionaire oilman Harold Hamm, the chairman of Oklahoma City-based Continental Resources Inc.

This year's event also will feature former Notre Dame coach Lou Holtz as a key note speaker. The event closes Thursday with an address by Republican presidential hopeful Donald Trump.
That's pretty cool. I asked around, and apparently Hamm and Switzer are a couple of BFFs. In fact, they're such good friends that I've heard Hamm is now pushing David Boren to name Switzer as the state's new seismologist!
Following the North Dakota Oil Expo, Trump, Hamm and Switzer stopped by the Rimrock Auto Arena – Yes, Rimrock – in Billings, Montana for a campaign rally. During his address, Trump gave Hamm and Switzer a special shout out:
Via Helena's Independent Record:
He had them at "make America great again."

No matter what Donald Trump said Thursday in the Rimrock Auto Arena at MetraPark in Billings, he could do no wrong. Before a crowd of several thousand, Trump riffed on oil, immigrants, trade deals and guns, never sticking with one subject long enough to see it to the end. He was the current champion of political scat jazz, the crowd loving The Donald's stream of consciousness.
"When you go along and you have all these people running, it's the largest field," Trump said. He was describing his unexpected rise to presumptive Republican presidential nominee. "I think it's the largest field. I don't know. I think it's the largest field. John, is that the largest field? Ask Campaign Karl. Is this the largest field ever to run? Please tell us. If Campaign Karl says it, it's true. Unless he's talking about me, understand no one knows more about politics."

And then he was on to a different subject, punctuating his vignettes with unexpected shout-outs to the most unlikely of people to set foot in Montana's largest city for a campaign rally.

"Harold Hamm, are you here? Harold, where the hell are you?" Trump said. And there was Hamm, the fracking pioneer who turned the Bakken into the Saudi Arabia of the Northern Plains, standing in the back of the room, grinning. "Oh, he's got money. He knows more about energy in his finger than these other people."

The oil magnate had played a key role in Trump's energy speech earlier Thursday in Bismarck, N.D. Barry Switzer, the former coach of the Oklahoma Sooners and Dallas Cowboys got a shout-out, too, along with former Notre Dame coach Lou Holtz.
I found a YouTube clip of Trump's speech, but couldn't pinpoint the spot where he gave Switzer and Hamm a shout out. If you're extremely bored, have a strong stomach, and are looking to kill about 45 minutes at work, can you watch it and let us know when it happens? Thanks.
Anyway, even though Switzer is a lifelong Democrat who A) once famously endorsed Brad Henry for Governor, and B) once famously called out people like Trump who were "born on third base but go through life thinking they hit a triple," his support of Trump isn't surprising. If anything, it's fitting.
First of all, crazy egomaniacal old white dudes of a certain feather always flock together. It's how the world works. Secondly, I don't think Barry really values character, integrity and maturity when endorsing political candidates. He sure didn't seem to care about that stuff when he coached OU! Under his watch, OU football players were nothing but a bunch of criminals, drug dealers and rapists. And some, I assume, were good people.
Stay in touch
Sign up for our free newsletter