Everything Else
Bob Mills named co-chair of Trump's Oklahoma election campaign…
3:43 PM EST on December 9, 2015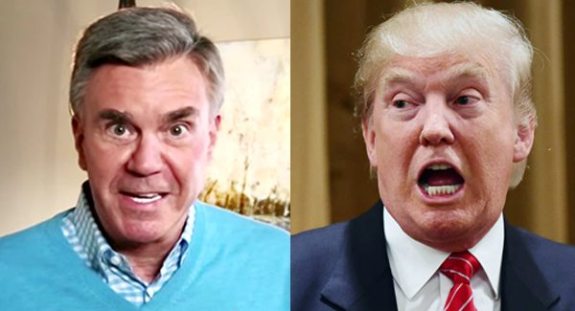 Bob Mill's is the working man's friend... especially if that working man is an angry, bigoted, narcissistic, wealthy attention whore with magical hair.
Yesterday, it was announced that Donald Trump has added some new co-chairs to his Oklahoma election campaign. One of them is sweater-wearing Bob Mills of local TV furniture commercial fame.
Via Trump's website:
Today Donald J. Trump announced his Oklahoma Statewide Chairmen and a growing number of endorsements for his campaign for President of the United States. The list includes elected officials, Veterans, small business owners, and county leaders..

Mr. Trump said, "I am proud to have the support of so many community leaders in Oklahoma and it is an honor to be on the ballot. I visited in September and was overwhelmed by the enthusiasm at the State Fair where over 20,000 people attended my speech. With the support of those people and my team, we will Make America Great Again!"

Co-Chairing Mr. Trump's campaign in Oklahoma is Mr. Bob Mills and Mr. Dan Keating. Bob Mills has been operating Bob Mills furniture in Oklahoma since 1972. His operations have now expanded into Texas as well. Tulsa native, Dan Keating, is a retired Marine and currently serves as President of Summit Consolidated Group.
First of all, I shook Donald's hand at the Oklahoma State Fair. Marisa and I watched about half of his speech before leaving to eat corn. I did not see 20,000 people there. I've never been good at guessing how many jellybeans are in a jar, but I'd say the attendance was closer to 2,500. And most of the people weren't even supporters. They were there to see the freak show... and the hair. My god, the hair. You have to see it in person. It glows like the golden fleece.
With that being said, WTF is Bob Mills thinking?! Did he injure his head in a hot air balloon accident? Did he sniff too much furniture polish as a kid? Did he wake up on the wrong side of a bed in his sleep spa? Even if Bob's a hardcore Islamophobic bigot racist and rubs one out to Trump's picture each morning, he has to keep that shit to himself. Once Oklahoma City's Latinos, muslims, and the liberal politically correct shame mafia learns about this, I bet he'll lose some customers. Then again, he'll probably gain some, too. As a result, expect to see Rit Mathis endorse Ted Cruz very soon.
Apparently Bob Mills has a lot in common with some of Trump's more infamous Oklahoma supporters. Check out this Facebook post that Bob left earlier today: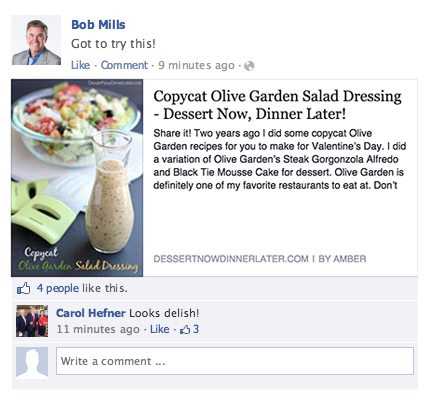 I have no clue what it is, but there must be something about ripping off a readily available salad dressing that satisifes everyone's inner racist.
Okay, that's a joke. I just needed to segue to Carol Hefner. It looks like her Facebook page is back online. Also, she's now missing from the list of Trump campaign co-chairs:
The list of Oklahoma leaders endorsing Mr. Trump and county coordinators currently includes: Senator Ralph Shortey; Senator Mark Allen; Representative Mike Christian; Representative John Bennett; Representative Mike Turner; Bob Mills; Dan Keating & Kathy Keating; Rodney and Jill Timms; Dr. Sam & Lynn Coury; Bob Dani; Stan Ward; Lisa & Steven Kalman; Ferlin Kearns; Larry Stein; Darren Ward; Angie & Jason Thomas; Lester Claraval; Guy & Jennifer Madison; Beth Marshall; Ronnie Farmer; David Morgan; Orvel Robinson; Ella McDonald; Andy Barber; Suzanne Landess; D.W. & Rochelle Converse; Kelly Gatz; Jo Senske; John Horn; Richard Leathers; Monte Kleiner; Gene Marshall; and April Miller.
Wow. Did Donald Trump kick her out of the campaign? Does the guy who thinks we should ban Muslims from entering the country, and assumes that most illegal aliens are murderers and rapists, actually have some limits? I doubt it. I bet one of the mega-rich Hefner's instructed Carol to stop trying to single-handedly ruin the family's name. For Bob Mills sake, hopefully one of his "working men"  – preferably a Muslim or child of Mexican immigrants – will tell him the same thing.
Stay in touch
Sign up for our free newsletter