Everything Else
TLO Exclusive: Kid from Yukon has announced his favorite NFL team
3:04 PM EDT on April 29, 2015
Today we're launching a new series on TLO. It's called "Is This A Great Site or What?!" In each installment, we'll show everyone how awesome we are by making the hopes, dreams and wishes of various Oklahomans come true! Think of it as a cross between KFOR's "Pay It 4-ward" and Jack Bowen's old "Wednesday's Child" segment only not nearly that creepy.
Anyway, to this week's tale...
---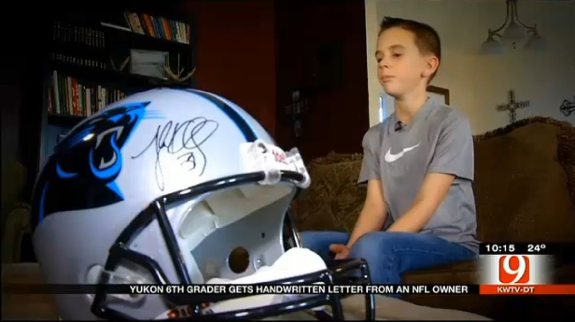 Back in January we were one of many websites that told you about Cade Pope, the 12-year-old kid from Yukon who sent a handwritten letter to each NFL franchise asking what they would do to be his favorite team.
The first team to respond to Cade's letter was the Carolina Panthers. Surprised that someone was actually open to being a Panthers fans, they sent Cade an autographed helmet, a handwritten letter from the team's owner, and all sorts of shirts, hats, living panthers, etc.
The second team to contact Cade was the Kansas City Chiefs, although they seemed more interested in Cade's little brother Coy, who apparently is a big Chief's fan. Here's what we had to say at the time:
That's just brutal. Cade sends a handwritten letter to each NFL franchise asking what they'll do to become his favorite team, and yada yada yada, he ends up a Carolina Panthers fan while his little brother gets to experience Make-A-Wish treatment from the Kansas City Chiefs while being perfectly healthy. I bet Cade feels about as cool as a guy getting his hair cut by another dude at Sports Clips.
Not too long after our post hit the internet, I was contacted by a stockbroker in Wisconsin named Stig. Somehow, he figured out a way to sneak past our Stig to Spam gmail filter, and as a Green Bay shareholder, asked if we could help him invite Cade to join the Packers nation. Since my mottos in life are A) always help a stockbroker in need; B) don't let a kid become a Panthers fan, and; C) never turn down something that may lead to a shipment of free cheese, I agreed.
Over the next few weeks, Stig the Stockbroker and his Packers posse sent me emails, letters, packages, a space heater and other goodies. Here's a snippet from a letter Stig addressed to Cade...
Dear Cade,Today I came across the story of your desire to find a NFL team to cheer for. As an owner of the Green Bay Packers I was a little concerned that I had not seen your letter, however, I am only one of roughly 360,000 owners of the Packers. Unlike any other team in the NFL, we the fans, own the team. In fact, there are no other professional sports teams that are owned by the people the way the Packers are.You may not know this, but, Since the Green Bay Packers joined the National Football League in 1921, they've been one of the most successful franchises around. They've won 11 NFL Championships and four Super Bowls over that time span...
Okay, at that point the letter turned into a Green Bay Packers advertorial that would make Bob Barry Jr. faint and wreck a scooter. Let's just say Packers fans are proud of their tradition and history.
Armed with all this Packers stuff, my mission turned to finding Cade. Which was kind of awkward. The Lost Ogle isn't exactly Reader's Digest. We're not for everyone. Did Cade's family know we existed? Were they aware of our posts? What if a pic of the family made our Oklahoma State Fair Photo Contest? What would we do?!
After doing some Internet sleuthing, I found Cade's mom on Facebook and sent one of those "Hey, you don't know me, but I'm a blogger and have some Green Bay Packers stuff that some dude named Stig mailed to me for your kid" messages. I didn't get a response, and I was genuinely worried that my mission to help Stig the Stockbroker turn Cade into a Packers fan was running into a dead-end.
But then, thanks to the glory of either God or my love of cheese, I noticed Cade's mom and I shared a mutual Facebook friend. It was some guy I went to high school with and have maybe seen once or twice since 1996. I made a few phone calls, asked some questions, consented to a background check, and then before you knew it, I got in touch with Cade's mom! She was "familiar" with the site, read the articles about Cade and hopefully clicked some ads.
I learned that after the Chiefs stopped by, a dozen or so other NFL teams responded to Cade's letter, and the unexpected response left the family dealing with some media overload. After a pleasant chat, we decided to wait a few weeks, see if any more packages came in the mail, and then figure out a time and place and deliver the goodies.
Perfect, huh? Well, I unfortunately I failed to consider one factor. Me.
As things typically go, I forgot about the whole thing, and those couple of weeks turned into a couple of months. Then Stig the Stockbroker started to think that Patrick the Blogger was a Nigerian Prince-caliber Internet swindler with a nice collection of Packers merchandise ready to be sold on eBay. So a few weeks ago, just in time for tomorrow's NFL Draft, I drove to Yukon, dropped off the stuff and look what happened: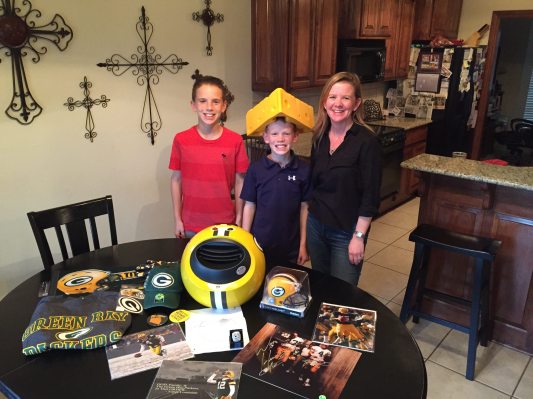 Is This A Great Site Or What?! Look at the magic we helped create! Are we not awesome? One of Christina Fallin's friends better write a post about how The Lost Ogle is good for Oklahoma.
Anyway, before we unpacked all the Green Bay stuff, Cade's mom offered me a glass of Sunny D, and along with Cade and Coy, we looked through a large scrapbook filled with the letters, autographs, media clippings, etc. There was a letter from Jerry Jones, a fan certificate from the Giants, an autographed pic of Johnny Football-maker Mike Evans, and, well, this...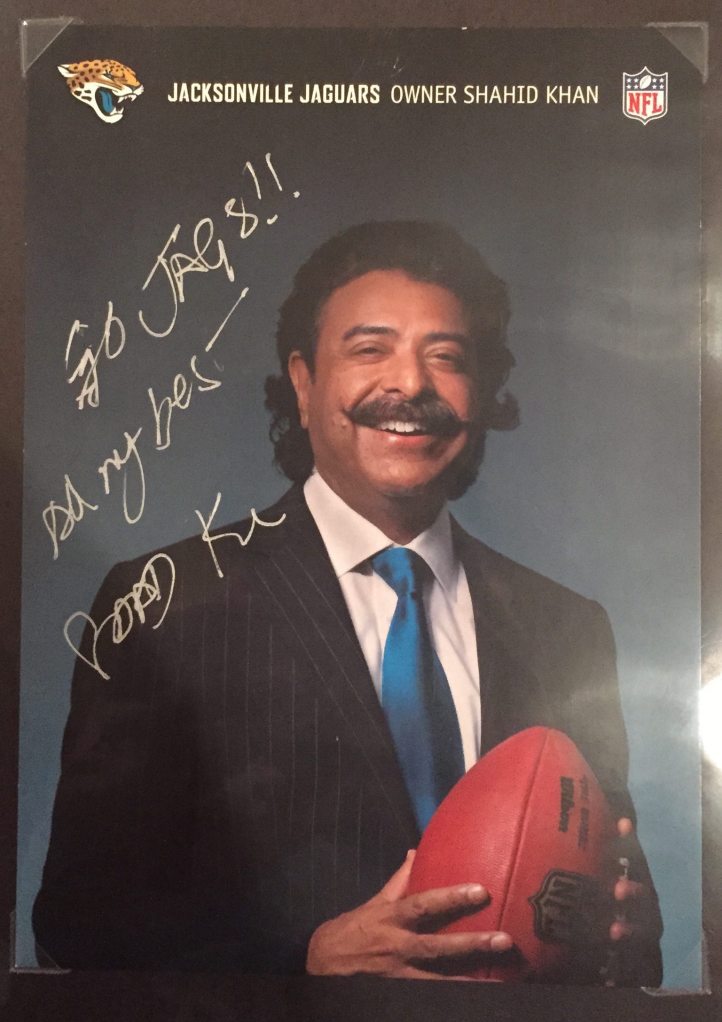 Yep, that's Jacksonville Jaguars owner Shahid Kahn. He's the maestro of the mustache. I offered Cade $5 for the photo, but he turned me down. He said the going rate on autographed pics of NFL owners with creepy mustaches is $20. He's a shrewd negotiator.
After looking over all of Cade's goodies, and in all honesty, feeling kind of miffed that I didn't have this great idea in 1991, I asked "So, after receiving all this stuff who's your favorite team?" Cade thought for a second, paused and then said with a cheesehead on his noggin...
...
Okay, I'm not going to giveaway what Cade said. I'll let him do it. He actually wrote a letter for us about this whole experience! Check it out! This is kind of our LeBron back to Cleveland SI moment:
I love the NFL, but I did not have a team to cheer for. My parents followed Sam Bradford and cheered for the Rams and my brother is a Chief's fan. In December of 2014 I wrote to all of the NFL teams asking each team to tell me why I should be their fan. I sent out letters to the NFC teams on December 26. The very next day, I was off to writing to all of the AFC teams. I sent out the letters on January 5. I received my first response back on January 8, from the Carolina Panthers. January 9

was a very special day. A news station from OKC came and interviewed me for what the Carolina Panthers sent me. I will never forget that day.
That news station was Channel 9 and the interviewer was Steve Shaw. I'll be $20 that Steve asked to use their bathroom.
As the 2015 NFL draft approaches, I would like to share more of my story as to what teams have responded so far. Fifteen NFL teams have responded to me and I admire every single one of them. As of April 26th these are my three favorite responses so far:

Carolina Panthers
Green Bay Packers
Kansas City Chiefs

Those are my three favorite responses because the Panthers sent me a helmet signed by Luke Kuechly, and a handwritten note from Jerry Richardson, founder and owner of the Carolina Panthers. The Packers fan club also sent me a lot of exceptional things like a picture signed by Brett Favre and a replica Super Bowl ring. Chief's sideline reporter, Rachel Santschi came down from Kansas City and gave me a lot of great things like a football signed by all the players from Kansas City, a helmet signed by all of the Pro Bowlers, and a personalized jersey! Fans of these teams also created Facebook pages trying to get me to join their team. That is incredible to think fans set this up.
Listen, I'm all for loyalty, but sticking with the Panthers through all of this sounds like something a Stark would do. That never ends well! How can he not go with the Packers?
I have received 12 other responses from the San Francisco 49ers, Cleveland Browns, Chicago Bears, New York Jets, Jacksonville Jaguars, Pittsburgh Steelers, Tampa Bay Buccaneers, Atlanta Falcons, New York Giants, Dallas Cowboys, Cincinnati Bengals, and the Seattle Seahawks. These responses varied from an email from the owners, letters from owners or other staff members, invitations to visit training facilities, fan gear, and boxes of memorabilia. All responses were impressive. I sincerely appreciate these responses from the teams taking the time and making them enjoyable and memorable.Sports Illustrated also contacted me and sent many awesome gifts including a subscription to SI Kids. Thank you Sports Illustrated!I honestly didn't think that I would get 15 amazing responses from 15 amazing teams. I thought I would get a few, but not 15 teams! As for the other teams, there is still time left for me to become your fan. I would be more than excited to hear from more teams and see what kind of responses I will get.I never imagined I would participate in radio interviews across the country and my story would be on the Yahoo homepage. This has been awesome!I can't wait for the 2015-2016 NFL season and I can't wait to cheer on my team during the season! I am ready to watch the draft and follow teams into training camp. I can't wait to play fantasy football.- Cade Pope
That's sweet and really nice. Cade will probably have a long career as a politician or stockbroker, but he should hold off on the fantasy football. It may look fun, but it's about as frustrating as watching Cam Newton play quarterback. Plus, he'll have to root for players to score against his Panthers.
---
Anyway, I guess that concludes this edition of "Is This A Great Site Or What?" I'd like to thank Stig the Stockbroker for reaching out to us, the Pope family for not filing a restraining order and letting me into their home, and Jacksonville Jaguars owner Shahid Kahn for inspiring me to grow an amazing mustache. Dreams really do come true!
Stay in touch
Sign up for our free newsletter