ICYMI
Report: Politicians and Energy Execs may be trying to cover up the cause of Oklahoma's earthquakes
1:23 PM EST on March 4, 2015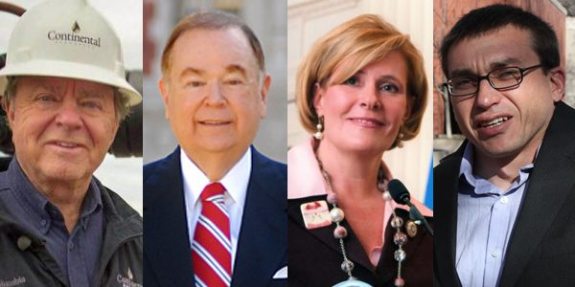 Here's some shocking, earth-rattling news.
Yesterday, through interviews, open records requests and something called "research," Energy Wire released a somewhat terrifying report that exposes how the Oklahoma political elite, energy industry and Oklahoma Geological Survey have conspired together to mislead the public on what's causing the earthquake outbreak.
Okay, I guess that's not really shocking or earth-rattling news. If you read this site, or have a condition called "common sense," you're probably aware that our state government wasn't giving us the whole story on earthquakes and their links to the energy industry, but I guess it is good to finally know that our suspicions are justified.
Via Energy Wire:
Oklahoma's state scientists have suspected for years that oil and gas operations in the state were causing a swarm of earthquakes, but in public they rejected such a connection.

When the Oklahoma Geological Survey (OGS) did cautiously agree with other scientists about such a link, emails obtained by EnergyWire show the state seismologist was called into meetings with his boss, University of Oklahoma President David Boren, and oil executives "concerned" about the acknowledgement.

One of the oilmen was Continental Resources Chairman Harold Hamm, a leading donor to the university.

The seismologist, Austin Holland, told a senior U.S. Geological Survey official that as far back as 2010, OGS officials believed an earthquake swarm near Oklahoma City might have been triggered by the "Hunton dewatering," an oil and gas project east of the city.

"Since early 2010 we have recognized the potential for the Jones earthquake swarm to be due to the Hunton dewatering," Holland wrote to USGS science adviser Bill Leith in 2013. "But until we can demonstrate that scientifically or not we were not going to discuss that publicly."

Instead, he pointed to changing lake levels.
Real quick, can I pull a Regular Jim Traber and give it up to myself? Instead of taking the bait like News 9, we called B.S. on that Arcadia Lake story and all the other energy industry-spun earthquake theories they tossed out there.
Back to the report.
And when USGS officials linked a "remarkable" surge in earthquakes in Oklahoma and other states to drilling waste disposal in 2012, OGS criticized their "rush to judgment."

Holland told EnergyWire the intense personal interest shown by Boren, Hamm and other leaders hasn't affected his scientific findings or those of OGS.

"None of these conversations affect the science that we are working on producing," Holland told EnergyWire. "We have the academic freedoms necessary for university employees doing research."
HAHAHAHAHAHAHA. Yeah right.
But Holland and OGS have been the voice of skepticism in the scientific community about connections between oil production activities and the hundreds of earthquakes that have shaken the state.

Industry and political leaders in the state, where one out of every six jobs is linked to oil and gas, have seized on that skepticism.

"Researchers in Oklahoma, notably Austin Holland with the Oklahoma Geological Survey, have repeatedly said the increase in seismic activity cannot be fully explained by man-made causes," Oklahoma Independent Petroleum Association (OIPA) President Mike Terry said in a 2013 statement.

Other states have ordered wells permanently shut down and imposed strict rules after earthquakes. But Oklahoma regulators have been reluctant to permanently shut down wells and have limited new regulations to information-gathering requirements.

"We know a lot of it's just natural earthquakes that have occurred since the beginning of the earth," Oklahoma Gov. Mary Fallin (R) said earlier this year in an interview with the Tulsa World, "but there has been some question about disposal wells."

Oklahoma's top elected officials have avoided talking about the state's earthquake swarms, leaving the response largely to Holland, 40, who joined OGS in 2010. No other state official has done as many television and news interviews about earthquakes.

The agency's 2012 annual report quipped that "Holland seems to be on everyone's speed dial when the ground starts shaking."
While I'm giving it up to myself, I also knew there was something up with this Austin Holland guy. Last month, I chalked it up to him being an in-over-his-head, inexperienced seismologist. That still may be the case, but thanks to the Energy Wire article and some emails they've uncovered, he's now playing the role of sympathetic, confused, stressed scientist caught in the middle of a high-priced political game that's way over his head. The poor guy's been dealing with more pressure and stress than an active fault line.
Check this stuff out...
In the fall of 2013, though, OGS edged toward acknowledging a link between the state's earthquakes and its oil and gas industry. That's when Hamm and other Oklahoma leaders took a personal interest.

In September 2013, earthquakes started to rattle Marietta, a small town in southern Oklahoma near the site of a new disposal well. Holland investigated, and his preliminary report focused on the correlation between disposal operations and the earthquakes. He has not published a final report, but it's the closest OGS has come to linking earthquakes to a specific well.

In October 2013, OGS joined in a USGS statement about the growing seismic risk in Oklahoma. Under the OGS seal, it said "activities such as wastewater disposal" may be a "contributing factor to the increase in earthquakes."

Industry leaders were not pleased...

Holland was summoned a week later to the headquarters of the Oklahoma Corporation Commission (OCC) with Jack Stark, who was then senior vice president of exploration with Continental Resources. Stark is now president and chief operating officer. OCC, overseen by three statewide elected commissioners, regulates oil and gas in the state. The meeting was in the office of then-Commissioner Patrice Douglas.

Douglas and the Continental executive were "concerned" about the joint statement with USGS and a story about it by EnergyWire, Holland recounted later in an email (EnergyWire, Oct. 25, 2013). Holland wrote that he had tried to explain to them that the joint statement was "made better" by his input.

"Continental does not feel induced seismicity is an issue and they are nervous about any dialog about the subject," Holland wrote to his bosses after the 2013 meeting. "They are in the denial phase that this is a possibility."

At the time, Douglas was about to run for Congress. She got more campaign money from Continental executives in 2014 than anyone except Sen. James Lankford (R-Okla.) and the Republican National Committee, according to OpenSecrets.org. The $14,775 she received from Continental includes $6,575 from Hamm, who did not contribute to her Republican primary opponent, Steve Russell. Russell beat Douglas in the primary and is now a congressman.

In the meeting, Douglas said she "wants to, of course, protect the safety of Oklahomans, but also balance that with industry in the state," according to Holland's email.

Holland "blind copied" himself on the email.
Boy, don't you love those corporation commissioners. They're great people, always trying to balance the safety of human beings with the needs of the for-profit industry that wants to drain our state's natural resources. Hopefully our safety isn't too big of an inconvenience. We don't mind a devastating earthquake or two if it will help our frackers.
The sit-down with Patrice Douglas, a Continental crony, wasn't Austin Holland's only big meeting. A few weeks later, he was called to OU President David Boren's office for a meeting with Continental Resources' Harold Hamm! The significance of this meeting wasn't lost on Holland. Here's an email he sent to Connie Smith, one of his coworkers…

Here's was Connie's reply.

That's awesome. Connie Smith has just become my favorite state employee, or if David Boren and Harold Hamm have their way, my favorite former state employee.
So, you may be wondering why the state's seismologist is meeting with a university president and energy CEO. He works for the OGS. What's the point?
Hamm is also one of the industry executives in Oklahoma who don't believe in a connection between disposal and earthquakes. Asked about the shaking after a 2014 congressional hearing, Hamm told EnergyWire, "It's certainly not related to oil and gas activity."

Perhaps more relevant to Boren and Holland is Hamm's relationship to the university. In March 2011, Boren declared Hamm's $20 million gift launching the Harold Hamm Oklahoma Diabetes Center "the largest single gift in the history of the Health Sciences Center."

In addition, Boren serves on Continental's board of directors. In 2013, he received $272,700 in cash and stock for his service.
Yeah, I totally forgot that David Boren was on Continental's board and has some financial incentive for earthquakes not be tied to water disposal and fracking. I honestly don't have a problem with that. The energy industry already controls our economy, government and media. We might as will let them rule higher education, too.
The pressure that local politicians and energy execs put on Holland appears to have worked:
In a media outing earlier this year, Holland acknowledged to reporters from the Tulsa World, The New York Times and The Washington Post that the industry has tried to influence his work.

"I can't really talk about it," Holland told the reporters. "We're going to do the right thing."

But Bob Jackman says Holland did talk about it last year and indicated that it was Hamm who was leaning on him.

Jackman is a Tulsa petroleum geologist who has made himself a thorn in the side of Oklahoma's establishment on issues such as earthquakes. In an opinion journal article last year, Jackman described approaching Holland about earthquakes after a conference in September.

Jackman said he pressed him about earthquakes until Holland blurted out, "You don't understand -- Harold Hamm and others will not allow me to say certain things."

Holland told EnergyWire that Jackman had misquoted a private conversation, but declined to clarify it. Jackman said he wrote down Holland's words immediately, and stands by his recollection.
I don't know about you, but I kind of feel sorry for Holland. When he was hired by the OGS, Oklahoma had something like three earthquakes a year. I doubt he ever considered he would be forced to compromise his integrity as seismologist in order to protect the industry that's actually causing earthquakes. If that was his plan, he would have gone to work Continental instead and made more money.
Anyway, there's a whole more to the Energy News report than what we covered. The reporter, Mike Soraghan, did an excellent job. Go read it in its entirety.
Stay in touch
Sign up for our free newsletter